An Overview of Google Voice
March 3, 2022
Voice calls are still central to business operations despite all the new technology that has evolved over the years.
Although initially released 12 years ago, Google Voice has adapted and prevailed to become one of the most powerful tools under Google's belt.
But how? This week, Fintan Murphy gives an overview of Google Voice: a very interesting product that we've been using and selling for several years to give users full control of their phone service.
The Importance of Voice Calls
Voice is a method of communication that plays a key role in connecting us all with one another. The total of phone numbers in the world is actually more than the total of people in the world. Despite all of the other technology we have available like email and messaging, voice is vital to how businesses run day-to-day.
However, a lot of businesses are still managing voice in a very traditional way, which can be cumbersome and not very cost-effective. This is where Google Voice comes in, acting as a smart voice calling solution to a multitude of problems.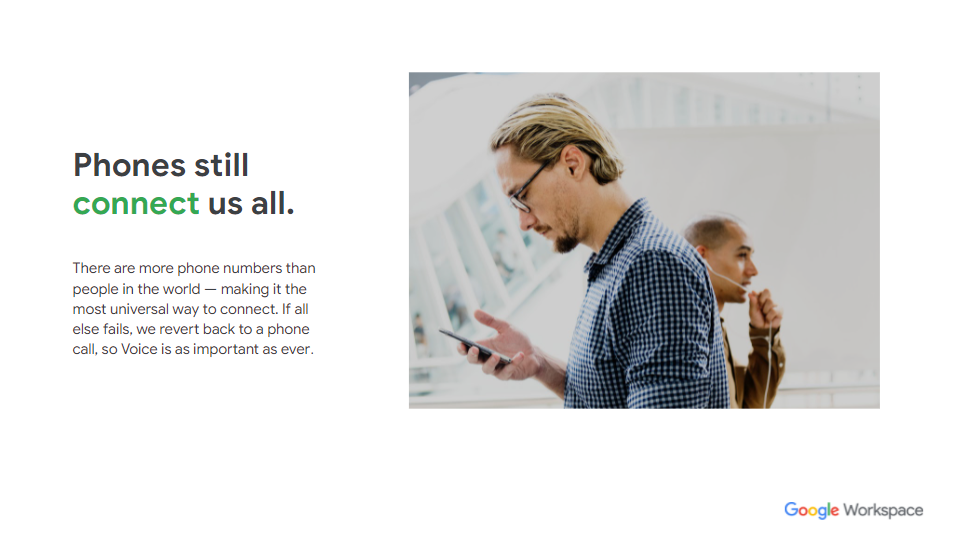 What is Google Voice?
Google Voice is designed to be smart, simple and scaleable. It's a solution that integrates with Google Workspace, with an aim to make it easy for both the end-user and the administrator which is not always achieved with traditional telephony services.
To give you an idea: Google has AI and machine learning technology built into Google Voice, such as text-to-speech where you can type in what you want and the auto-attendant will say it for you, and vice versa for voice mail transcriptions.
It also helps to detect and combat spam calls, something that is very innovative and beneficial for businesses in order to protect data and reduce time-wasting.
A lot of people wonder: can I trust Google Voice? Believe it or not, Google has over 10 years of experience in this industry. They have billions of calls over the Cloud and millions of users who have been using the consumer version of Google Voice since 2009. So it suffices to say that Google is more than qualified to handle any amount of business calls.
Voice is ready for organisations of any size. As mentioned already, the three pillars are:
Simple: Makes it easy for both end-users and admins to receive and assign numbers
Smart: AI features that replicate old phone systems and modernise it
Scaleable: you can migrate to Google Voice, import your numbers, provision a user in less than a minute and use self-assignment where users can register using their Google Workspace account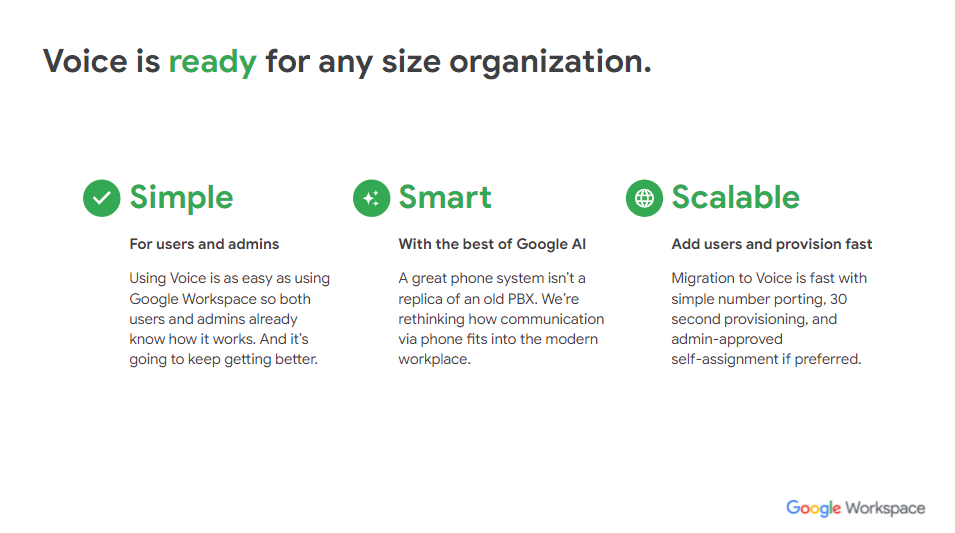 The Benefits of Google Voice
One of the key features that we find advantageous is the fact that the experience is the same across all devices. Whether you're accessing Google Voice on your phone or the web, the transition is totally seamless, making it highly versatile and easy to use.
It is fully integrated with Google Workspace, so when you're in your Gmail account, for example, Google Voice will appear on the right-hand side where you can make and accept calls on your screen.
You can also stay in sync using call forwarding features in Google Voice. With this, you can assign your number to multiple devices such as desktop, mobile, laptop etc. From here, you can choose which device you want to ring through to. This flexibility is one of the core features that make Voice so powerful.
When you get a voicemail from someone, you can open it and read a full transcription. This can be done in up to eight languages now, making it incredibly diverse for users around the world.
You can now link Google Voice to be active only during your designated working hours in Calendar as well as inactive during out of office periods. If you work particular hours, are away on holiday or want to have a definite separation between work and home hours, then this is perfect for solidifying that much-needed work/life balance.
Going hands-free is super easy with Google Voice. There are now lots of branded headset providers that are compatible with Voice and fully approved by Google, meaning you can be more productive as you work and talk. One of the brands, Poly, has been selected as the provider for desktop-based phones for businesses that still require these. With this, it is very easy to set up: admins only need to put in the serial number of the phone and it will automatically sign in the end-user. This means you can send a phone to someone, even if they are working from home, and they can get it plugged in and started straight away.
When it comes to security, as Voice is a core product of Google Workspace, this means it is covered by all compliance such as ISO 2700 and Google's SLA (Service Level Agreement) for example. There's also eDiscovery, Vault, data encryption at rest and in transit, GDPR, telecoms compliance and emergency calling - basically everything that a company would require from a telephony solution.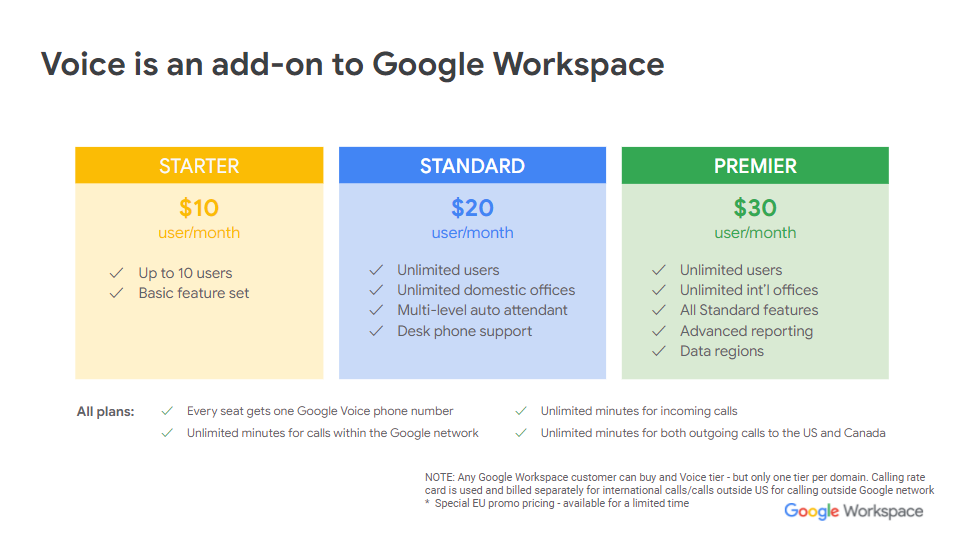 Where is Google Voice Available?
Google Voice is available in most countries within mainland Europe, the UK, Ireland, US and Canada. There is alpha testing being done currently in Japan, and there are more countries on Google's roadmap where Voice will be rolled out.
Voice is an add-on for Google Workspace, and it comes in three different tiers for businesses, these being:
Starter (for less than 10 employees)
Standard (comes with unlimited users, domestic office numbers, multi-level auto-attendant, desk phone support)
Premier (offers the ability to have international offices, advanced reporting and data regions)
Google Voice for Admins
For admins, there is a range of different aspects of Google Voice that you can control.
For example, everything can be managed within the Google Workspace admin console. When you set up Google Voice, a section will appear as it does for other apps like Drive or Gmail.
From here, you can manage lots of different areas, like provisioning users, assigning numbers and migrating (number porting) from previous providers over to Google. While Google says this process is painless - and it has tried to make this as seamless as possible - be warned that it is never easy. So we do recommend talking to a Google Partner about this so you can plan accurately.
Guided callers (AKA the auto-attendant feature), allows you to decide the prompts, how calls are transferred, whether they are going to voicemails, whether you're disconnecting a call or diverting it to a ring group - all actions which can be managed within the admin console.
You can set business hours for an auto-attendant, where after a certain cut-off time, you can automatically pass the call onto a voicemail service instead.
Ring groups enable you to have a single number that can call multiple people. It can dial around the different users, or simultaneously ring on everyone's phone at the same time and the first person to answer deals with the query.
These are just a few of the many pros of using Voice. If you would like to learn more about Google Voice, check out our website for more or contact us today!
As a longstanding member of the Google Cloud Partner Program, Damson Cloud specialises in bringing people and ideas together through new ways of working. We champion the very best practices in remote working and change management, helping companies and their teams collaborate productively from anywhere in the world. To find out more about our services, check out our library of tutorial videos or our blog.