Google Chat And Spaces New Features: An Overview
April 28, 2022
This week, Damson Cloud CEO Fintan Murphy will be taking a look at seven new features Google recently announced in relation to Google Chat and Spaces.
These features are set to improve the efficiency of how Google Workspace users work, particularly those who are hybrid or remotely working and those working in larger organisations.
If you're interested in learning more about the new features for Google Chat and Spaces which could improve the way you work, stay tuned.
In Line Threading In Google Chat and Spaces
The first new feature we're going to take a look at is In Line Threading.
In Google Spaces or Chat, users will now be able to respond to a specific comment in a thread and upon doing this, a chat window will pop out of the thread, creating a separate conversation.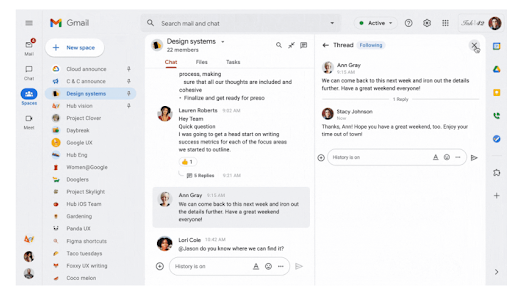 Often, what we notice with non-threaded conversations on Google Chat is that it can be difficult to know which message people are responding to.
This is especially important in hybrid working situations where chats can often move quickly. This means if you're busy and don't have time to respond at the time a conversation is taking place, your reply may get lost among other messages.
In Line Threading is a common feature on other communication platforms such as Slack where you can respond directly to a specific message, making communicating whilst working remotely much easier.
Links To Join A Google Chat or Space
The next update we're going to discuss is using a link to join a Google Chat or Space.
This update will be particularly useful to larger companies who previously would have had to go through the mundane task of adding each user to a Space individually, which can be extremely time consuming.
This could also be used by companies in the onboarding process for new team members, where a link is given and the team member can then join the Space themselves.
The new update will make managing a Google Space more efficient for administrators and management who would usually be responsible for overseeing this process manually.
Increase In Sizes Of Google Spaces
Next, we're going to look at the increasing size of Spaces that Google is set to introduce.
At present, the number of people who can join a space is limited however, Google is raising this to 8,000 users and by the end of the year, this is set to be increased to 25,000 users in a Google Space.
This update will be immensely useful to larger organisations and supporting the communities they have within their business, from their range of departments, to social groups such as football teams.
Businesses will now be able to create spaces for topics such as company announcements, where selected team members can join the space and discuss information that before would have been sent out using a mass email.
Improved Search Features Within Google Chat And Spaces
With a growing number of businesses using the Google Workspace for their organisation, it's important to be able to search and find information within Google Chat and Spaces easily.
Google has announced they will be improving the search feature within Chat and Spaces so users can quickly find the information they are looking for. This is particularly practical if you use what Google have referred to as 'Chips'- these help identify when you have used the @ mention to get someone's attention or have sent a document or PDF to a particular user and will be introduced to Google Chat later this year.
Moderation Controls
We're now going to look at three updates Google is bringing out to Moderation Controls in Google Chat and Spaces which include Space Guidelines,  Content Moderation and Managers.
With Spaces Guidelines, companies or management will be able to create and set guidelines for a particular space, so when a user joins the space, they are aware of the rules and regulations in place.
The Managers update will allow an organisation to set one or a group of managers for a Space. This update is key for growing organisations. As users within Spaces continue to increase, the requirement for a moderator within these Spaces will also grow.
The Content Moderation update will enable a manager to accept or deny certain content as well as deleting and marking content that needs to be approved. Like the previous Moderation Control updates mentioned above, this feature is a welcomed addition for larger organisations, as their spaces will contain a lot of users across the company which will be easier to manage with Content Moderation in play.
All of the new features discussed in this week's blog will be key in helping businesses navigate remote and hybrid working options and in ensuring teams are well connected whether they are at home or in the office.
We hope like us, you're excited to see how these new features will improve the Google Workspace as we know it. If you need any further information on updates to Google Chat and Spaces, please get in touch with the Damson Cloud team and we will be happy to help!
As a longstanding member of the Google Cloud Partner Program, Damson Cloud specialises in bringing people and ideas together through new ways of working. We champion the very best practises in remote working and change management, helping companies and their teams collaborate productively from anywhere in the world. To find out more about our services, check out our library of tutorial videos or our blog.