Navigating the Future of Hybrid Working with Damson Cloud's Isobel Phillips & Fintan Murphy
October 21, 2021
In the age of COVID-19, we have all had to adjust our working environment. At the start, most of us swapped office buildings for spare bedrooms - ditching commutes for simply moving from one room to the next.
Now, we have so much more choice when it comes to where we work. Whether it be in the workplace, remotely - or even both. Hybrid working is the term used to explain the latter. It is where an employee flexibly splits their time between their work office and their home office.
This week, Damson Cloud's CEO Fintan Murphy and Head of Digital Workspace Solutions Isobel Phillips discuss their top tips for successful hybrid working.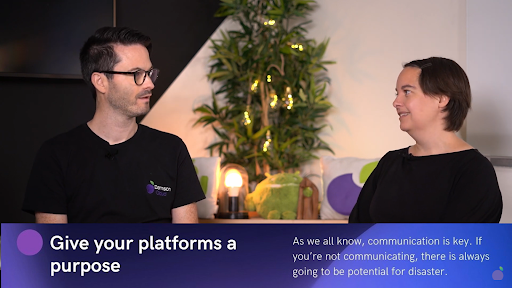 1. Give Your Platforms a Purpose
As we all know, communication is key. If you're not communicating, there is always going to be potential for disaster. When communicating, remember to always have clear and consistent messaging. There are lots of different channels that you can leverage to ensure seamless communication in your business: this could be video or audio calls, emails or even chat platforms like Google Chat or Slack.
But with all of these options, comes the possibility of messy integrations. It is vital that people know exactly where they can go to find the information and people they need to get the job done.
Some people may also respond better to certain platforms - so it is essential to understand this to ensure there are no issues when trying to reach one another. One way you can determine this is by sending the same message across all platforms to ensure no one misses anything important. While this may feel overwhelming, you are prioritising your work and can better gauge which platform works best.
Just be wary that it is very easy for messages to get lost when using more informal platforms, like a chatroom. We have all been there where a company-wide discussion about what we had for breakfast has overtaken an important message that needs to be chased or reminded as a result. This can harm productivity, so it is crucial that you have a purpose assigned to each individual platform.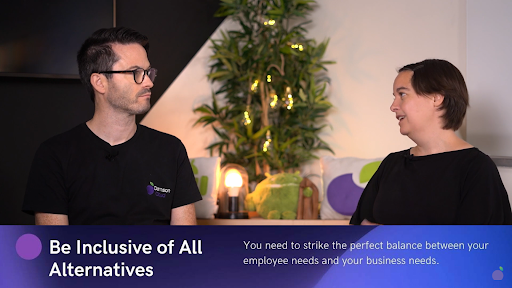 2. Be Inclusive of All Alternatives
You need to strike the perfect balance between your employee needs and your business needs. Where possible: ask your employees what will work best for them, and see how you can best accommodate this.
Remember that not everyone has an ideal remote working space, or some people may be more productive when working around others - so they may prefer to be in the office for these reasons. If the reason is something that your business can resolve, you can scout out coworking spaces, or allocate a budget to support staff to set up their own workspace at home.
When talking about employee needs - think about both their personal and professional needs. Do some staff need dual monitors? Or just a laptop? Is there enough equipment to meet the needs of those at home and in the office? By accurately assessing your situation, you can better create a hybrid workspace to suit everyone.
As companies are downsizing their office space as a result of COVID-19, they now need to think about the purpose of the office. It is no longer just a place where everyone goes to do their work and then leave. Ask yourself: 'why are they coming into the office?' If you know why, what do you need to do to make it work for them? It could be that people are coming in to collaborate, meaning they need more meeting spaces. Or they may not need the office at all, meaning you can save money by locating to a different place.
One thing to note is booking accordingly, especially if you're using a hot desking system. For example, if your goal is for a team to all be in the office on the same day so they can collaborate, but they end up being spread over several floors - this means they will just use online solutions to communicate anyway. Having a robust booking system in place will therefore make this as effective as possible.
Google has been a frontrunner in updating its technology to better suit hybrid working. One interesting update is linked to Google Calendar, where you can state if you are going to attend a meeting virtually or physically. This accurately reflects the times we're living in, and ensures people are fully aware of the meeting setup which can enhance the meeting experience.
All in all, inclusivity makes for better employees and better businesses.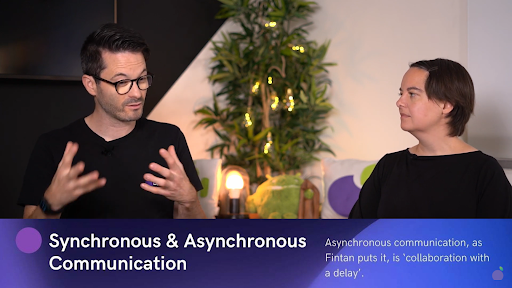 3. Synchronous and Asynchronous Communication
Asynchronous communication, as Fintan puts it, is 'collaboration with a delay'. It essentially means that people don't have to all be working on the same task at the same time. It allows for flexibility in people's schedules, and also better suits people's creativity and productivity peaks.
With Google Workspace, it makes both synchronous and asynchronous communication possible. You can have a Google Doc open, people can edit in real-time, you can comment and tag people, making it convenient to be as collaborative as possible, whenever the mood strikes you.
The risk however with asynchronous communication is that people may feel pressure to work outside their working hours. It is therefore up to a business to find the right balance between giving employees creative freedom whilst maintaining an enjoyable and effective working culture.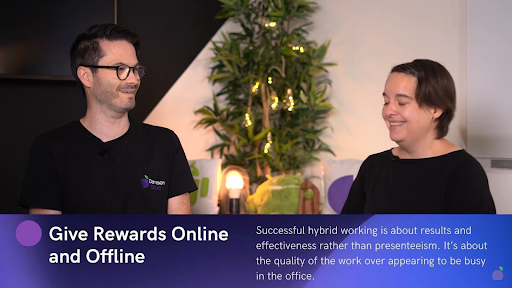 4. Give Rewards Online and Offline
Successful hybrid working is about results and effectiveness rather than presenteeism. It's about the quality of the work over appearing to be busy in the office.
It is so important that managers are conscious of rewarding their staff for their productivity, no matter where they are working. Rather than placing greater focus on who is physically attending the office - rewards and recognition need to be moved online, too. Even if it is a special chat channel on Slack for shoutouts, or praising someone in a weekly team meeting - it will make the adjustment process a lot easier for everyone.
Rewards can also be big or small. How companies implement these is hugely important. Many of our clients are supporting their employees through this transition with regular surveys and forms to detail exactly what it is they expect and want.
Essentially, hybrid working is a huge change management project, and is going to be different for everyone. Organisations and employees are unique, and while you work out your best balance, you need to stay flexible and agile, and be prepared to adapt and change where necessary.
What are your top tips for hybrid working? Let us know in the comments!
As a longstanding member of the Google Cloud Partner program, Damson Cloud specialises in bringing people and ideas together through new ways of working. We champion the very best practices in remote working and change management, helping companies and their teams collaborate productively from anywhere in the world. To find out more about our services, check out our library of tutorial videos or our blog.