The Benefits of Cloud Security Workshops
September 2, 2021
With ransomware attacks happening across the globe - security has never been more important for businesses.
The key to minimising risk and protecting data is knowing the best practices. One way to do this is by seeking help from an expert. Cloud security workshops can provide a full overview of your organisation's existing standards, while also identifying new ways you can maximise the safety of your information.
This week, Fintan Murphy talks about security assessment and implementation workshops offered at Damson Cloud. It's something that Google Partners are specially trained in, and helps companies ensure they follow best protocols when it comes to security.
Google Workspace Security Assessments
Often, the types of businesses that make use of security workshops include:
Those that have grown since they first introduced Google Workspace
Those that have never conducted an audit on their current practices
Those that have upgraded their plan e.g. from Business to Enterprise and do not realise the new features they have access to such as data loss prevention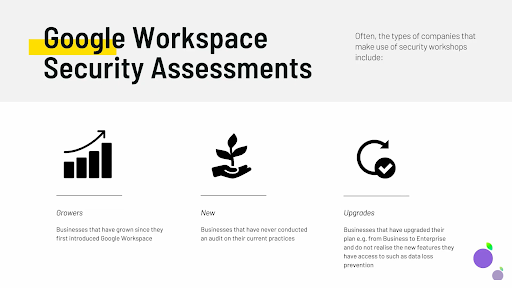 In the workshops, we cover three key elements: assess, educate and execute.
Assess
During the assessment stage, we conduct an audit of your Google Workspace environment in tandem with your IT or security team, depending on the size of your business. Within this, we examine every single setting, record your use of these, and compare them to Google's best practices. From here, we identify your situation, and can then advise a more robust strategy for you to follow.
Educate
In the education phase, we leverage the results found to create a presentation that fully details our new recommendations. It could be that your business would benefit highly from security keys or two-step verification. If this is the case, we would introduce you to these and train you up to fill any potential knowledge gaps. This way, you can be guaranteed a better understanding of Google Workspace's security features.
Execute
The execute part relates to actually implementing these new changes. We will show you:
How to do incident response planning
How to deploy the suggested activities
How to best record new data in a spreadsheet
From this, you will then have a document that will act as a bible for your Google Workspace environment. This way, you will be able to better project outcomes and ensure greater safety in the future.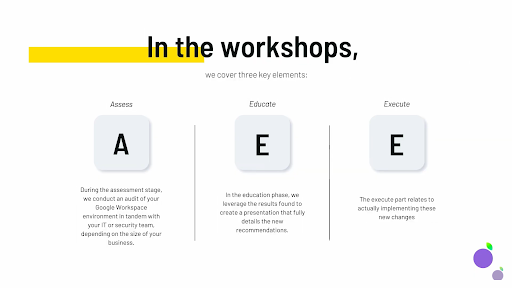 The Benefits of Cloud Security Workshops
Through these security workshops, your business will experience many benefits.
Eliminating Risk
The first and most important advantage is that you are eliminating the risk of your company's data being jeopardised. Any type of hack can mean weeks - or even months - of recovery. This can easily use up valuable time and resources that could be better spent on more productive tasks. By learning and applying the latest security features, your company will be more likely to succeed in more ways than one.
Raising Awareness
Our workshops also raise awareness for your team. By giving them a full deep dive into Google Workspace's security, this ensures that best practices are always being followed and that the business is continually protected.
Incident Management
If an incident takes place, you will be better prepared to resolve these issues quickly and efficiently. With our help, we can instil a plan that is tailored to your company, so the value you receive from our workshop will live on and become embedded into your company's day-to-day structure.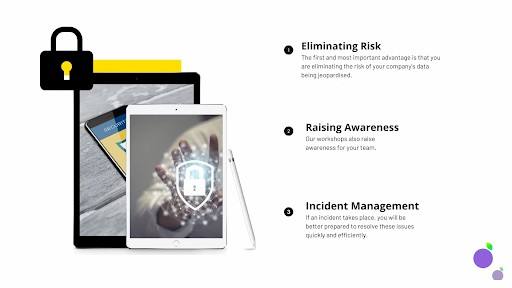 Security assessments have hugely increased in demand here at Damson Cloud. If you are interested in our cloud security workshops, simply get in touch with the team today!
As a longstanding member of the Google Cloud Partner Program, Damson Cloud specialises in bringing people and ideas together through new ways of working. We champion the very best practices in remote working and change management, helping companies and their teams collaborate productively from anywhere in the world. To find out more about our services, check out our library of tutorial videos or our blog.