What Is GAT for Google Workspace?
November 25, 2021
Google Workspace is compatible with so many tools that can enhance productivity and safeguard systems. One of our firm favourites is GAT, which stands for 'General Audit Tool'.
This third party solution brings many benefits to businesses, helping them easily understand and manage what's happening inside and outside their Google domain. This is something that we can vouch for - as we sell it here at Damson Cloud.
This week, Fintan Murphy provides a detailed overview of the GAT products on offer, and discusses how they can help your business remain both secure and competitive.
What Does the General Audit Tool Do?
GAT is a cloud-based service provider that specialises in powerful security auditing and data analysis. Its main goal is to review and secure Google Workspace environments, protecting these via APIs and Chrome extensions.
Through a browser-embedded security model, GAT can provide real-time DLP (data loss prevention), phishing and identity theft protection for a huge range of applications.
The tool has been around since 2015 and is Robert Baker's fifth successful technology company. It was built with the aim to be the best audit, security and analysis tool for Cloud-based application environments, and has only continued to advance over the years.
GAT is used mainly by organisations that are on lower tier Google Workspace plans. Over time, we have found that many customers on Business Standard or Business Plus packages want additional data security, auditing and DLP features without the hassle of upgrading to the likes of Enterprise Plus. To meet this need - GAT is by far the best solution on the market.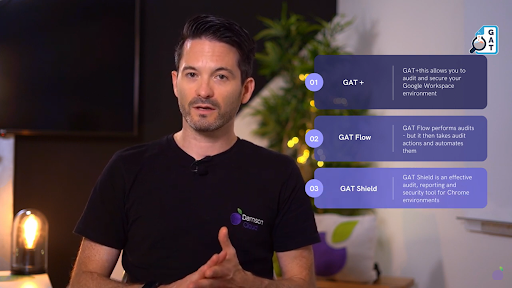 GAT offers a couple of different variations depending on business needs, these are:
Let's take a closer look at each of these and what they offer…
GAT+
With GAT+, this allows you to audit and secure your Google Workspace environment by assessing contents and operations like your emails, documents, admin actions and so much more.
Once you conduct an audit, search results are clearly displayed and certain bulk actions - such as restricting sharing permissions on files - can be administered quickly and conveniently.
Through this tool, you can gain rich insights with advanced data analytics, helping you to strengthen your cybersecurity.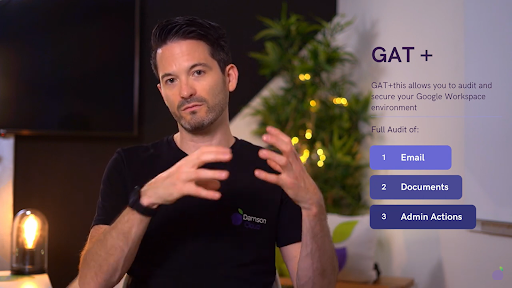 GAT Flow
Much like GAT+, GAT Flow performs audits - but it then takes audit actions and automates them to build a productive workflow.
For example, you can set up an onboarding workflow for when new employees join the company, therefore limiting repetitive and time consuming manual tasks. They can also be added to a group which can resemble a unique department, and you can have a workflow that applies a particular signature - e.g. one for the marketing team, and another for the operations team.
You always have to have some kind of trigger that starts the flow so that it can begin the automating processes.
Ultimately, GAT Flow is excellent for onboarding and offboarding users which, from an administrative point of view, is often one of the biggest headaches - especially in fast growing organisations.
Another simple way you can use GAT Flow is for signatures. It can apply a signature across the organisation on a timed basis (e.g. every hour or day). Within Google, the API pushes out the signature to the end user accounts. While they can technically still change these themselves - once the GAT Flow comes in - it completely overrides whatever the end user has done.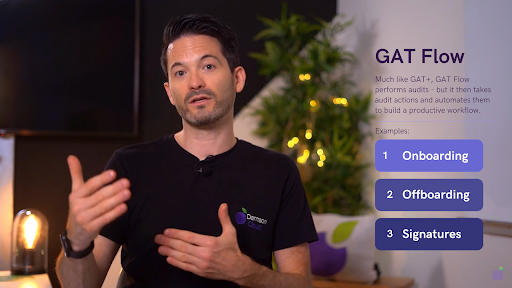 GAT Shield
GAT Shield is an effective audit, reporting and security tool for Chrome environments. It protects your users and data by monitoring all activity, providing real-time data loss prevention and stopping data breaches on all sites, in all locations, at all times.
This product allows you to take much more granular control in terms of what the user can do. For example: if a user tried to take an action within Chrome (e.g. attaching a particular within Gmail) - you can take preventative action based on a set of criteria, like a specific phrase or document. Often, this will be for things like ISO practices - so that certain actions can either be blocked straightaway, or notify administrators to take action.
What's great about this option is that everything happens in real-time - making it a significantly powerful tool for shielding your data.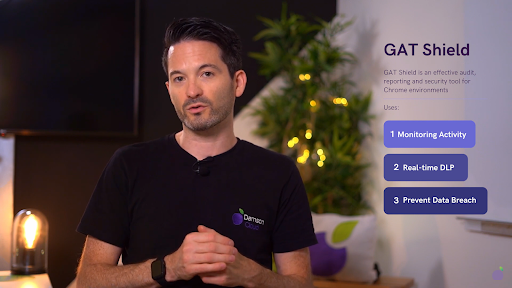 The GAT range varies in prices, from €12, €15 to €25 per user per year. Depending on whether you're an education or non-profit organisation - you can also receive discounted rates for these useful auditing and data analysis tools.
For more information, you can visit GAT's official website, or contact us to schedule a demo.
As a longstanding member of the Google Cloud Partner Program, Damson Cloud specialises in bringing people and ideas together through new ways of working. We champion change management and digital transformation using some of the internet's most trusted solutions, including Google Workspace, Happeo and Jamboard. To find out more about our services, check out our library of tutorial videos or our blog.