A Detailed Overview of Google Workspace
March 25, 2022
The way we work has completely changed over the last two years. So much so, it is estimated that 48% of employees want to continue working remotely in a post-COVID world.
Work/life balance has become much more of a priority, with 1 in 4 people being primary caregivers and needing to accommodate this in their day-to-day lives.
Plus, a third of employees feel disconnected from company culture and colleagues - so finding a solution that helps to connect people and increase satisfaction is key.
One solution that ticks all of these boxes is Google Workspace: a compact collection of tools that are all designed to aid productivity and flexibility, no matter where you are in the world.
This week, Damson Cloud CEO Fintan Murphy gives a full run-through of Google Workspace for those who may not be familiar with the product, covering how it can benefit teams of all sizes to collaborate more effectively.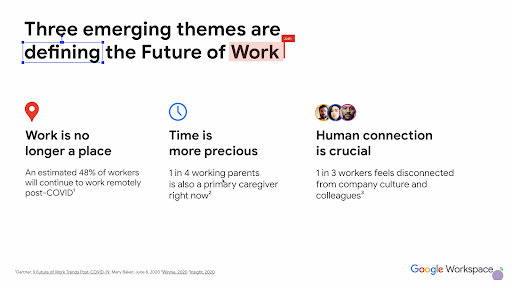 How Can Google Workspace Help?
With Google Workspace, it is a place to get your work done, whether it be for personal, business or educational purposes. Over three billion users are on Google's platform daily, there are millions of companies using the solution to support their day-to-day operations. Big names like New York Times, Salesforce and Netflix to name only a few!
Truthfully, we see teams using Google Workspace find that they are more motivated and innovative. Companies with engaged employees have a much higher retention rate, and 68% of Workspace users in large companies say they enjoy their work more since adopting it, versus only 30% of companies using Office 365.
Innovative companies also have stronger profit growth. 75% of Google Workspace users say their teams feel more innovative, compared to just 55% of Microsoft users.
Workspace is also responsible for shaping the workforce of tomorrow, with 140 million students and teachers using the solution around the world. As students advance into the world of work, this sets an expectation for companies to provide tools that match this level of support - all of which can only be supplied by Google itself.
The business impact is easy to see, with 171 hours on average saved per user per year. That's 21 days over the course of the year! It also boasts a 20% reduction in on-demand tech support due to its ease of use.
When businesses make the switch from traditional solutions like Microsoft to Google Workspace, we have seen many enjoy a massive 331% return on investment, proving its worth and effectiveness from the first day of migration.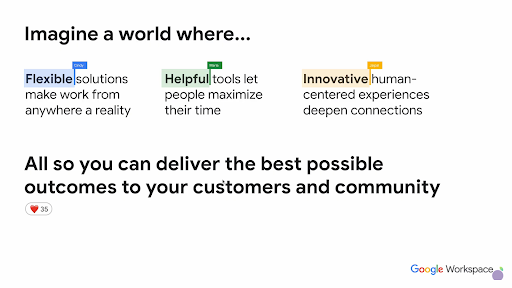 The Three Pillars of Google Workspace
Google Workspace revolves around three key pillars: flexibility, helpfulness, and innovation.
Flexible
It is a flexible solution in that it allows people to work from anywhere, at any time, securely. This balance is crucial on both sides, as organisations want private data and documents to be protected at all times. On the flip side, employees want the flexibility to collaborate, create and share documents from within one, convenient environment.
With Google Workspace, you can pull up any file, at any time, on any device. It doesn't matter whether it's a desktop, laptop or phone - the process is still seamless. The hurdles of sending, viewing and editing a document to/on another device do not exist with Google Workspace, which not only aids flexibility, but also saves time and reduces frustration.
As video conferencing has been at an all-time high over the last few years, Google Meet has gone through a huge revamp recently, making the product much more comprehensive and better suited to different needs.
One new feature to come out of Google Meet is 'Companion Mode'. When there is a mix of participants who are remote or in meeting rooms (AKA hybrid meetings), people in a meeting room don't have access to individually chat, upvote questions, or answer polls with meeting room hardware or Nest Hub Max. Instead, you can use Companion Mode to improve participant collaboration and meeting inclusivity. With this feature, your mic and video are also turned off to avoid any audio feedback and ensure a seamless experience.
Helpful
Helpful tools mean users can maximise their time. Tools like Smart Canvas create interactive blocks that allow you to do more within a document, with machine learning continuously optimising your content. For example, when you link to a Slidedeck, instead of leaving it as a long pasted URL, it will change it to a picture of Google Slides and the name of that slide, making the document look much more professional.
Smart Chips are also helpful in that you can tag suggested actions for specific people, files, dates and events. For example, you can insert a Smart Chip in your document where you want to include information about:
Other users with Gmail addresses
Google Docs, Sheets and Slides
Google Calendar events
These are just a couple of examples of how Google Workspace can help with business productivity and performance.
Innovative
Innovation focuses on creating an immersive experience that is human-centred and can help connect people on a deeper level. For example, with Google Workspace, you can jump into a video call directly from a document.
There are many other enhancements within Google Workspace like live caption, in-meeting translation and noise cancellation for Google Meet. These are just a few of the reasons why billions of people are choosing Google Workspace as their primary solution over other alternatives.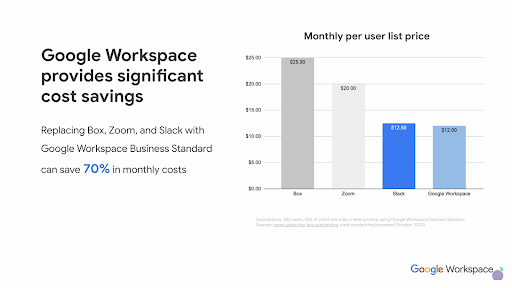 How to Get the Best Out of Google Workspace
Often, we find that customers will look to replace tools like Zoom and Slack, and even by choosing a basic tier like Business Standard, customers can reduce the cost of these expensive third-party tools and save up to 70% of their monthly costs by having an all-in-one solution like Google Workspace.
The Importance of Security
Google recognises that security is of the highest importance for businesses big and small. That's why its robust solutions are geared towards combating even the smallest of threats, as these still have the potential to lead to the biggest hacks.
To prove this, Google offers 99.9% accuracy when it comes to blocking compromising emails. It also boasts a reporting of zero detected or hijacked accounts after security keys were deployed in organisations.
It is so effective, that we have even had queries from customers asking why they aren't getting as many spam emails compared to their previous experience with Microsoft!
The Cleanest Cloud in the Industry
'The cleanest Cloud in the industry' is a proud title that Google has adapted to reflect its dedication to improve the climate crisis.
For example, Google has made many positive strides to ensure:
Less energy is used to optimise their data centres (50% less than industry average)
The company is now twice as efficient as it was five years ago
Workloads have zero net operational carbon emissions on Google Cloud, this is done by matching all the electricity the company uses with renewable energy since 2017
By 2030, the company aims to be completely carbon-free in terms of energy consumption
By choosing Google, you can be rest assured that your company is playing a part in helping the environment.
Kärcher: A Case Study
Kärcher is a global manufacturing cleaning equipment company that moved 14,000 workers to Google Workspace in just five days in response to the COVID-19 pandemic. This enabled their employees to collaborate effectively without missing being in the office.
Daniel Heubach, Executive Vice President of Information Technology & Digital Transformation at Kärcher, said: "With Google Workspace, Kärcher has tranformed its global collaboration, allowing for faster business decisions during the COVID-19 crisis."
This cements Google Workspace's reliability, and reinforces its key pillars of being a flexible, helpful and innovative solution for any business type.
Damson Cloud's Services
At Damson Cloud, our three pillars revolve around migration, transformation and security. Our services encompass everything from deployment, migration, change management, training and security workshops.
Our priority is ensuring you leverage the most value out of the platform you've invested in, so if you have any questions about Google Workspace, please get in touch with the team today.
As a longstanding member of the Google Cloud Partner Program, Damson Cloud specialises in bringing people and ideas together through new ways of working. We champion the very best practises in remote working and change management, helping companies and their teams collaborate productively from anywhere in the world. To find out more about our services, check out our library of tutorial videos or our blog.