Attack of the 50ft Inbox: Bulk Archiving Your Emails On Gmail
October 6, 2022
Welcome back to the Damson Cloud Blog. In this week's spooky update, our very own Noelle Kerr will be walking you through how to bulk archiving your emails on Gmail.
For any Gmail users who prefer to keep their inbox tidy and organised, this will be a welcomed update, saving you time when trying to clear out your emails. You may consider having an entirely fresh start by deleting all of your emails, but what happens if down the line you need to refer back to them?
Luckily, Gmail offers an easy solution to this in the form of its bulk-archiving feature.
So, if you're interested in learning more about bulk archiving emails in Gmail, stay tuned!
Why Is Having An Organised Inbox Important?
Organising your inbox is important for a range of reasons, some of which include:
It makes finding the email conversations you need quick and easy if they have been organised properly prior to this. This can be achieved by using features on Gmail such as labels or folders. Please note that both of these features are not the same but can be used alongside each other, as folders allow users to organise their labels
Prevents your inbox from becoming cluttered
Prevents emails from becoming lost amongst hundreds of conversation threads
Helps prevent missing potential engagements, appointments or opportunities due to too many emails in your inbox
What Does Archiving Your Emails Mean?
Simply put, archiving your emails creates an inventory of email conversations that you don't need to access regularly. Putting an email in your archive is storing it somewhere that isn't immediately visible on your inbox screen, but can still be accessed should you ever need to refer back to the email thread.
How To Bulk Archive Your Emails On Gmail
We are now going to go through how to bulk archive emails in your Gmail account:
Firstly, you are going to select the dropdown menu next to the checkbox as shown below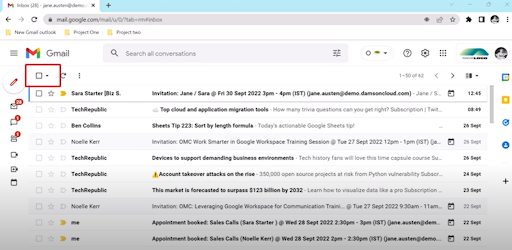 Once you have clicked on the dropdown menu, you are now going to select 'All'. This allows you to quickly and easily highlight all of the emails in your inbox without having to do this manually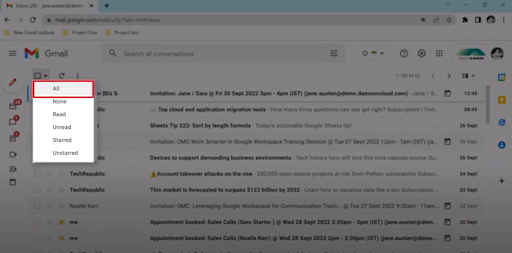 A pop-up should now appear, confirming that you have selected all of the email conversations in this page view. It will also offer you to select all of the emails in your entire inbox- you can do this by clicking on the "select all ___ conversations in inbox" option as shown in blue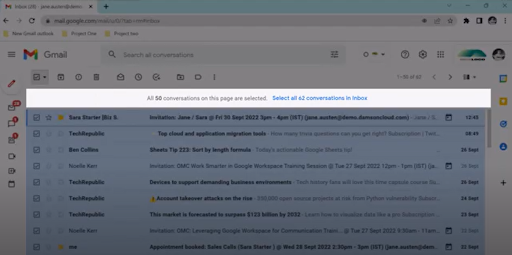 In this instance, we are going to select all of the emails in our inbox by clicking on the heading shown in blue above. Once you have done this, to archive these emails, click on the archive button as shown below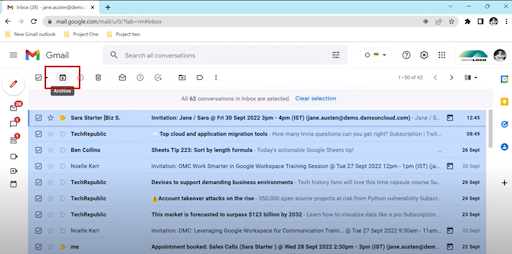 Gmail will then ask you to confirm that you wish to bulk archive all of the email conversations in your inbox. If you wish to proceed with this, click 'OK' otherwise, select 'Cancel' to go back to your inbox
Your inbox will now be cleared. If you have archived all of your email conversations by mistake, the undo button shown below will reverse this process and return all of your emails back to the inbox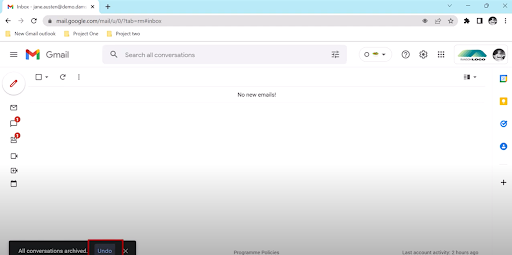 Bulk Archiving Your Emails On Gmail With Unread Emails
You may be wondering what to do if you want to organise your inbox by bulk archiving your read emails.
To bulk archive your read emails, you should:
Once again, click on the dropdown menu next to the checkbox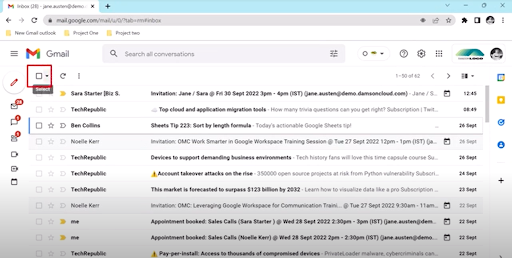 This time, we're going to select the 'Read' emails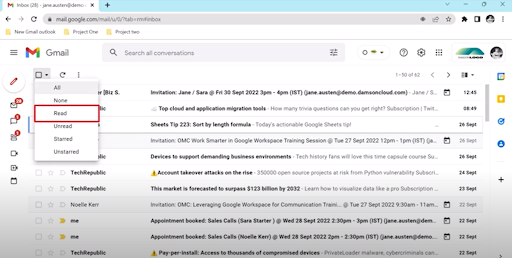 Next, we're going to click on the archive button. This will then archive all of the unread email conversations in your inbox, so these will no longer appear in your general inbox feed. A pop-up window will appear at the bottom of the screen informing you of how many conversations you have archived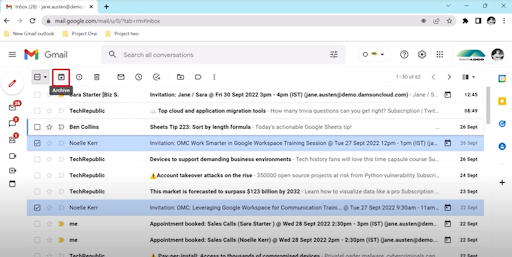 Final Thoughts On Bulk Archiving Emails On Gmail
We hope you enjoyed this week's spooky update on how to bulk archive emails on Gmail.
Here at Damson Cloud, we think this feature on Gmail is great for working more efficiently and helping you stay organised, as it's a quick and easy step to clearing your inbox in a way that works for you.
As always, we want to hear from you! If you have any questions on Gmail and Google Workspace, or want to learn more about our Google Workspace services and solutions, please reach out to one of our experienced team members who would be happy to assist with your enquiry.
And don't forget to check out our YouTube channel for more great tips and tricks on how to use Google Workspace easily and efficiently!
As a longstanding member of the Google Cloud Partner Program, Damson Cloud specialises in bringing people and ideas together through new ways of working. We champion the very best practices in remote working and change management, helping companies and their teams collaborate productively from anywhere in the world. To find out more about our services, check out our library of tutorial videos or our blog.