Backing Up Your Data in Google Workspace With AFI
November 18, 2021
Backing up your data means you have a secure archive of your important information. The reason people do this is so they can quickly recover and restore their device in the unfortunate event of data loss.
Data loss is something that all businesses must have contingency plans in place for. Luckily - there are many solutions out there that make this easier than ever.
In this blog, Fintan Murphy talks about the importance of backing up in Google Workspace, and recommends a solution to help keep your data secure at all times.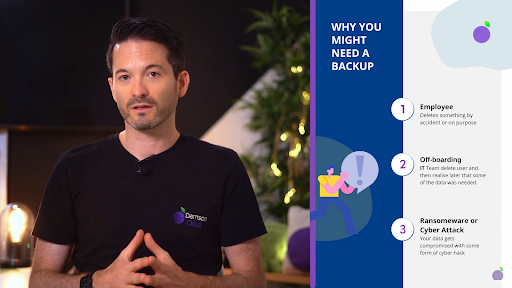 Why Should You Back Up Your Google Workspace Data?
Having a data backup plan comes with more pros than cons. Not only can you safeguard essential information, you can also save a huge amount of time and money if you are ever in the position where you need to retrieve lost files.
Often, customers think the likelihood of Google losing their data is extremely small, and so paying for an additional backup is not necessary. While this may be true - there are other reasons why you may lose access to your data.
One of these reasons may be because an employee deletes data accidentally - or on purpose. A frequent example we see is when an employee leaves the company, and a member of the IT team removes them from the system as part of regular protocol. As a result, an important file or folder of information may be deleted at the time - but needed again months later, without anyone having access to it anymore. With an efficient backup system, this common problem can be eradicated.
The other instance may be in the event of a ransomware or cyber attack - something that has been a growing issue over recent years. Usually, in this circumstance, your data becomes compromised by hackers who will then demand payment in return for your information. This can take months or even years to recover from - proving how vital it is to have an extra layer of security in place.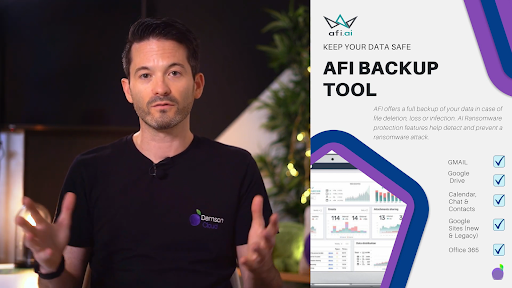 What Do Damson Cloud Recommend?
For our customers, we always recommend AFI, which we believe to be the best backup solution for Google environments, including Google Cloud. Here are a few reasons why:
AFI Covers Shared Drives
What's great about AFI, is it takes a complete backup of your Google Workspace environment, including your Gmail, Contacts, Drive and even shared drives. Shared drives act as a central server in the Cloud, and are a separate part of the Google Drive environment that is shared amongst a team. Because of this, some backup solutions do not cover these - and is something that you should always check, especially if your team's workflow relies heavily on shared drives.
With other solutions, you should also be aware they may charge extra depending on the amount of shared drive storage you want covered. So make sure to keep this in mind and be transparent about your information when seeking an accurate quote.
As shared drives are probably where the most important data is held, it is key to ensure this element is protected to the highest possible level.
Fully Automated Solution
AFI is a fully automated end-to-end solution. In fact, you can actually set service level agreements (SLAs) based on your requirements. These relate to whether you need your data backed up once a day or multiple times a day etc.
Also, as you add users to the organisational unit, it will automatically add them to the SLA and instantly start backing them up. From an IT perspective, this significantly helps to reduce management responsibilities and costs.
Ransomware Detection
AFI uses AI machine learning to detect the early stages of a ransomware attack. If suspicious activity occurs, like mass deletion or encryption of files - AFI will send an automated message to the company administrator to notify them. It will then take proactive action to backup the files so the most recent versions are recovered.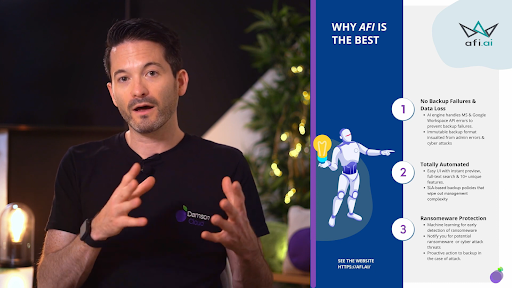 Fastest Backups
AFI is one of the fastest backup and recovery systems we've seen on the market. It also allows you to be granular with your recovery, where you can recover specific files and folders which is very beneficial if someone has accidentally deleted a single file.
High-Level Security
AFI's primary purpose is to protect. As a result, you can expect it to offer fantastic security procedures and access controls, so you can ensure your backups stay safe at all times. What's more, is that AFI is dedicated to advancing its technology, offering modern and reliable updates and features that you can trust.
Download the PDF on AFI here: The benefits of AFI.
As a longstanding member of the Google Cloud Partner Program, Damson Cloud specialises in bringing people and ideas together through new ways of working. We champion change management and digital transformation using some of the internet's most trusted solutions, including Google Workspace, Happeo and Jamboard. To find out more about our services, check out our library of tutorial videos or our blog.