Discussing Change Management in a Digital Transformation Project
November 4, 2021
Change is something that all businesses have to go through, no matter how long they've been running. That being said, not all are prepared to adapt, or even know where to start when it comes to managing change.
Change management revolves around strategy. It covers and considers everything - from approaches to prepare, support and nurture organisational adjustments.
This week, Damson Cloud CEO Fintan Murphy and Head of Digital Workspace Solutions Isobel Phillips discuss their thoughts, ideas and best practices on how to handle change in business.
What is Change Management?
Change management is about supporting your staff through something new that's happening in the business. One example would be the massive environmental change we've all gone through with COVID-19. Or, it could even be something like a new switch in software, office space or operational processes.
As humans, we don't tend to like change as it disrupts our comfort. So, managing this is all about making the transition as smooth and easy as possible for those who are directly impacted. When done right, this holds the power to maximise productivity and benefit all parties involved.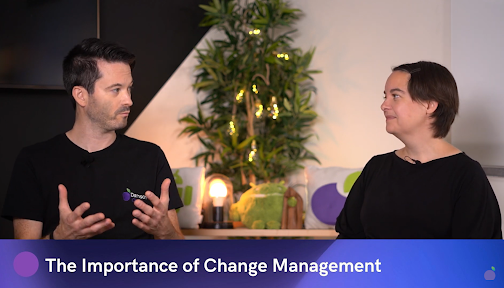 The Importance of Change Management
Change management is something that's often forgotten about, which can cause many challenges for businesses. For example: if staff are not fully informed or supported, then mistakes can happen more easily, with the potential for projects to fail in the long-run.
Another aspect that businesses need to be prepared for is staff resisting and refusing change. When this happens, the tools that businesses have made huge investments in don't get used properly, or become obsolete, and end up being a huge waste of company resources.
This roadblock is something that has to be addressed and recovered early on in the process to make people feel listened to, appreciated, and open to converting their opinions. In our experience of helping companies with change management, this issue usually comes down to a gap in knowledge which needs to be filled in order to aid comfortability. From here, businesses can ensure future success during this limbo period.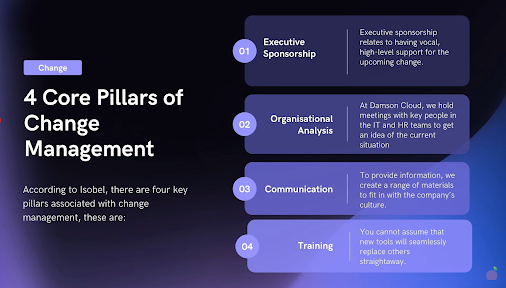 4 Core Pillars of Change Management
According to Isobel, there are four key pillars associated with change management, these are:
Executive sponsorship
Organisational analysis
Communication
Training
Let's take a closer look at each of these pillars and what they entail.
1. Executive Sponsorship
Executive sponsorship relates to having vocal, high-level support for the upcoming change. By having a strong, united foundation to kick-start the change, this can help to eradicate apprehensive thoughts and influence staff to get on board.
From Fintan's experience, giving staff a space to vent holds the power to turn a resistor into an advocate. By spending time hearing people's struggles, understanding their perspective and providing them with solid answers - this can make change much more seamless.
Asking for feedback also gives staff a feeling of control. This way, they can feel safe, focus more and do their jobs properly. This relates to the rise of internal comms that has risen over the last few years: by getting IT, HR and Communications to work together to spread consistent messages, these collective voices can help make the process significantly easier.
Ultimately, the more visible support there is, the better.
2. Organisational Analysis
With organisational analysis, there are multiple levels to this. At Damson Cloud, we hold meetings with key people in the IT and HR teams to get an idea of the current situation e.g. processes that are currently in place, where teams would like things to be in the future etc.
We also administer surveys that provide us with two important pieces of information: people's workflows, which includes the tools people are using, how they work on a day-to-day basis, and how we can replicate that with the new technology.
The second is people's needs and attitudes. For example, if someone is feeling unhappy - what are their pain points? How can we address these? This way, we can ensure everyone is heard and the migration process is being handled in the best way possible.
A lot of the time, there is a consistency with the concerns that are raised. Many people wonder what will happen with their data, with a fear of losing all of their work and when they will get back to the productivity level that they were at previously. That's why it is vital to answer these questions from the very beginning of the migration process.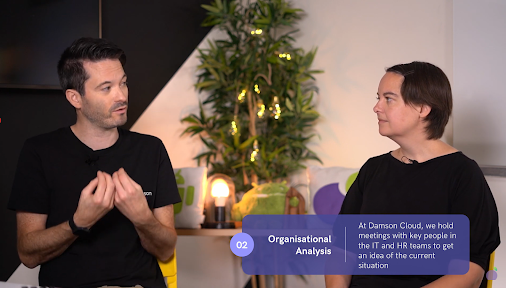 3. Communication
Communication is essential when introducing any kind of new process. People have to know where they stand, as landing things onto people without any notice will instantly cause resistance.
To provide information, we create a range of materials such as newsletters, videos and slideshows - whatever will personally fit in with the company's culture.
Another method we have found to be beneficial is taking the data found from the organisation analysis, collecting it together and presenting it back to HR so it can be put into communications and dealt with accordingly. This shows that people are being listened to, and can enable them to feel more open towards the change.
4. Training
You cannot assume that new tools will seamlessly replace others straightaway. People need to know how to effectively use these, therefore investing in training is the best way to nurture these new skills.
One of the main issues is that not a lot of people take training seriously, as people do not want to take their staff away from their roles, plus it can be expensive. However, it is worth investing in, as it makes the post go-live process much easier. This is because if you don't offer training, you will lose more than a half-day's equivalent to training in recovery.
At Damson Cloud, we teach people how to use Google Workspace with their business workflows in mind - not just in a general sense.
The main point to be aware of is that training is not an interruption - instead, it is used to make everything far more efficient in the long-run.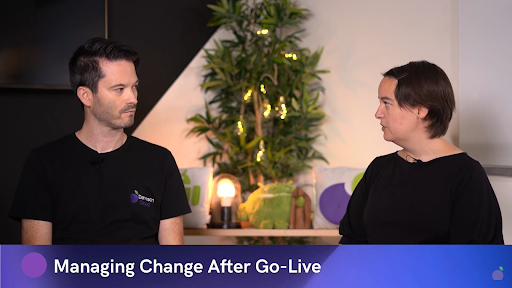 Managing Change After Go-Live
One key point to note is that change management cannot stop as soon as the migration starts. Follow-ups are so important, as once people begin using the new tools - they might start to see the potential and want increased training, or want reminders to help jog their memory.
That's why at Damson Cloud, we offer drop-in training services which are great for that period of time after the go-live date. We always say that we are in a long-term consulting arrangement with our clients, where check-ins are vital to ensure businesses are making the most of the change.
Managing Change After Acquisition
Acquisitions are unusual circumstances where change feels more forced - which usually comes with greater resistance from staff.
To combat this, you need to be much more sensitive and empathetic. You will often have a third of the people who are positive, a third who are in the middle, and a third who are negative. Because of this, the care and attention that must be put into the process is extremely important.
This all comes down to implementing the four core pillars of change management. Executive sponsorship needs to be genuine, with those higher up taking leadership and becoming avid supporters. This can only be accomplished through consistent communication coming from all levels and departments. On top of this, people's working situations need to be properly assessed, and any issues identified need to be resolved with the correct training.
One piece of advice from Fintan is to make people feel safe at all times. If you can ensure this from the start, then you can expect greater success later down the line.
If you have any change management scenarios or stories that you want to share with us - leave a comment below!
As a longstanding member of the Google Cloud Partner program, Damson Cloud specialises in bringing people and ideas together through new ways of working. We champion the very best practices in remote working and change management, helping companies and their teams collaborate productively from anywhere in the world. To find out more about our services, check out our library of tutorial videos or our blog.