Communication in Google Workspace: Getting your channels right
May 4, 2023
Here at Damson Cloud we love showing teams all the different ways they can communicate across the Google Workspace. Recent research shows that multiple communication channels can be positively related to job performance in contrast to over reliance on a singular communication channel. It has been shown that multiple channels allow employees to modify their communications for effective collaboration with colleagues.
Key takeaways from this video:
What channels are available in Google Workspace?
How do I choose the right channel for communication?
Avoiding being too casual in a professional setting
How to communicate externally
Combining the best channels for your needs
What channels are available to us in Google Workspace? 
We have Gmail, good old fashioned email, Chat for one to one or small group instant messaging, spaces for larger and long term messaging and Meet for video conference. Gmail is widely used and is a familiar space for everyone, Chat is also a familiar interface but can be viewed as quite informal and doesn't provide the structure of an email. Meet is the equivalent of Teams or Zoom but can also be used almost like "Facetime" with the ability to join meetings as you would make a video call from your phone. Such is the functionality and familiarity of the Google Workspace platform.
A positive of using Google Workspace is that people are already familiar with the interface and at the top level, they're intuitive and provide users with all the tools they need out of the box to ensure that they can easily communicate with others in the platform, whether external or internal to the business.
How do I choose the right channel for communication?
Flexible (more formal): Gmail offers a communication channel for formal and comprehensive communications. These can be one to one communications, like job offers or more communications to larger groups with information in the form of newsletters, project kick off/change management or organisation wide communications. It allows for provision of dense and detailed information and clusters of links such as training follow ups and on-boarding emails.
Email can be useful as an asynchronous communication, especially when communicating with groups in different time zones, so that information is not lost in an ongoing conversation stream. Perhaps you need some send specific functionality for your communication, Gmail offers access to confidentiality mode, Send later options for scheduling, Layouts to easily format communication and "Multi send" to keep your communications compliant with region data protection laws.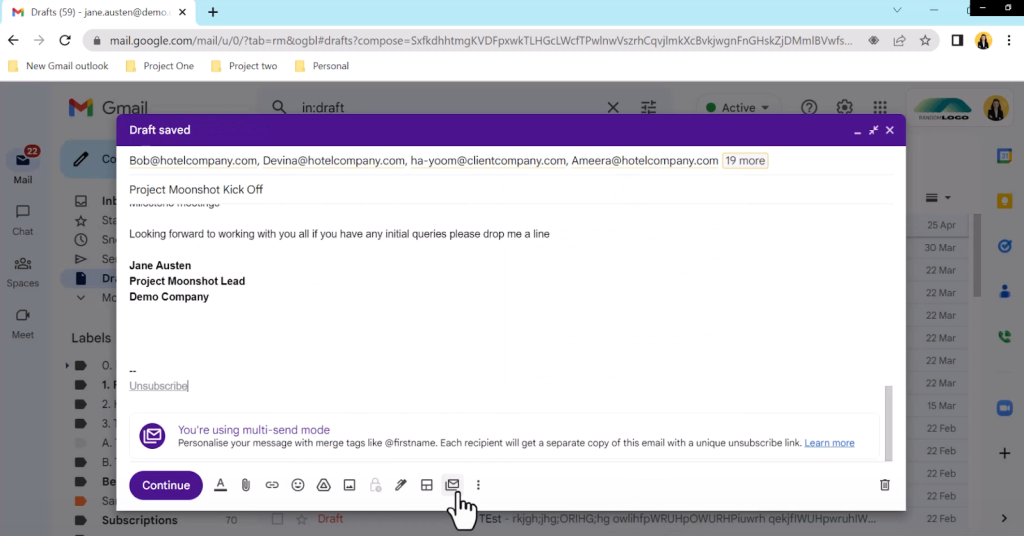 Of course there are limitations to Gmail. The formality of email requires that they are structured and can take time to draft. Does the time it takes reflect the importance of your communication, should this be a chat, or a meeting?
After the recall period an email cannot be edited or updated as links and information changes, so it's up to the recipient to delete outdated emails. Ensure to check your email before sending, make sure you have set your undo send time to the most appropriate period or engage confidential mode to set an expiry for information that could become outdated. 
The formality of email can imply the recipient must confirm receipt with unnecessary email traffic, which can be distracting and clog up the inbox. Be clear with your recipients with action or confirmation is required on receipt.
Emails can get lost in Spam or among other emails in less well maintained inboxes. Be sure to follow up on communications requiring responses and make sure to engage your recipient with a clear call to action in your subject line.
One-to-one (more informal): Perhaps your message is better suited to Chat. Chat is a great channel for singular and immediate communication. Chat is optimal for quick comments or questions with colleagues in a relaxed style that mimics direct conversation.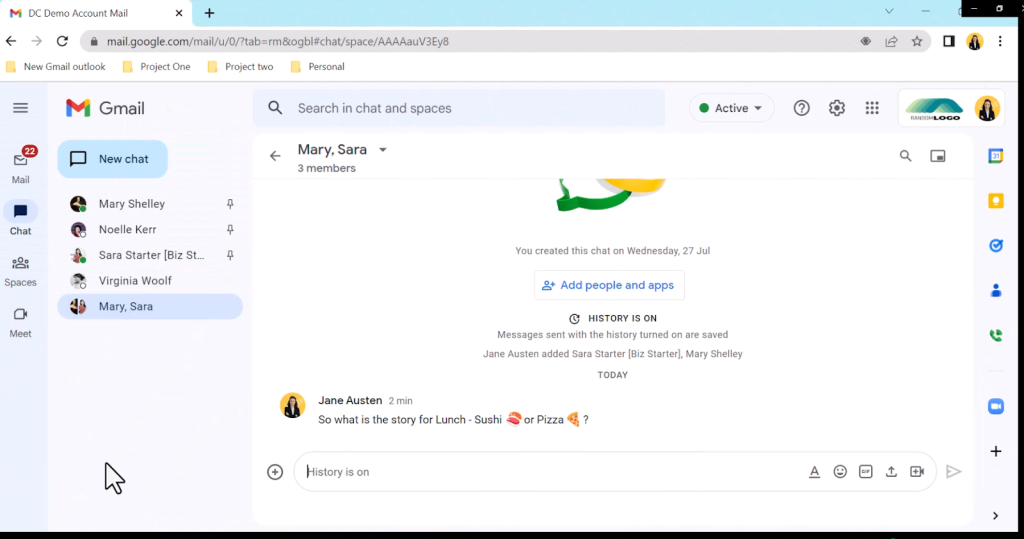 This relaxed style can also be employed with a small group of people when a once off or short term communication channel is required, group conversations can be set up with a small group such as a delegate group attending a training session.
Chat is essential in hybrid workplaces to mimic "across the desk" conversations and with Emoji and GIFs available allows for expressive and efficient conversation.
Avoid the pitfalls of one to one chat conversations: is the conversation you are having relevant to a group, are you making decisions in silo. Should this conversation take place somewhere more collaborative?
Some of us have experienced Chat can become disruptive. Consider when using chat do you know your contact well enough to address them in a casual format? Don't be tempted to flood colleagues with chat messages when you are not getting the reply you want with the urgency you want.
Lastly Chat can become too casual, ensure that you are aware of any Acceptable use or Electronic communications policies that are operational in your organisation to make sure that you don't breach anything and be aware when communicating in chat that your organisation may have a Data Retention or InfoSec policy which requires retention or review of chat communications.
Working as a team in chat: When working collaboratively as a team or on projects Spaces can offer an area for collective and instant communication. Use these spaces to discuss or share information that is pertinent to a wider audience of collaborators. Use Spaces to quickly give permissions on shared documentation, store that documentation centrally and create team or project related tasks with full visibility for all team members or perhaps simply create a digital environment to communicate with teams/department/organisations on a threaded or announcement space.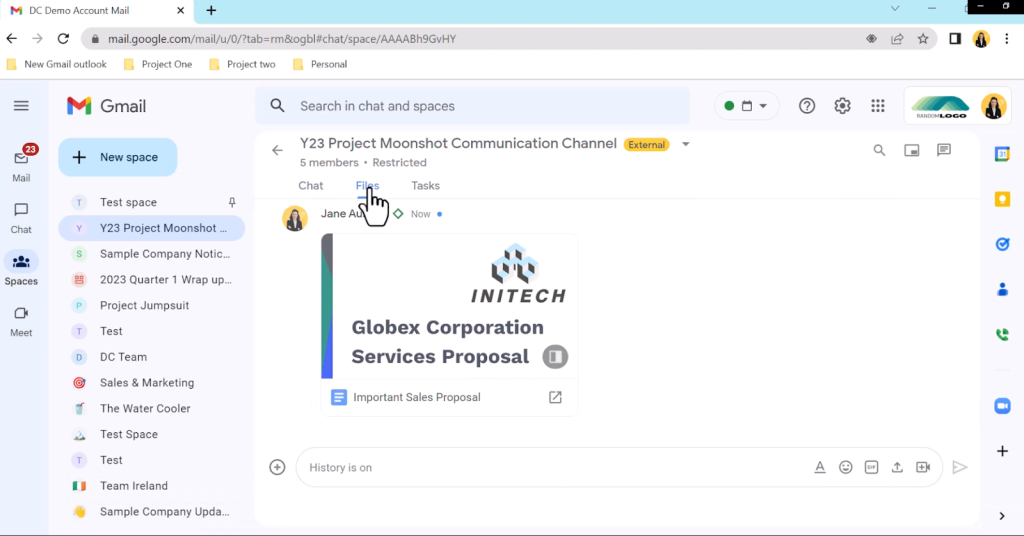 Spaces with external stakeholders do require caution when sharing sensitive information or confidential documents. Consider whether allowing external collaborators is appropriate in your company, if not, admins can turn off external chat options, or limit potential collaborators to members of trusted domains.  Alternatively ensure that your teams are briefed on external communications channels and are trained to recognise the external collaborator indicators which are available across the Google Workspace environment.
We highly recommend training teams across the board on your IM communication strategies and terms of use to ensure that collaborators carry on conversations in the correct spaces, without this you risk dividing conversation across a number of channels.
For social spaces in hybrid workplaces it's possible the space can lose momentum or become redundant or the purpose of the space may be hijacked by alternative communication. Protect yourself from redundancy or duplication of spaces by engaging existing committees or sponsors with an interest in your spaces purpose who can maintain, prune and regulate common spaces.
Hybrid spaces (incorporating Email, Chat and Meet): Lastly, and often the most premium form of communication in the Hybrid space. Engage Meet for communication that is conversational or explanatory. Most often when there is a requirement to connect or project by engaging tone of voice and body language. Regular face to face catch ups can be essential in Hybrid teams to build rapport and deepen relational understanding to give personal context to professional actions.
Meet is essential when an update or decision needs a visual element such as a slide deck or technical demo.
When you're expecting a group or team might all have similar questions about a development, or if an announcement requires discussion or input from departments, jumping into a quick Meet allows an open and efficient forum. Perhaps even engaging the Q& A function to manage a particularly vigorous debate, breakout rooms to workshop ideas, or polls to quickly make a call.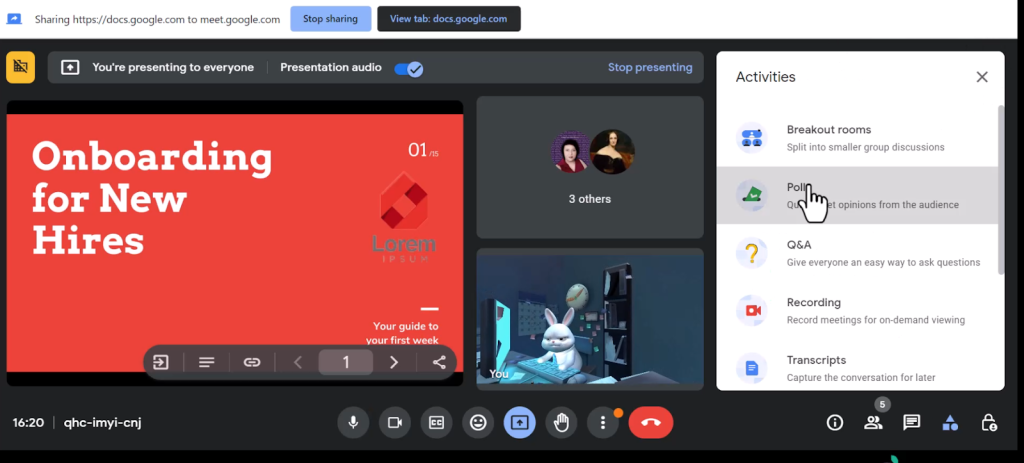 Participation is key with Meet, and you are reliant on participants to engage their videos and be prepared to unmute. Creating a welcome environment and laying out ground rules for engagement can help. 
At the opposite end of the scale overuse of interactive elements such as in meet chat or animated filters can become distracting, use of host and administrator controls can help lock up distracting elements in your meet environment. We will cover host controls in an upcoming video so keep your eyes peeled for that.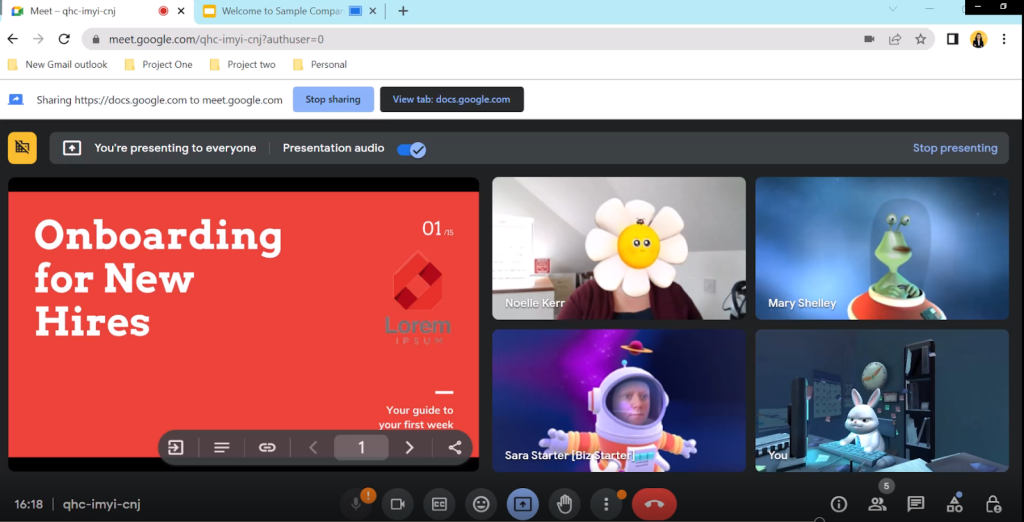 Lastly, be mindful of your participants, quick access functions can allow members of your company to join a Meet even if not directly invited. Be conscious of this when quick access is turned on in case you are discussing sensitive topics, or activate host management to turn on quick access for your meet. 
Each channel is suited to a different communication type but don't get stuck in a channel. I have often sent emails that generated so many questions that it made sense to just jump into a Meet. I have had chat's that resulted in the requirement to share more formalised content in an email format. So bear in mind a communication can start in one channel and move to another.
We hope this has helped you evaluate which channels your communications are best suited. If you have any communication tips do let us know. And we'll see you next week!
As always, we want to hear from you. Are Google Spaces something you or your business would be interested in learning more about? Let us know in the comments on our YouTube channel or contact us for more information here. 
As a longstanding member of the Google Cloud Partner Program and as a Google Premier Partner for Workspace, Damson Cloud specialises in bringing people and ideas together through new ways of working. We champion the very best practices in remote working and change management, helping companies and their teams collaborate productively from anywhere in the world. To find out more about our services, check out our library of tutorial videos or our blog.