Damson Cloud's Top Video Conferencing Tips
September 9, 2021
Video conferencing is still very much at the front and centre of how businesses communicate. The way we present ourselves has always had the potential to make or break future success. But with virtual meetings, extra care needs to be taken to ensure a seamless experience.
By following best practices - virtual meetings can be both productive and enjoyable! This week, Fintan Murphy covers Damson Cloud's top video conferencing tips, so you can be sure to get it right, every time.
Our Top Video Conferencing Tips
Now, video conferencing is easier than ever to perfect. Yet, there's so many minor things that people forget about, that can make huge differences to the entire interaction process. Here are some tips that we think you'll find especially useful next time you schedule a call:
Check Your Settings
If you're joining a new video conferencing solution, like Google Meet or Zoom, it is important to get a feel for it before setting up your first meeting. Sometimes, equipment like your microphone, video and lighting can appear a little different from what you're used to. That's why checking your setup before you start a call can help avoid the common embarrassment of your camera not working etc.
Consider Your Surroundings
You may not realise how big of an impact your surroundings can have. Whether it be background noise or other distracting factors - try your best to mitigate these. If you don't have access to noise cancellation features, there are other ways you can prevent issues arising. Back in the early days of working from home, many people simply put signs outside of the room they were working in to ensure family members would not accidentally interrupt.
Video Conferencing Links
Whether your meeting is internal or external, it is important to make sure you maintain privacy at all times. This can be done by controlling who you share video conferencing links with, so only invited attendees are able to join. With Google Meet, your meeting is given a link that is exclusive to that specific meeting. This means that only people who have access to that link can participate.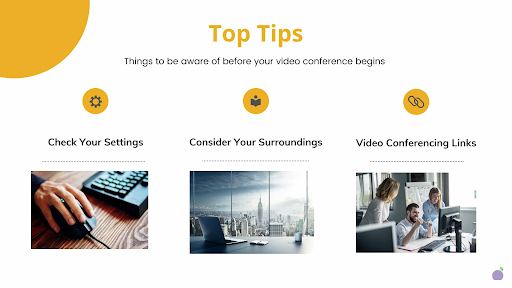 Make Smart Wardrobe Choices
Believe it or not - certain items of clothing are not video conferencing friendly! These include the likes stripes and repeating patterns. These can create an unwanted distortion and distraction for your other video conferencing members, which can seriously curb productivity. Trust us - we have had our fair share of experiences with these.
Be Aware of Background Colours
If you're using blurred or fake backgrounds, it is good practice to have a colour contrast between what you're wearing and your surroundings. This can be as simple as wearing a light colour if you have a dark background - as you don't want to disappear into the background!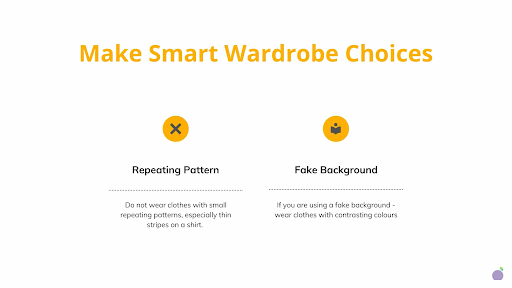 Remember Lights, Camera, Action!
Lighting is essential to consider in virtual settings. By having a good source of light in front of you, you can be fully visible and better interact with other participants. You want to be brighter than the background behind you, something you can ensure by being strategic about where you set up. For example: do not sit with a window behind you, and instead make sure you are facing the window for the best possible view.
Bright overhead lights (often found in kitchens) are also not the most flattering as they can cause a lot of shadowing. We would recommend choosing a different room for your setup, just to be on the safe side.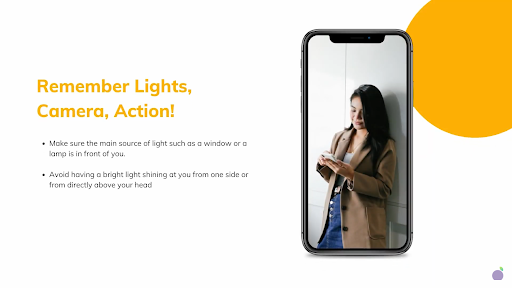 Equipment Positioning
We recommend always wearing a set of headphones to reduce echoing and ensure privacy.
With microphones, where you place it is important to avoid distortions. Often, people can have their microphones much too close so that you can (awkwardly) hear them breathing. Or, they have them too far away so that you can hear other background sounds before the voice.
Eye Contact
It's important to have your camera at eye level, as it shows attentiveness and is generally more flattering! If you have a laptop, you can achieve this with inexpensive laptop stands - or even by simply stacking some books. This will really help to engage your audience, especially if you're presenting.
Video Feed
In very large meetings, it is definitely okay to turn off your video feed, as this can save on bandwidth and connectivity issues. For smaller meetings, it helps to engage the audience, so having your video feed on can help by making you more memorable and creating a bigger impact.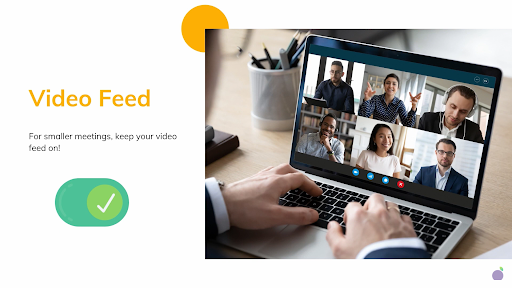 Natural vs Fake Backgrounds
At Damson, we believe that natural backgrounds (e.g. the background of the room you're in) is more visually appealing compared to fake ones. This is because with fake backgrounds, there's more likely to be distortion, especially when you make hand movements while talking.
It can also be a nice personal touch to have your background visible, as it can make you more relatable and open up opportunities to connect with people over things you have in common. Whether this be over a poster hanging on your wall or curios sitting on a shelf - these can also make great ice breakers to ease daunting interactions. Just always make sure your space is tidy and isn't so cluttered that it's distracting.
If you are in a situation where you have other people in the room or your room is messy, then a fake background works well. Blurred backgrounds are a good middle ground, as it means you're not fully concealing your space, but are still showing consideration of the meeting.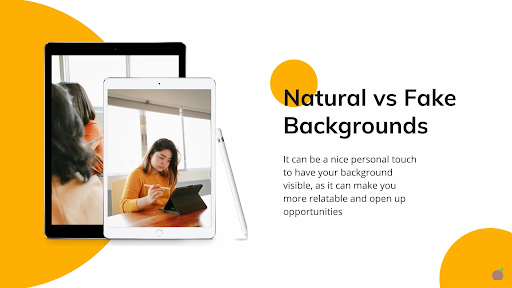 To guarantee a virtual meeting that's good quality and free of any mishaps - following these video conferencing tips will be sure to keep you right. If you have any others you want to share, let us know in the comments!
As a longstanding member of the Google Cloud Partner Program, Damson Cloud specialises in bringing people and ideas together through new ways of working. We champion the very best practices in remote working and change management, helping companies and their teams collaborate productively from anywhere in the world. To find out more about our services, check out our library of tutorial videos or our blog.