Data Regions in Google Workspace
August 26, 2021
Data regions is a helpful feature that can now be found across several Google Workspace plans. But what is it, and what does it cover?
Essentially, data regions offer more geo-control. This gives Google Workspace users the choice to pick where their data is stored. This is extremely important when it comes to GDPR and compliance - making this feature a new-found necessity for businesses.
Now, Google has updated this feature to offer two different types of data regions, one of which is available to customers from the Business Standard plan upwards. In response to this, Damson Cloud's Fintan Murphy introduces us to data regions, and highlights the differences between each option.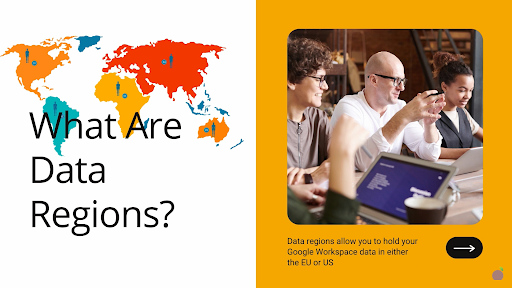 What Are Data Regions?
Data regions allow you to hold your Google Workspace data in either the EU or US. Google may add other regions to this list in the future, but these are the only two that are currently available to users.
Up until last year (2020), if you were on GSuite Business or upwards - you already had access to data regions. But, when the new rebrand and Google Workspace plans came out, you could only access this feature in Enterprise Plus, which is the highest and the most expensive tier ($312 per user per year). This meant that if customers wanted access to this feature, the only way was through upgrading.
There was a lot of pushback from customers and partners on this, as they felt European customers should at least have access to this feature. As a result, in July 2021, Google announced that Fundamental data regions would be made available for Business Standard plans and upwards.
With this new alternative, comes some new changes. While Fundamental data regions offer less compared to its Enterprise Plus counterpart, it still means this feature is now more widely available to Google Workspace users.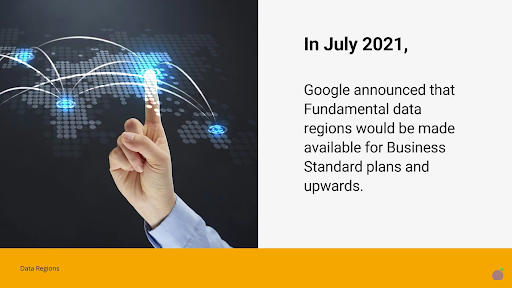 Fundamental vs Enterprise
There are a number of key differences between the two options. But, to put it simply, if you just want your data hosted in either Europe or the US - then Fundamental data regions will tick this box for you.
If you're looking for more, then there's three main ways these features are separated:
Single vs Multiple Data Regions
This relates to how many regions you can split your data across. With the Fundamental version, you cannot have multiple data regions. You have to choose between either the EU or the US.
On Enterprise Plus, you can have groups of users who have their data split across Europe and the US. This is very useful for global businesses that want more flexibility with their data.
Organisational Units
Organisational units is how you group users in Google Workspace. You may have users broken down into different categories, such as teams or locations. This could be for the likes of a marketing or finance team. Or, for a US or European team.
With Enterprise Plus, you can have a different data region for each organisational unit. With Fundamental, you can only select one region for the entire organisation.
Report Availability
Reporting relates to tracking the progress of data migration. In Enterprise Plus, you get advanced reports that detail the move of your data to whatever region you choose. With Fundamental data regions being a more limited version, this is available to users that fall within the respective plans.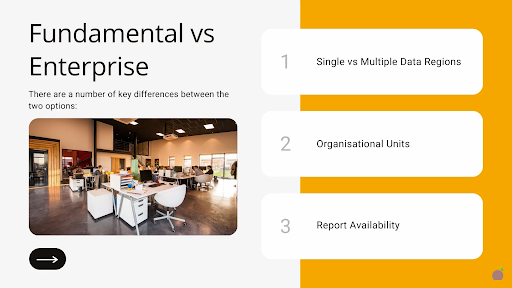 Who Can Access It?
The Fundamental data regions feature is available to the following Google Workspace tiers:
Business Standard
Business Plus
Enterprise Standard & Plus
However, the Fundamental option is not available to every plan in Google Workspace, such as:
Enterprise Essentials
Nonprofits
Education (free version)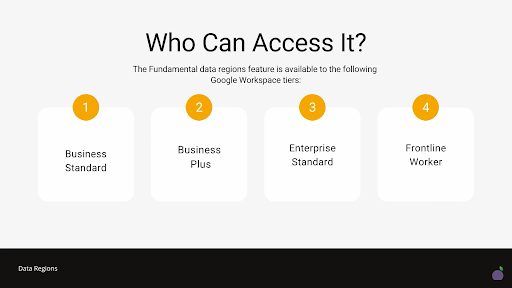 Even though Google has reverted its offering back to what it was before the rebrand - we at Damson Cloud think this is a welcomed change. Especially for our European Union customers who now do not have to pay as much to have their data held.
What do you think of the new update? As always, if you have any questions regarding data regions or anything else - get in touch with the team today!
As a longstanding member of the Google Cloud Partner Program, Damson Cloud specialises in bringing people and ideas together through new ways of working. We champion change management and digital transformation using some of the internet's most trusted solutions, including Google Workspace, Happeo and Jamboard. To find out more about our services, check out our library of tutorial videos or our blog.