Google Chat Vs Slack
February 24, 2022
Since the pandemic, great importance has been placed on fast, productive communication.
With remote and hybrid working on the rise, getting the information you need from co-workers has never been easier with the vast amount of instant messaging (IM) apps now available. But which one is best? That's what we're here to help you with.
This week, Fintan Murphy compares Google Chat to Slack - a discussion that many customers ask Damson Cloud when assessing their company's IM needs.
What is Slack?
Slack is a collaboration and communication platform designed for teams to share instant messaging from a business or enterprise perspective.
There are three ways to access Slack, these can be through either:
Web browser
Mobile app
Desktop app
Because of this flexibility, you can use it across any device.
Teams can use Slack to direct message, group message or message channels (which we'll delve into). You can also integrate it with other apps like Zoom, Trello and Google Drive.
What is Google Chat?
Google Chat is a chat communication tool that provides direct messages and team chat rooms, along with a group messaging function that allows Google Drive content sharing. It is one of two apps that constitute the replacement for Google Hangouts, the other being Google Meet.
Typically, we find that a lot of Slack customers don't realise that Google Chat has continued to advance, and now offers a lot of the features that Slack has, plus more.
Chat seamlessly integrates with other Google Workspace apps. Whether it be to message someone internally or externally, create a group for specific projects, add a video meeting or simply send a funny GIF - Google Chat can do it all.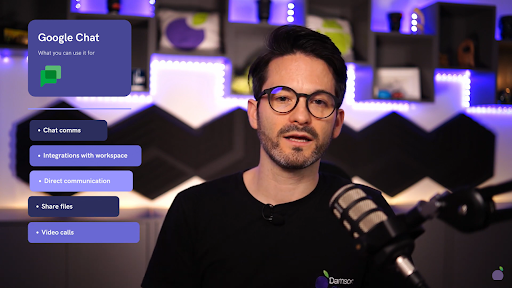 Let's take a closer look at the core differentiators between Slack and Google Chat.
Google Chat Vs Slack: Key Differences
While they both serve the same core purpose, Google Chat and Slack one-up each other when it comes to meeting certain business needs. These needs include pricing, video conferencing abilities, integrations, search functionality, message history, group chats, user accessibility and file permissions.
1. Prices
Google Chat is part of the Google Workspace environment, an umbrella platform that includes a wide range of extra productivity apps. For as low as €5.20 per user per month for Google Workspace Starter, you can have Google Chat and all of the other Workspace tools like Gmail, Drive and Calendar.
Slack offers a 'freemium' model, a pricing strategy where a basic product or service is provided free of charge, but payment is required for additional features that expand the functionality of the software. Its starter paid plan, named Slack 'Pro', is €5.71 per user per month just for the Slack messaging platform on its own.
Obviously, with Google, you get a lot more for your money.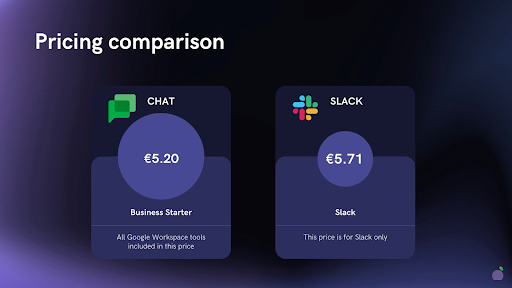 2. Video Conferencing
Video conferencing is built into Google via Google Meet. On the Starter plan, you can have up to 100 people. On the Enterprise plan, you can have up to 500 people, as well as live streaming for up to 100,000 - so more than enough for both internal and external meetings!
On Slack, you can only have one-to-one calls on the freemium version. With the paid-for version, you can have up to 15 participants - so significantly lower compared to Google.
3. Integrations
Although Google Chat is new, you can integrate certain third-party tools to enhance workflow efficiency. However, at the moment its APIs are fairly new which makes it more limited, so Slack definitely wins this round.
On its free plan, you can have up to 10 integrations. For the paid plan, you can have thousands. In this instance, Slack is a much more mature platform, but we do expect Google Chat to up its game in this department over the coming years.
4. Search Functionality
Both offer search functionality, where users can find exact information using keywords. At present, Google Chat's search function is much more basic. Again, this is mainly because it is the newer app out of the two.
As Slack is more established, it has more advanced features. You can search specific times and exclude or include certain channels and individuals, making it much easier to find what you need within chat rooms.
But, as we said before, Google Chat features are constantly evolving month on month. So, we expect 2022 to bring us a lot more that will make the app far more competitive.
5. Message History
From a security and HR point-of-view, keeping records of messages sent within the company is essential. With Slack, you can have unlimited chat history in the paid-for plans. In the free version, you can have up to 10,000 recent messages.
In Google, the chat is saved by default, which you can turn on and off. If you turn it off, chat messages will be deleted after 24 hours. With Google Workspace Business Plus plans and upwards, you can make use of Google Vault, a compliance and archiving tool which keeps a copy of all messages, emails and files - even if a user tries to delete messages themselves.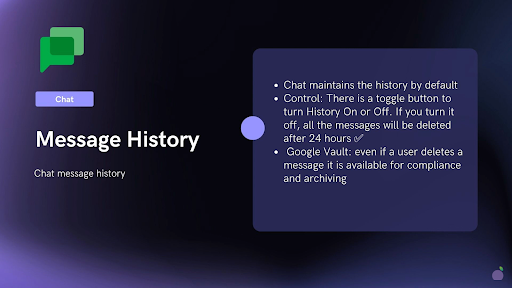 6. Groups
The ability to harness group chats is key for separating projects and even departments. In Google Chat, you can create a Group that can include more than two people, whether they're internal or external. There's also Spaces, a very powerful feature that acts as a central place for people to share messages, send files, assign tasks and stay connected in a more accessible way. For example: you can open files that have been shared in a Space directly within the chat window.
Currently, Groups are more suitable for direct conversations. However, Google will be introducing the ability to have threaded conversations in Groups as well as Spaces.
In Slack, you have the ability to use both group messages and channels. Channels are very similar to Spaces within Google, where you can invite internal and external people to collaborate on one specific topic.
7. Adding Users to a Chat Room
In Google, you can add people outside of your organisation if enabled by your administrator. You can also restrict individual Spaces to be internal or external. External guests cannot add other people to a Space either - only people belonging to the original company can do this.
Similarly, when it comes to adding members in Slack, by default all members (not guests) can invite members to join a Slack group. An owner or admin can choose to remove members and change permissions around who can send invitations too.
8. File Permissions
In Chat, when you share a file by either adding it or pasting a Google Drive link, it will automatically scan and check existing chat members and their associated permissions. It will prompt a popup, asking if you want to share the file anyway, or if you want to manually add everyone or certain people within that Space to that particular file.
In Slack, you attach the file to the chat, which will instantly give access to the individual, group and channel you're sending it to.
Huddles in Slack
One point we wanted to mention is the 'Huddles' feature in Slack. Slack Huddles is an audio-first way to communicate inside a channel, group or direct message, including those with external partners. It allows members to have informal, spontaneous discussions which is great for those who love audio-only.
In comparison, Google Chat only offers the ability to add Google Meet calls, which is primarily for video conferencing. Although there is the ability to turn off your camera and have an audio-only conversation, Huddles is unique as it is specifically designed for just voice calls.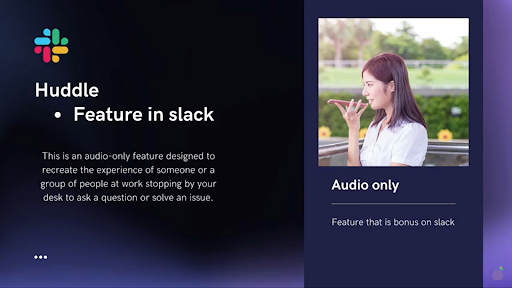 Google Chat Vs Slack: Final Thoughts
When we talk about best of breed apps like Slack, there will be features that give Google Chat a run for its money. Because Slack solely focuses on instant messaging, it will offer more within this realm of communication.
However, Google Chat can be used as a more convenient and cost-effective way to communicate and collaborate compared to Slack. Because Google Workspace is an all-encompassing productivity platform, you can't deny that it does provide more value.
As with any third-party solution, you must weigh up whether it's worth the additional cost. It is therefore up to each individual company to assess their needs and choose the best option that suits them.
We'd love to know your opinion on Google Chat vs Slack - what are your thoughts and experiences? Let us know in the comments!
As a longstanding member of the Google Cloud Partner Program, Damson Cloud specialises in bringing people and ideas together through new ways of working. We champion the very best practices in remote working and change management, helping companies and their teams collaborate productively from anywhere in the world. To find out more about our services, check out our library of tutorial videos or our blog.