Google Drive and OneDrive: What's the Difference?
October 7, 2021
Google Drive and Microsoft OneDrive are the most popular online storage solutions out there. While their services are very similar, they also have their fair share of differences.
When comparing Google Drive and OneDrive, they are essentially two sides of the same coin. This makes it highly beneficial to know the features of each before you decide which one is best for you and your business.
This week, Damson Cloud's Fintan Murphy assesses the key similarities and differences between Google Drive and OneDrive.
Google Drive and OneDrive: Similarities and Differences
When looking at the likeness between the two, there's no denying that both are safe spaces to store your files. You can actually store Microsoft files in both Google Drive and OneDrive, making them highly accessible and compatible.
As Google Drive and OneDrive are file management systems, the functionalities offered by both are more or less the same. Some of the basic actions you can do using either are saving documents, photos and other files in the Cloud, sharing them with internal or external users, as well as collaborating on content.
That being said, Google Drive is undoubtedly a much easier file management system to use. Due to its handy drag-and-drop feature, plus the option to view other folders thanks to the left-hand panel - this makes Google Drive far more convenient and superior. On the other hand, OneDrive offers no left-hand panel navigation, making moving files more complex for its users.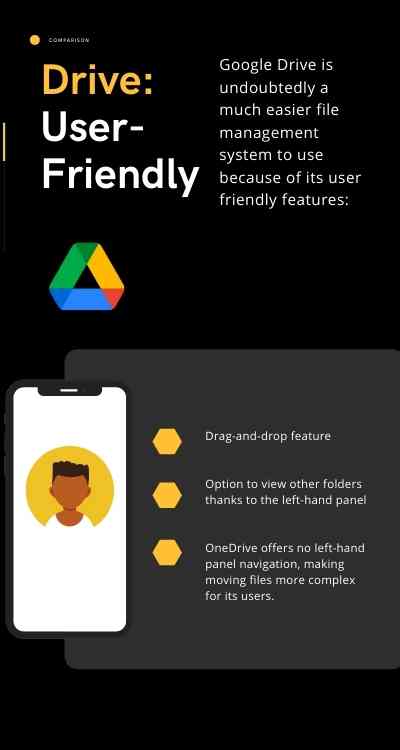 Download Google Drive Vs OneDrive
Within the Google Drive product, users can also make use of shared drives, allowing you to store, search and access files with a team. This is similar to Microsoft's SharePoint, which also offers a secure place to store, organise, share and access information.
The key difference is that SharePoint is a separate product. This is one of Microsoft's main downfalls, as you can store files in multiple places, which can cause greater confusion as to where data is stored. For Google Drive - all files are kept in the one convenient location, therefore increasing productivity and decreasing loss of files.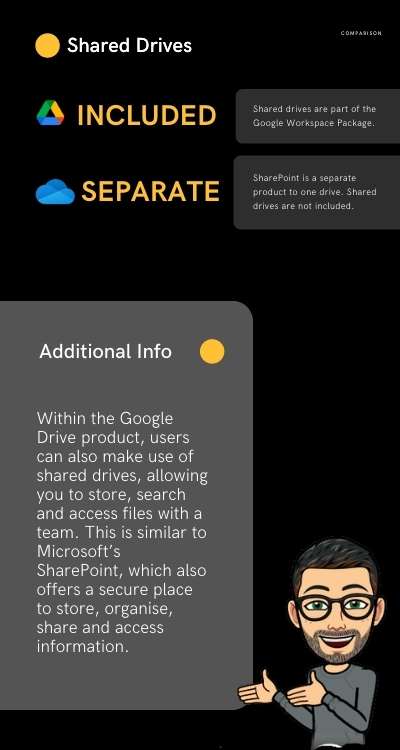 Collaboration
Sharing and collaborating is one of the key benefits of both. Where we see the main difference is that Google Drive's collaboration features offer fast, real-time updates. Tests and demos done by ourselves have shown that compared to Google Drive, OneDrive experiences far more delays.
Read: 5 Ways Your Team Can Start Collaborating with Google Drive
During a recent migration, we found that the sharing capabilities vastly differ. With Google Drive, if you look at file sharing, whether it be within the 'File Manager' or the document itself - the screen that you're presented with using both pathways is the exact same. For an end user, this makes the interface easier to use as it instills familiarity.
For OneDrive, it offers two different forms of sharing, which can be confusing for users. If you right-click on a document in OneDrive, it allows you to share via a link with a select group of people. Or, there's 'Manage Access', which will add someone directly to a file.
But, when you open a file in OneDrive and go to share it, it uses this first share functionality, not 'Manage Access'. So sharing permissions are different depending on what pathway the user takes.
This proves that where Microsoft succeeds with its core products like Excel, PowerPoint and Word - with new tools like OneDrive, the ease-of-use is not on the same level yet.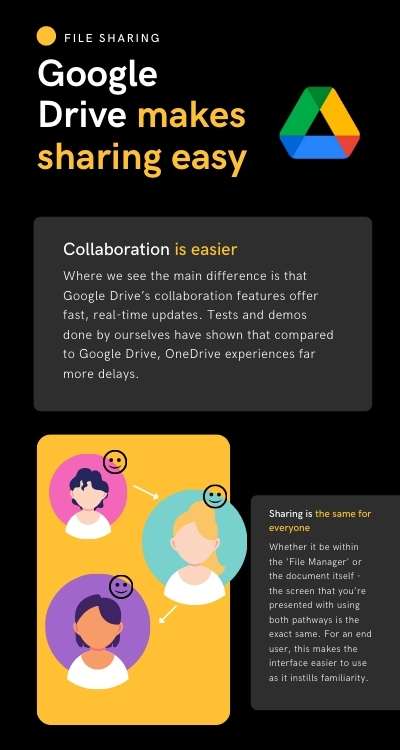 Web Capabilities
While both products offer offline access, as Google follows a Cloud-only model, its interface is designed to be seamlessly viewable and accessible on the web. Microsoft's, however, is not - as it has one foot in the cloud and the other on the desktop. While OneDrive does have web-based capabilities, in order to gain full functionality, some features are only available if you install the application directly onto your desktop.
A lot of people do prefer this, especially if they are more Microsoft-focused. Yet, our clients will vouch that using Cloud-based solutions means the management overhead for IT is significantly reduced when you don't have to install applications. For end users, it is a lot less likely for things to go wrong. Plus, no matter what device users access information on, they are having the same, familiar experience.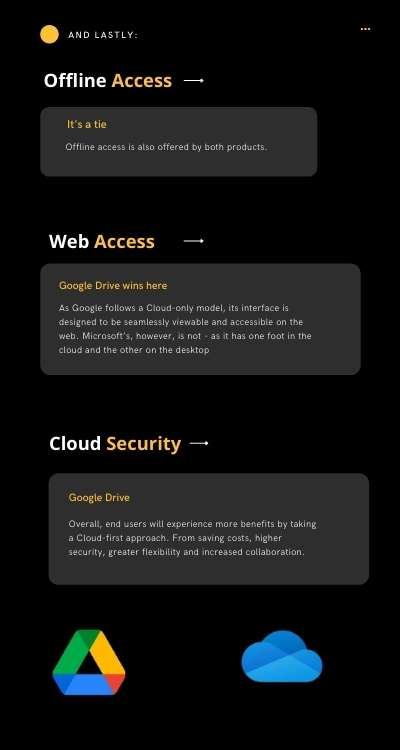 Overall, end users will experience more benefits by taking a Cloud-first approach. From saving costs, higher security, greater flexibility and increased collaboration - these are all reasons why Google Drive is the better solution out of the two.
Most Google users are familiar with the Google Drive File Stream tool. Useful for housing large amounts of data, the Data and Sync tool can be used to ensure you always have a backup of data in your cloud that you don't need on your desktop.
FAQ
Which is safer, Google Drive or One Drive?
Google Drive and One drive are both very secure systems. However, Google has recently been shown to be the more secure cloud system: Google has full end to end encryption of its documents in Google Drive since a security update in 2021.
OneDrive and Google Drive are both protected by optional 2FA, which ensures extra steps are needed for users to access data.
What experiences have you had when comparing Google Drive and OneDrive? Let us know in the comments!
As a longstanding member of the Google Cloud Partner program, Damson Cloud specialises in bringing people and ideas together through new ways of working. We champion the very best practices in remote working and change management, helping companies and their teams collaborate productively from anywhere in the world. To find out more about our services, check out our library of tutorial videos or our blog.