Google Meet: Dial Someone Into a Meet Call with Global Dialling
April 8, 2021
Many Google customers rely on Google Meet to communicate with their colleagues and clients. As a popular form of video conferencing, Google is constantly updating its features to improve user experience. This week, Damson Cloud discusses a new feature in Google Meet. This feature is the ability to dial someone into a Google Meet call and Google Meet Global Dialling Subscription. If this feature sounds like something you could utilise, Fintan Murphy explains what Google Meet Global dialling is, who can access it, why you would use it, the cost, and who you can call.  
What is the Google Meet Global Dialling Subscription?
The Google Meet Global Dialling Subscription is a free subscription that allows you to place a call from a Google Meet to add clients to your meeting. 
When you have it added, you will be able to add someone to a Google Meet via phone. Customers have had the ability to dial into a Google Meet using a local number but this allows you to dial out to over 100'countries - a very useful feature. As there is no cost to the subscription itself it seems like a no brainer to enable this feature for your Google Meet.
Who Can Use Google Meet Global Dialling?
Google Meet Global Dialling is available for all of the Google Workspace Editions in the following countries: Canada, the United States, the United Kingdom, France, Spain, Portugal, Denmark, Sweden, Switzerland, Ireland, the Netherlands, Germany, Italy, Austria, and Belgium. 
More countries are coming soon but these are the countries available at launch.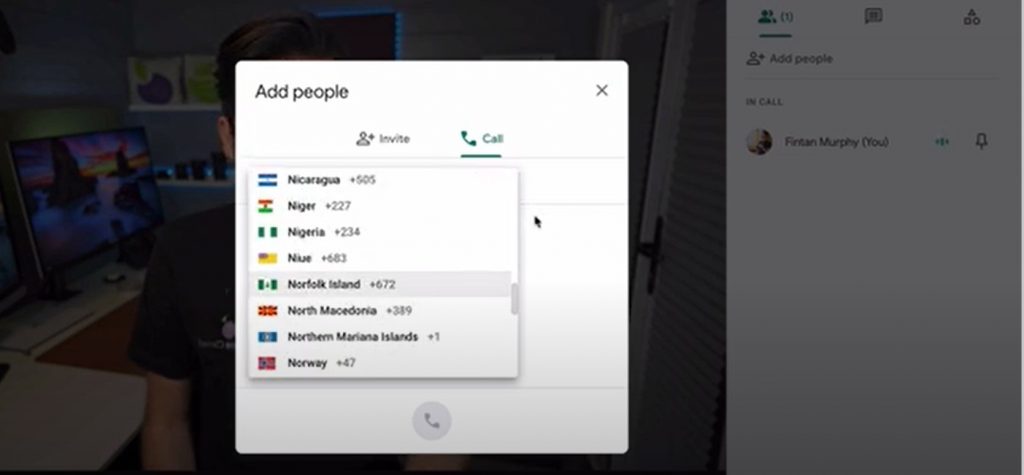 Why You Would Use Google Meet Global Dialling
It enables users to utilise the 'Call me' feature and dial out using audio to someone who might not have an internet connection, who might not have the meeting details or someone who is on the road where taking a phone call is much easier than finding a stable internet connection. 
This feature is incredibly useful for teams who are working with clients who may not be familiar with Google Meet or other video conferencing tools. You can gather your team together and dial out to the client or customer that you wish to reach, and add them into your meeting for easy collaboration. 
This can also be useful for colleagues who might both want to communicate with a client simultaneously and the client only wants an audio call rather than having a video conference. This can now be done with Google Meet. 
You will be billed for the minutes used each month and nothing more than that. You are still able to dial into calls as well and this feature has been available for Google customers since last year.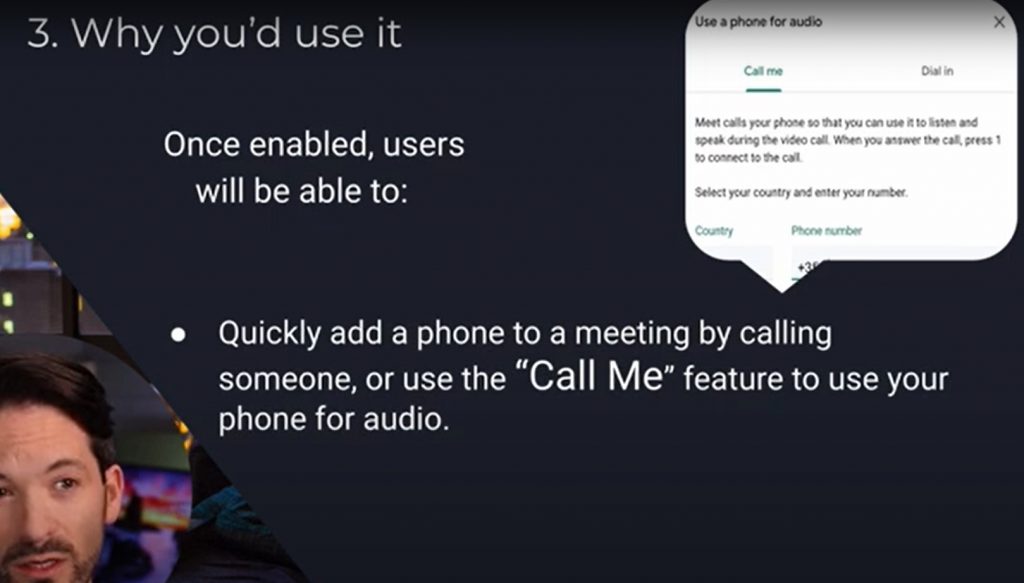 The Cost of Google Meet Global Dialling
Impressively, Google has managed to keep the price of this feature incredibly affordable. For Ireland, it costs 2 cents; in the United Kingdom, it costs 1 cent; in India 1 cent; and in South Africa, it costs 9 cents. It is cost-effective and a justified expense for any business. 
Countries that are supported for dialling in are the same as the ones for dialling out for this new Google feature. The USA and Canada calls are still free to dial out which has always been the case with this Google Meet feature. 

Using Google Meet Global Dialling
If you are adding someone to Google Meet without Global Dialling enabled, you will only be able to add people with a US or Canada number. When you have it enabled, you will be able to go through all the varied country codes to be able to communicate with anyone from those places. 
To set this feature up, you have to be an administrator. Go to 'Subscriptions' in Google Workspace Admin Panel. If you don't manage your own billing, you will need to get your reseller to do this for you. If not, go to Google Workspace Add-Ons and you will see Global Dialling being offered as an additional feature for your plan.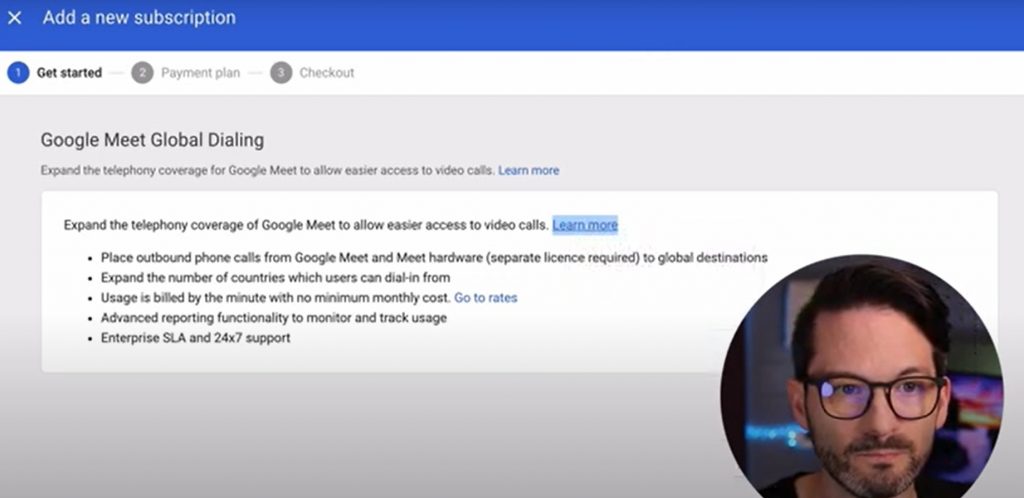 Click 'Get Started' and 'Check Out' and that will be added to your plan. Remember, you won't be paying for the subscription, just the cost of the calls made in a month. 
This feature makes it more convenient and accessible for those who have poor network connectivity. Something every business should consider - no reasons to avoid calls now! 
As a longstanding member of the Google Cloud Partner Program, Damson Cloud specialises in bringing people and ideas together through new ways of working. We champion change management and digital transformation using some of the internet's most trusted solutions, including Google Workspace, Happeo and Jamboard. To find out more about our services, check out our library of tutorial videos or our blog.