Google Sites: Q&A with Steegle's Stephen Hind
January 13, 2022
To kick-start our first blog of 2022, we are excited to share a very interesting interview with Stephen Hind, one of the top tech pros behind Steegle.
Steegle focuses on creating innovative internet solutions, including tools and scripts to make Google Sites even more effective and powerful.
In this interview, we had the opportunity to discover fresh insights about the new transition of Google Sites from the Co-Founder and Technical Director of Steegle, who has been working in the IT industry for an impressive 25 years.
To learn more about Stephen's expertise on Google Sites, check out our video or read on for the highlights.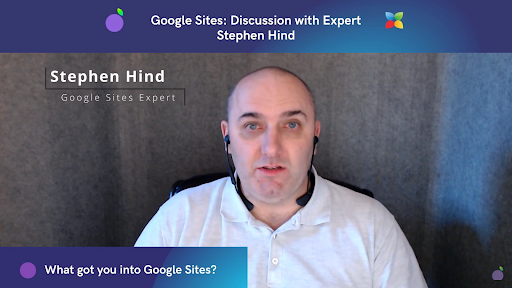 What Got You Into Google Sites?
Stephen started personally using Google Workspace when it was in its early stages. He set it up for the company he was working for at the time, primarily as their core email system. As Google Workspace progressed and diversified into other apps like Calendar and Drive, Stephen noticed a pop-up for Google Sites, which instantly piqued his interest.
'I had been a website developer for a number of years for the NHS in the UK. I thought [Google Sites] was a good idea, so I got into it. I thought it was a bit weird, as it's a tool to make a website rather than HTML coding which I had been using.
"I needed to get some questions answered - so I went onto the Google Sites help forum and then saw what Google was trying to do with this product. I ended up sticking around on the forum and answering more questions than I asked. From that, I decided to show people how to use Google Sites - and that's where Steegle came from."
From developing his site, Steegle turned into a hub of valuable information for people wanting to enhance their knowledge on Google Sites, which then turned into Stephen's full-time job as it is today.
What Can People Expect From Steegle?
A lot of Steegle's customers are Google Workspace users who want an intranet - and Google Sites is the natural place to develop this. As you don't need to worry about sign-in or security, it is a very simple and easy-to-use tool. Where Steegle comes in, is to help users get it exactly the way they want it.
"We have the experience to get it done quickly and right. Plus, Steegle offers extra tools that plug the gaps that Google Sites doesn't have."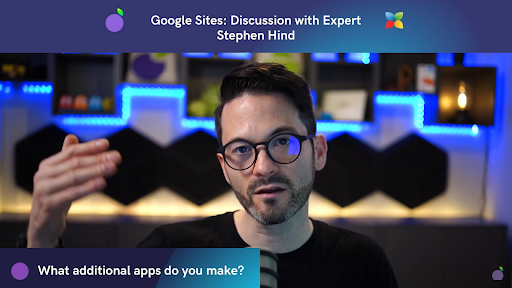 What Additional Apps Do Steegle Make?
Steegle aims to leverage the value of the Google Cloud environment to save time and money, all while making work lives easier and more productive.
For example: one of the things missing from both classic and Google Sites is the news tool - a frustrating issue that Steegle has cleverly resolved: "Any classic site user who is migrating will miss the announcement feature. So we have developed a built-in app script which you can drop into your Workspace environment. Through this, you can easily incorporate a useful gadget which summarises what's happening on or off the site."
One of the company's biggest tools is Steegle People, an employee directory which is specifically streamlined to suit Google Workspace users and protect their data at the highest level. It can also instantly create organisation charts based on this data, saving tedious input from HR and instead making workforces more efficient.
Steegle Share is another reputable tool. It is a custom Google Drive gadget that allows users to embed and search a folder or a Shared Drive with various sort and file upload options. Its purpose is to make sharing Google Drive content to intranet or website users convenient, and is available across a range of tiers to meet different needs and price points.
How Much Has Google Sites Changed?
Although the 'new' Google Sites is now five years old - it is still a big change that's happened in the Google sphere that many people still aren't comfortable with. This may be due to the fact that when it started in 2016, it was a completely new product, rather than an upgrade from the original.
When comparing it to what it was, Stephen emphasises "it now has many more features and it is much more capable than what it was - but it still holds onto the fundamental idea of keeping it simple to make it an easy tool for anyone to use".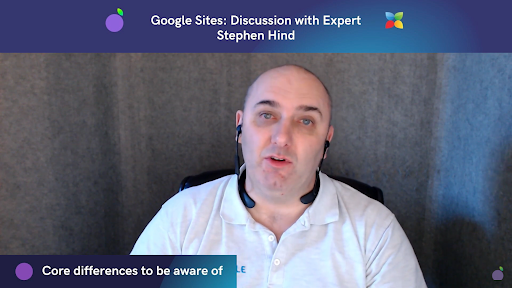 What Are the Main Differences To Come From the New Google Sites?
Stephen addresses that the new Google Sites is a "completely new system built on new technology".
The classic version of Google Sites wasn't mobile responsive, it wasn't very compatible with the multi-screen environment, and the technology was over a decade old. With these issues, Stephen emphasises that there was no other option but to move on.
"It was relying on your web browser being able to generate HTML from you entering the content. So of course different web browsers have different HTML and will generate different code - so this needed to be standardised to work for more people."
Now, anyone can make a Google Site quickly and easily. The site will work on any screen size and it will automatically understand device differences and adjust content to suit. For example, you can preview a Google Sheet thumbnail on a mobile device with the ability to open it up to be much bigger.
Because it is still relatively new, it is expected that users will be able to do much more in the future: "Google have said that they are going to develop an API for Google Sites, so we will be able to programmatically create a site and it will work really well."
What Can Users Expect From Google Sites?
Whether you're coming from a classic site or not, there's several things to expect in new Google Sites.
Highlighting the key aspects to be aware of, Stephen informs that there's no page level permissions, meaning users can't have different sections of the site having different access requirements, editors or viewers. Instead, separate sites have to be made in order to achieve this.
The new Google Sites doesn't have any file hosting - you have to use Drive for that. From here, you can link to it or embed it onto the site.
Stephen has used this hack to solve another area within Google Sites: "There's no table editor on Google Sites, so you have to address that in an alternative way. We have done it by embedding our own HTML with CSS, or by using a different Google tool like Sheets, Docs or Drawings and embedding that within a site."
With this new-and-improved version, comes some excited anticipation for other handy features that will make the app even more seamless.
"I imagine from the recent announcement about Google Docs having a pageless view, where they have not made the tables responsive, that might be something that is introduced later down the line for Google Sites - as the editor of Google Sites is very similar to Google Docs as it is based on the same tool."
Stephen also touches on other things to be aware of: "There's no xml.sitemap, so if you want Google Search Console to automatically find your pages using this, new Sites does not offer it. There's also no canonical URL, which means you cannot set a URL for Google to index primarily. A lot of users creating a public site will potentially want to see these so it is important to know before taking the leap."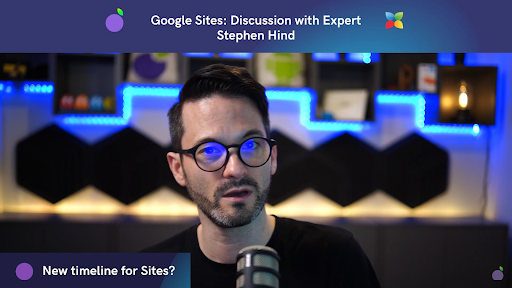 What Happened to the Google Sites Timeline?
Back in Summer 2021, Google announced a timeline and date cap for Workspace users to migrate their classic site to a new site. Now, this deadline has been delayed. With Stephen's in-depth knowledge of this, he tells us exactly what this means:
"The automatic deletion of classic sites and migration to new sites was supposed to happen at the end of 2021. Now, it has been extended to June 2022. From here, you won't be able to edit a Google Site if you're a Workspace user. If you're a Consumer or Personal user, this has already happened and that's not changing.
"The automatic migration and deletion for Workspace users will begin in July. If you haven't already migrated your site from classic to new, Google will do it for you and archive a zip file copy in your Google Drive so you won't have lost all your content."
As Stephen is at the forefront of Google Sites updates, he discloses one other thing that people may not be aware of yet as Google has not made the official announcement.
"When converting classic to new, the conversion tool used can now change a classic site with up to 5,000 pages. Prior to this, it was originally capped at 1,200 pages, which prevented a lot of large sites from being moved.
"Originally, new sites only had a page limit of 1,000 - which has now been increased to 10,000. Even with this, the conversion tool could only do 1,200 - but now Google has thankfully increased that capacity. So now we have the extended deadline - and the ability to migrate larger sites - this is going to help a lot more people with this big transition."
For more information and advice about best practices for migrating your Google Site plus more - check out our full interview with Stephen Hind from Steegle over on our YouTube channel.
If you require support with Google Sites, simply contact us and the Damson Cloud team will be happy to help!
As a longstanding member of the Google Cloud Partner Program, Damson Cloud specialises in bringing people and ideas together through new ways of working. We champion the very best practices in remote working and change management, helping companies and their teams collaborate productively from anywhere in the world. To find out more about our services, check out our library of tutorial videos or our blog.