Google Workspace: What is the New Frontline Worker Plan?
April 29, 2021
Frontline workers have been the heroes of the COVID-19 crisis. Serving their communities, they have been carrying out their roles while many of us worked from the safety of our homes. Sometimes, this has been done with great difficulty. This week, Fintan Murphy talks through Google Workspace's new "Frontline Worker Plan".
With the birth of Google Workspace (previously G Suite) came many new plans or tiers and now, this new tier aims to facilitate workers on the frontline.
Frontline workers faced unprecedented demand in their personal and professional lives during the pandemic and Google's frontline workers SKU aims to provide them with the technology they need to work efficiently and securely.
Released a month ago, Google's tagline is 'Closing the Frontline Worker Technology Gap with Google Workspace'.
Who are Frontline Workers?
Frontline workers are "deskless" workers who primarily use handheld devices like iPhones, tablets, and Android devices. These roles are often task-oriented, like farming, construction, forestry, while some are service-oriented such as restaurants, healthcare, and retail.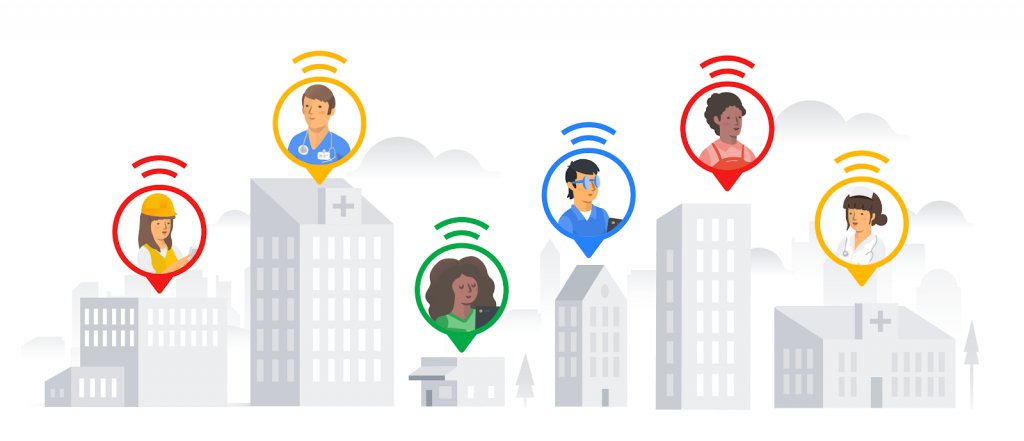 Many businesses did their best to adapt when COVID-19 hit and, with more people working from home, companies put in place safety protocols like PPE and tried to increase the use of technology. Most businesses found that their knowledge workers transferred to working from home relatively well, while frontline workers didn't have quite as smooth a transition.
Issues Faced By Frontline Workers
Frontline workers found that they were faced with unprecedented demands. They had a higher risk of exposure to COVID-19 due to the nature of their jobs. They also became increasingly isolated due to the headquarters of their business being dispersed, making it difficult to connect with their colleagues and managers.
They worked long hours, making onboarding and offboarding employees more difficult for businesses. There are also challenges around transportation and commuting in general, with many public services not operating at full capacity. Coupled with general fear and anxiety around the coronavirus, they have had a lot to contend with.

Additionally, only 35% of deskless or frontline workers said they received additional technology in order to do their jobs. Globally, over 80% of the workforce are actually frontline workers, so these people have unmet technology needs that need to be addressed.
70% of frontline workers said that more technology would help them do their jobs more effectively. There is a huge contract between workers who have been able to work effectively through access to technology and those who would love the opportunity to have more technology to be more efficient in their daily roles.
Due to this lack of technology being provided by organisations, workers have resorted to using shadow IT. 53% of workers currently use unapproved messaging apps for work-related communication.
Applications such as WhatsApp, text messaging, and so on are being used within businesses for communication because they don't have anything else. When employees aren't provided with the technology to do their job, they will find other ways around this hence the rise in shadow IT.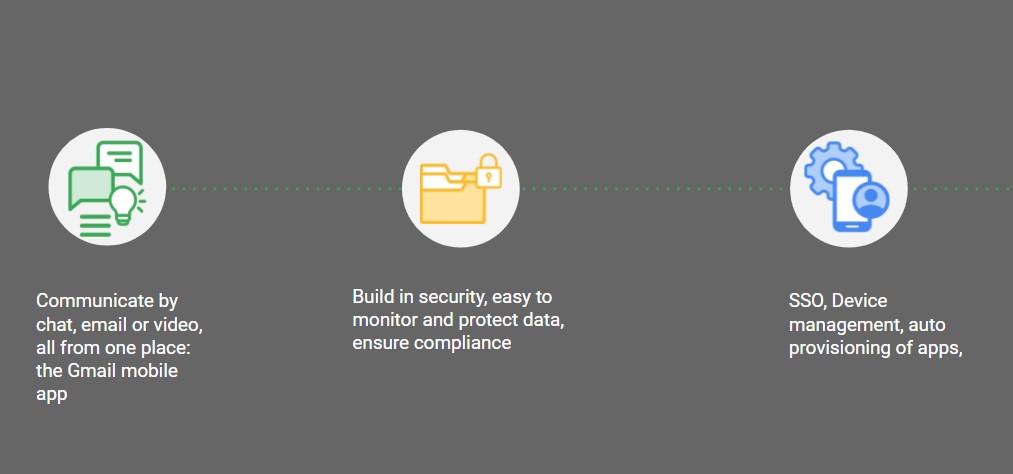 Google has introduced Google Workspace for frontline workers to help with this demand. This helps workers access all the materials they need in one place. From a communication standpoint, you have chat, email, and video conferencing all within the Gmail app. This can be accessed easily on their mobile device.
Offering built-in security features, Google gives every business peace of mind. It is easy to monitor, protect data, and ensure compliance from the organisation's point of view, allowing workers to do their jobs without fear of losing private information.
Also, managing devices and end-users can be done with ease using tools like single sign-on and device management. It also offers auto app provisioning like Google Cloud Identity. This is basically using Google as your identity provider to provide other applications in the business. This is done by signing into your account and having access to multiple applications through a single sign-on.
What is Included in the Google Workspace Frontline Worker SKU?
Google Drive is included in this package - an integral part of any role. File storage is one of the key areas for frontline workers who are often accessing a variety of documents daily. This SKU offers 2GB of storage per user account and the content can be easily stored and shared with colleagues.
Gmail: It comes with a single app for communication and chat and video conferencing within Gmail - making communication a breeze between managers, employees, and peers.
Google Calendar: There is also  Google Calendar to ensure the scheduling of appointments, shifts, and customer visits.
You also have access to all the collaboration tools within Google like Sheets, Docs, and Slides, which can be used to share data among colleagues in multiple locations.
Advanced Security: Google Workspace for Frontline Workers also offers protection of company data through advanced endpoint management. While the price point is much closer to the "Business Starter plan", the most basic plan, you're actually getting much more sophisticated features with this Frontline Worker SKU. These include advanced security, as Google appreciates that this is vital for frontline organisations.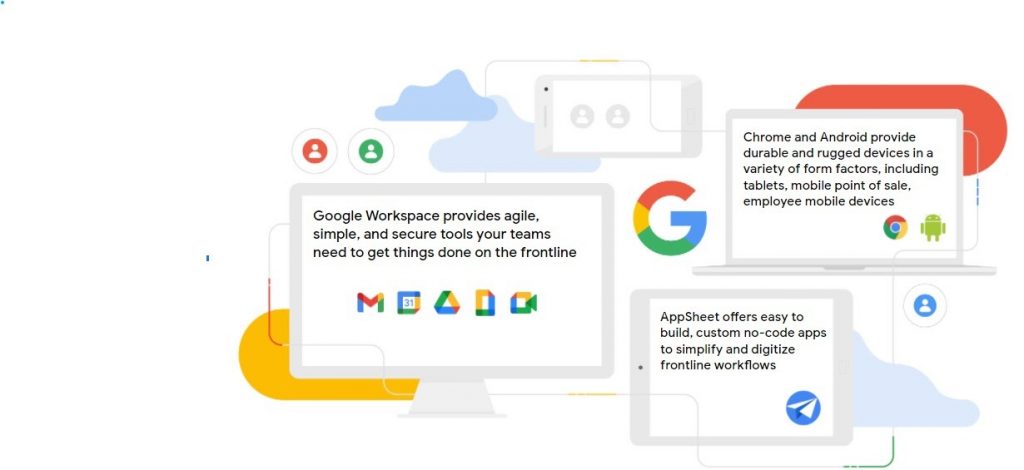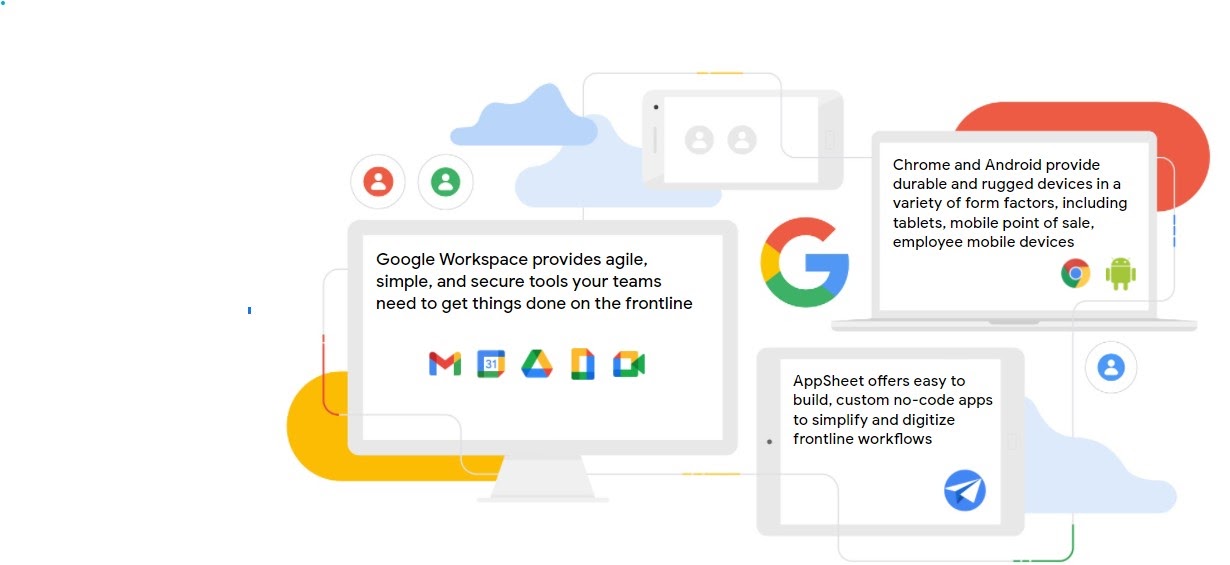 Many frontline workers are using android devices which are designed to complement Chrome and other Google Applications. Whether frontline workers are using rugged devices or tablets or even point of sale devices, Google's applications integrate seamlessly with physical technology and provide agile solutions for frontline staff.
How much is the Frontline Worker SKU?
Don't leave your employees behind, empower them by closing the technology gap with the Frontline Workers SKU. It starts off at $5 per user per month, €4.30 per user per month in Europe, £3.90 per user per month in the UK. It is available now to limited organisations that match the criteria that have frontline workers.
As a longstanding member of the Google Cloud Partner Program, Damson Cloud specialises in bringing people and ideas together through new ways of working. We champion change management and digital transformation using some of the internet's most trusted solutions, including Google Workspace, Happeo and Jamboard. To find out more about our services, check out our library of tutorial videos or our blog.