Google Workspace Price Increases
March 22, 2023
On April 11th, Google will increase the prices of Google Workspace plans. We break down everything you need to know about this increase and how you can save money by locking in the current price for a year or more. While this will primarily impact customers on flex monthly plans initially, it's something all customers should be aware of for when their contract renews.
Here's what you need to know about the upcoming changes and how they might impact you:
Why are the prices changing?
The primary reason for the price increase is that the currency exchange rates between dollars and  other EU currencies. The new prices more accurately reflect the current exchange rate. The second reason is the additions to some of the pricing plans, this is why you will see a higher increase on Enterprise Standard as it has seen a lot of additional features added to it over the last year or so. 
The final reason is around flex versus commit.  Many customers stay on a flexible plan that allows them to increase and decrease their user count each month as there is no annual commitment. Google, like many large enterprises, would prefer to have customers in committed contracts.  As part of this price increase they are also bringing in a price difference between those who remain on a flexible month to month contract and those who lock in for a minimum of 12 months.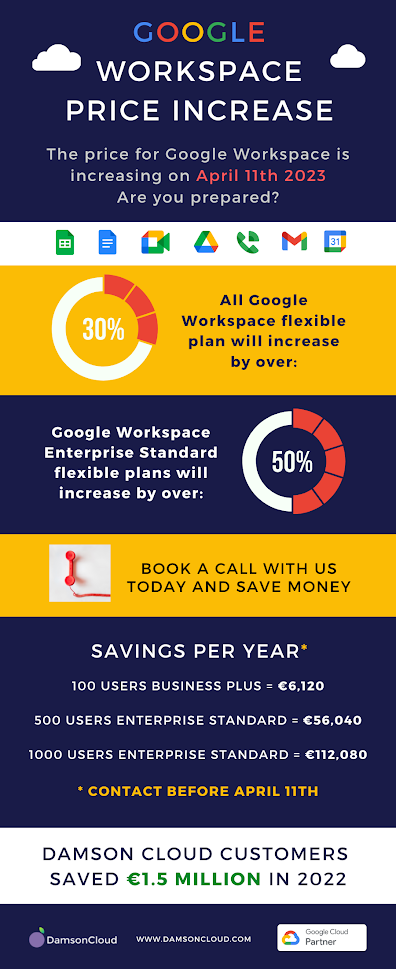 How will customers be affected?
The price increase will apply to all editions of Google Workspace, and customers who remain on flexible plans will experience an average increase of around 30%. With Enterprise Standard plans increasing by over 50%.
A couple of examples:
Business Plus
Users: 250
Current Annual Cost: €46,800
New Annual Cost: €62,100
Increase of: €15,300
---
Enterprise Standard
Users: 1000
Current Annual Cost: €207,600
New Annual Cost: €319,680
Increase of: €112,080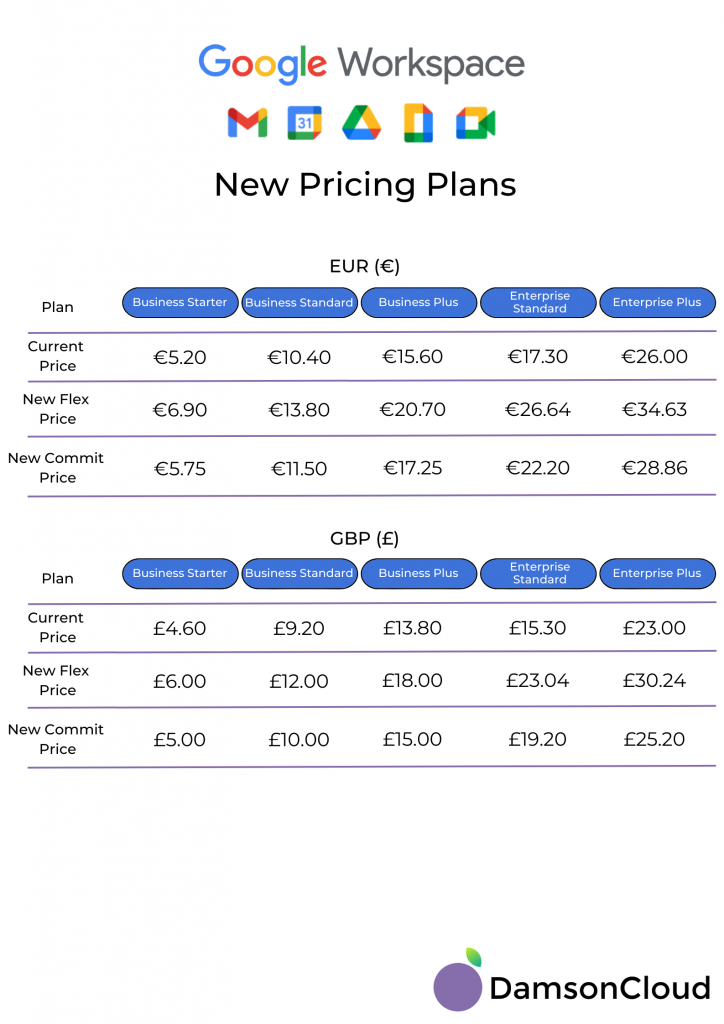 What can you do?
To manage the impact of the price increase, businesses can choose to commit to an annual price plan if they are on flex before the 11th April 2023 deadline to lock in the current pricing for the duration of their contract. Or if they are on a plan lower than Enterprise Plus and locked into a contract they can upgrade before the 11th of April 2023 and lock in a better price or more features.
It's worth noting that for some plans subscribing to the annual "commit" could save businesses up to 50% on their subscription fees compared to the monthly "flex" plan. This means that businesses can still benefit from the full range of productivity and collaboration tools at a reasonable price even after the price increase. It does mean committing for 12 months, however the savings this could result in far outweigh the impact of committing for a longer period of time.
What are your options?
I am a Flex customer and pay monthly?
If you are a Google Workspace customer on a flexible plan you have the most options available to you.  You can decide which Google Workspace plan you want to be on, how many user licences you need for your business and then you can commit to an annual plan to lock in the current price of Google Workspace for at least 12 months
I am in a contract for 1,2,3 years for my Google Workspace Plan
If you are already in a contract for your Google Workspace plan this does leave you with less options however it is not all bad news.  If you are locked into a contract for say another 12+ months then there probably isn't much point in doing anything and you can negotiate with Google or your Google Partner when your contract renewals 
If you are on a plan below Enterprise Plus (the highest tier) and your contract renews in less than 12 months then you could have the opportunity to upgrade your plan to a higher tier.  Although this won't save you money you could lock in the cheaper price for the higher tier now for 2-3 years and get all the benefits of the higher plan.  This could be very advantageous for customers on Business Starter, Standard or Plus who could upgrade to Enterprise Standard. If these customers do not upgrade they will end up paying a similar amount to the higher tier when they renew without any of the benefits.
Summary
To summarise, while the upcoming Google Workspace price increase may be unwelcome news for some businesses, it's important to remember that the suite of productivity and collaboration tools still offers excellent value for money against other comparable solutions. By subscribing to the annual "commit" plan, businesses can continue to access the full range of tools at a lower price than on "flex". With frequent updates and new features being added all the time, Google Workspace continues to be the best solution out there for businesses to collaborate and boost productivity in their business.
To find out which pricing plan makes the most sense for your organisation and to see what options are open to you. Contact our team at Damson Cloud and one of our Google Workspace specialists will be happy to assist you.
Speak to us
As a Google Workspace Premier Partner, we're at the forefront of all Google Workspace developments. By working with a partner such as Damson Cloud, you'll be able to have access to a team designed to help you achieve success and that can provide the most up-to-date information on Google Workspace, combining that with the technical know-how and training to help your business become more productive. By engaging Damson Cloud you can mitigate these increases and make an informed decision about your pricing plan as well as working with a Premier Partner who can help you leverage the most value from your investment in Google Workspace. Get in touch to find out what options are available to you.