How To Add Users To Google Admin Console
July 14, 2022
In this week's video, the Damson Cloud team will be taking us through adding users to Google Admin Console through the User Account feature.
If you are interested in how Google Workspace could help you or your business, please feel free to contact the Damson Cloud team for more information on bringing Google Workspace to your organisation.
So, if you're interested in learning more about adding users to Google Admin Console, stay tuned.
What Are User Accounts On Google Admin Console?
You may be wondering what exactly User Accounts are and how these work with Google Workspace. User Accounts give individuals an email address, username and password to access Google Workspace.
Accounts can also be created for mailing lists and to give users more than one email address to work with.
Adding User Accounts To Google Admin Console
We're now going to go through how to add new User Accounts to Google Admin Console step-by-step:
Firstly, we're going to open up your Admin Console homepage
If you have more than one organisation listed in your Admin Console, to the left of the page under the heading 'All Organisations', select the name of the organisation you would like to add a user to
Once you have selected the correct organisation, select the 'Add Or Manage Users' option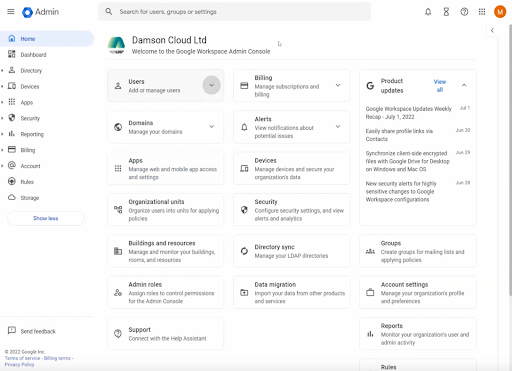 4. You can also add a user using the 'Directory' heading on the left hand side of the screen by clicking this and selecting the first option which says 'Users'
5. Once you have selected this heading, click on the 'Add New User' option which will then instruct you to add a first name, last name and primary email for the new user. If you have multiple domains currently set up in your Google Workspace, you can change the domain before creating the primary email by selecting the dropdown menu next to the email domain and selecting the domain of your choice.
You will also be instructed to add a secondary email which should be a different domain from the one used for your primary email. This is the email address in which the user will receive their new account details, so ensure it's an email account the new user has access to.
Finally, you can add in a phone number if you wish, however this is not an essential field
6. Before creating the User Account, you can also select which organisation unit this person will be assigned to, as well as selecting an auto-generated password or manually creating a password for your new User Account.
Please note: If you are manually creating a new password, this must be more than eight characters long.
If you like, you can upload a profile picture for the new user at this time, but this can also be done once the new user as been added to your Google Admin Console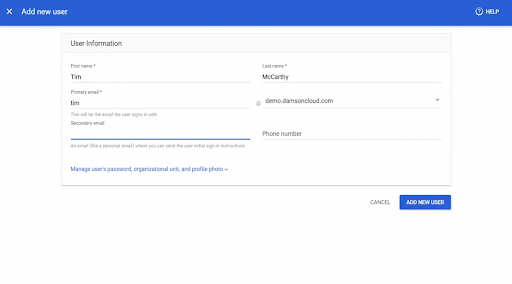 7. Once you are happy the recommended fields have been completed, select 'Add New User' to continue
8. Once you have added the new user, a notification will appear to let you know the user profile has been created. This notification will outline a new username and password and will allow you to send sign-in instructions to the secondary email selected in the previous step. This will enable the new user to complete set-up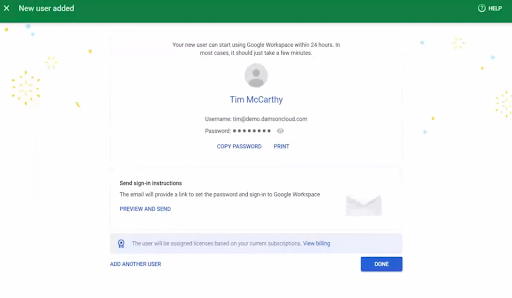 9. Once you are happy for Google to send the sign-in details to the new user, select the 'Done' button to proceed
10. The newly created account will now appear under your list of User Accounts
Final Thoughts On Adding New Users To Google Admin Console
We hope you enjoyed this week's update on how to add new users to your Google Admin Console. We think this feature on Google Workspace is really helpful in assisting with onboarding new members to an organisation as well as creating new email addresses for existing members of a business or for yourself personally.
As always, we want to hear from you! Please check out our other Google Workspace tips and tricks on our YouTube channel and our Tech Tip Thursday series on our blog with video tutorials and step-by-step walkthroughs.
 As a longstanding member of the Google Cloud Partner Program, Damson Cloud specialises in bringing people and ideas together through new ways of working. We champion the very best practices in remote working and change management, helping companies and their teams collaborate productively from anywhere in the world. To find out more about our services, check out our library of tutorial videos or our blog.