Tech Tip Thursday: How to Draft an Email in Google Docs
April 7, 2022
It's the return of Tech Tip Thursday! A weekly series where the Damson Cloud team show you handy hacks to help you maximise your use of Google Workspace.
Google Workspace is forever evolving, bringing you new and innovative ways to speed up your workflow and sustain your focus.
This week, Charlotte Moore shows us how to draft an email in Google Docs. It's a new feature that Google launched recently, but we expect it to be extremely popular with users once word gets out!
How to Draft an Email in Google Docs
The purpose of this feature is to make the process of collaborating on an email draft easier for Google Workspace users. You can mention people in the recipient fields using the '@' menu without having to remember their email addresses, and cooperate on the message body using comments and suggestions.
Let's go through how you can do this step-by-step:
Open a new Doc
Type '@email' in the Doc
In the pop-up window that appears, under 'BUILDING BLOCKS', click 'Email draft'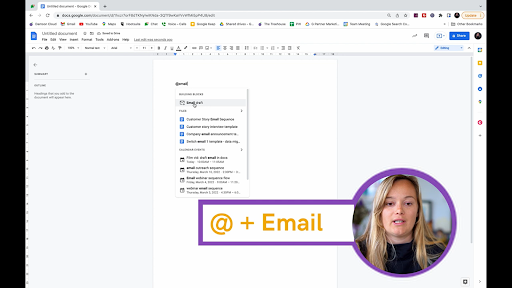 4. A table template will appear which looks like this: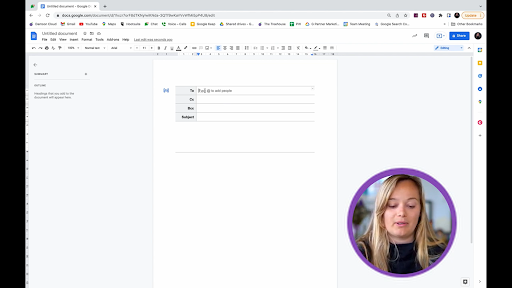 5. In this template, you can:
Choose who will be the recipient of this email
Cc or bcc someone into the email
Type the subject of the email
Compose the email message
6. After you've completed this, click on the blue Gmail icon on the top left-hand side of the table, this will let you preview the message in Gmail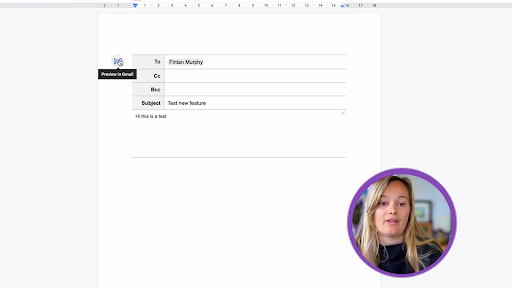 7. Your message will then populate in Gmail where you can officially send the email. And that's all there is to it!
In our opinion, this is an unbelievably handy feature that saves you time and the effort of jumping back and forth between two tools. It is now available to all Google Workspace customers, as well as legacy G Suite Basic and Business customers, so why not test it out for yourself and let us know what you think!
The Evolution of Google Docs
In a bid to make the writing experience as seamless as possible, Google Docs has had a major revamp over the past year. The word processor tool has undergone several updates to enable users to create and collaborate in real-time and from any device more effectively.
Most recently, we have seen the introduction of the following features:
Adding a summary to your document
The outline detects and lists headings from your text to help better organise your document. Now, you can create a summary in your outline to provide an overview of your document. This is super useful for those who are sharing documents with new editors, so that they can get an instant idea of what the document is all about. You can also show or hide rulers, which again gives the user more control of their digital workspace.
Switching between pages or pageless format
On a document, you can change your page setup and choose one of the following formats:
Pages: where you can set up your Google Doc to include the appearance of pages and page breaks. In this setting, you can add elements such as headers and footers, footnotes, page numbers and more. You can also adjust page settings, such as page orientation and margin size.
Pageless: where your Google Doc continuously scrolls without page breaks. In this setting, images will adjust to your screen size, and you can create wide tables and view them by scrolling left and right. Line breaks for text will also adjust to your screen size, and as you zoom in and out.
Use text/image watermarks in Google Docs
You can add text or image watermarks to the background of your Google Doc which will be repeated on every page thereafter. You can also edit or delete watermarks in your document. Note: this feature isn't available in documents that are in pageless format.
We don't know about you, but we can't wait to see what else in the store for Google Docs in the future. If you need any help with how to draft an email in Google Docs, please get in touch with the Damson Cloud team and we will be happy to help!
As a longstanding member of the Google Cloud Partner Program, Damson Cloud specialises in bringing people and ideas together through new ways of working. We champion the very best practices in remote working and change management, helping companies and their teams collaborate productively from anywhere in the world. To find out more about our services, check out our library of tutorial videos or our blog.