Navigating Google Voice
November 3, 2022
Welcome back to the Damson Cloud blog, your weekly one-stop for updates on Google Workspace and how these can benefit your business.
In this week's installment, our professional trainer Noelle Kerr will be walking us through Google Voice, what it is and how it can help improve your daily workflows.
So, if Google Voice is something you'd like to learn more about, stay tuned!
What Is Google Voice?
So before we jump into this week's video, we're first going to take a look at what Google Voice is.
Google Voice is a cloud-based telephone system that is simple to use, manage, and scale. Your Voice line works on mobile devices, laptops, and supported deskphones so you can stay connected at work, home, or on-the-go. Built with enterprise features and on robust, secure Google Cloud infrastructure, Voice integrates seamlessly with other applications in your Google Workspace ecosystem to support your team to work where and when they want.
Google Voice also has a smart voicemail service available that transcribes your voicemail message and delivers it straight to your inbox (web and mobile notifications can also be configured).
Top Features Available On Google Voice
Now we have gone through what exactly Google Voice is, we're going to look at some of the top features available when using Google Voice. These include:
One-click calling
Voicemail transcripts
Blocking unwanted callers easily
The ability to screen calls before answering
Linking your voice number to multiple devices
Protection from spam callers
Is Google Voice Expensive To Use?
It's clear Google Voice is a great alternative to more traditional phone packages , but you may be wondering with all of the benefits associated with Google Voice, would this be a costly investment for your business?
There are three packages available for those interested in using Google Voice which are as follows:
Starter Package: This costs $10 per month and allows for up to 10 users
Standard Package: This package costs $20 per month and allows unlimited users working from unlimited domestic offices, however this package does not include working from international locations
Premier Package: This is the most advanced package available with unlimited users from international offices available as well as all standard features and advanced reporting also included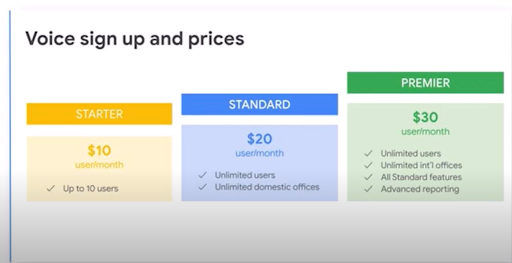 So there is a Google Voice subscription plan available to suit your business needs.
Where Is Google Voice Available?
Next up, we're going to be taking a look at where Google Voice is available. If you are interested in using Google Voice, it's important to first check that this is available in your location.
Google Voice is available in the following areas: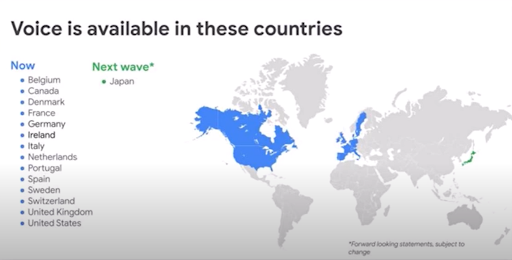 Google Voice currently has a strong presence in Europe and the United States but for users based in Japan, fear not, Google Voice will become available in your location during the next update to the software, so keep an eye out for updates on this!
Now we have covered all of the most frequently asked questions on Google Voice, we're going to walk through how the software actually works.
How Does Google Voice Work?
Let's firstly take a look at Google Voice on a web browser.
Google Voice On Web Browser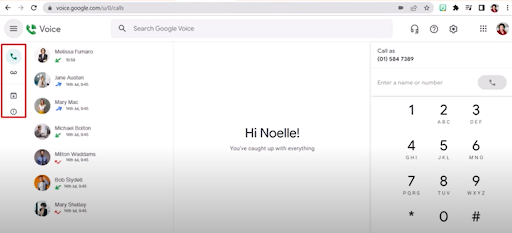 The user interface on Google Voice consists of the four icons shown above. These icons represent the following:
Phone
Voicemail
Archive
Spam
At any point, if you want to return to the Google Voice dashboard, simply click on the 'Voice' logo shown below and you will automatically be redirected to this.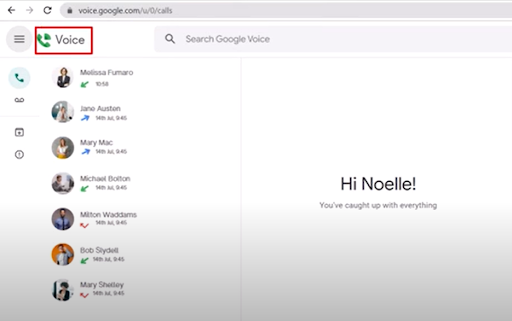 The headset icon gives you quick and easy access to your audio settings such as the microphone, headset and speakers you are currently connected to.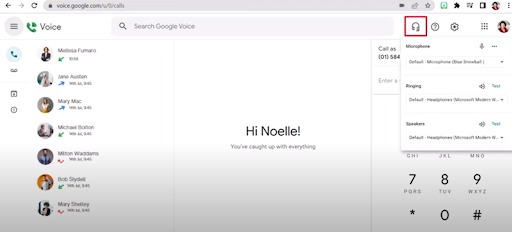 The question mark icon will give you access to a number of help articles should you require assistance in using Google Voice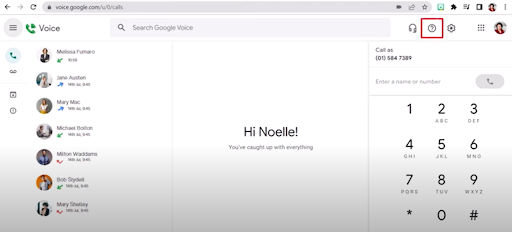 As usual, if you would like to access your settings, click on the cog icon located next to the question mark and to access the rest of your Google Workspace applications, click on the grid to the right-hand side of this
On the main body of the interface to the left, this is where you can find information on your recent call activity. Here, you will also be able to see if a call was incoming, outgoing or missed and will easily be able to return phone calls from here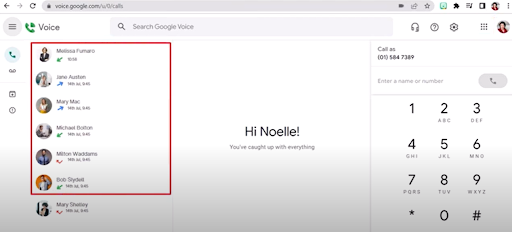 On the right-hand side of the main interface, you can select which number appears when you are making an outbound call. Below this, the name or number box allows you to simply enter in a contact's name or number or alternatively, use the keypad.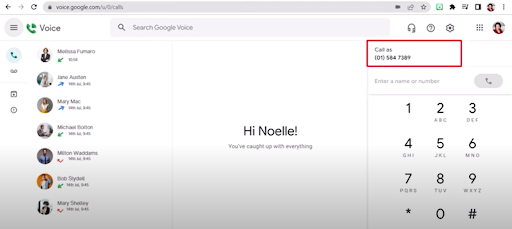 We're now going to take a look at Google Voice on mobile devices.
Google Voice On Mobile Devices
The Google Voice landing page will show you the call history. Using the icons on the landing page, you can access contacts using the people icon and voicemail using the recording icon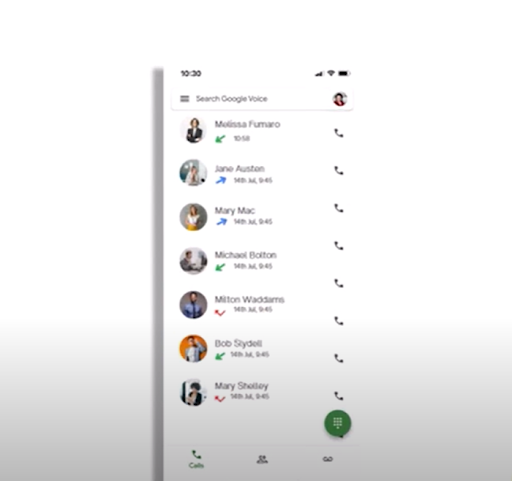 Within the voicemail tab, you can listen to or read a transcript of any messages which have been left
Further actions can be accessed using the menu highlighted below, where you will be able to access archive, spam and even mark all of your voicemails as read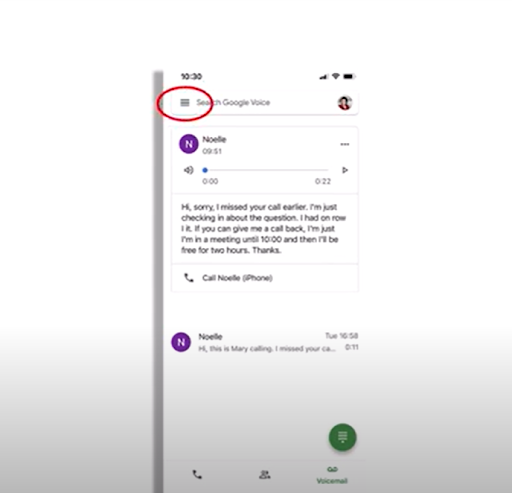 Would You Like To Learn More About Google Voice?
For a more in-depth review of Google Voice and for a video walkthrough of the points listed above, why not check out our accompanying YouTube video, where we review all of these as well as the following points:
Settings on Google Voice
Intuitive in-call functionality
Frequently asked questions around Google Voice
Final Thoughts On Google Voice
We hope you enjoyed this week's video update which looks at Google Voice in further detail. Here at Damson Cloud, we think Google Voice is a great addition both personally and professionally due to the variety of benefits the platform has and how easy it is to use.
As always, we want to hear from you. Is Google Voice something you or your business would be interested in learning more about? Let us know in the comments on our YouTube channel or contact us for more information.
As a longstanding member of the Google Cloud Partner Program, Damson Cloud specialises in bringing people and ideas together through new ways of working. We champion the very best practices in remote working and change management, helping companies and their teams collaborate productively from anywhere in the world. To find out more about our services, check out our library of tutorial videos or our blog.