New Google Meet Features 2022: An Overview
April 21, 2022
We're excited to bring you some new Google Meet features in this week's video with Damson Cloud CEO Fintan Murphy.
The new updates are all around inclusivity, security and hybrid working - some of which have been mentioned before and some of which are brand new - but all the updates will improve your experience when working on Google Workspace.
So, if you're interested in learning more, let's dive in and have a look at some new Google Meet features which are set to be introduced this year.

In Meeting (Emoji) Reactions In Google Meet
In most of our social media conversations, emojis enhance the experience by allowing us to react to situations without using any words.
Google Meet has introduced this new feature which allows users to react with a range of their favourite emojis, from a thumbs up to a heart reaction, during a video call.
These reactions will appear on the left-hand side of the screen during the meeting as they would on platforms such as Facebook during live streams. The reactions will also appear in the user's tile on screen during the Google Meet.
This is a great way for users to engage during remote team meetings, particularly on larger video calls where participation from each person present isn't always possible.
Picture-In-Picture During Your Google Meetings
This feature was first mentioned a few months ago and we're first going to discuss this in relation to Google Docs, Sheets and Slides.
When it rolls out, this feature will allow you to have your Google video call on one half of your screen, actually embedded in the document, sheet or slide you're working on. So now, all your collaborative work can be open all within the same tab on your desktop.
This is a great addition for anyone working remotely from a small device or for those without an additional screen, which makes balancing video calls and working simultaneously that much easier.
With the new feature, you will be able to continue working whilst also being able to see and interact with your team during video calls.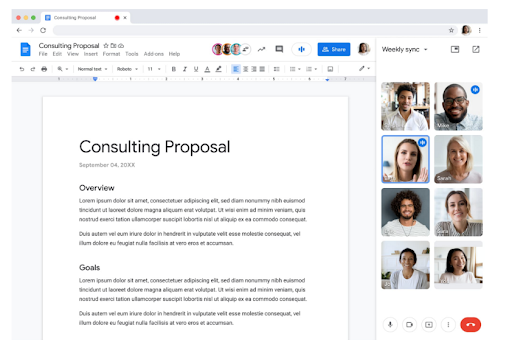 Pop-Out Windows During Google Meet
This is a brand new feature which hasn't yet been announced.
Here, you will be able to pop out Google Meet participants with up to four tiles being popped out at once. These tiles will continue to appear on your screen while you move between tabs on your Google Chrome browser.
This is again great for multitaskers working on single screens, as you can continue working and checking your emails or your calendar while still being able to see exactly what's going on in your meeting.
Noise Cancellation During Meetings
Google has made the decision to roll out noise cancellation hardware across the Google Meet platform for all users no matter what tier you are on.
This is a very useful addition, improving the overall quality of your meetings, particularly for those working in shared spaces. These environments may have multiple conversations going on or background noise such as music playing which can be disruptive during meetings.
Companion Mode On Google Meet
Following on from our previous point, we have Companion Mode, which was recently introduced for Google Meet.
Companion Mode allows participants who are in the same room, using group video conferencing, to join a Google Meet individually for interactive purposes, such as answering questions or responding to polls.
Now, Google has also announced a 'Self View' option for Companion Mode users. This means while using Companion Mode, participants can have their own tile and can be seen individually as well as in a group during the video call.
This feature is particularly useful for conference settings where one camera is used for 10-20 participants, all of whom cannot be clearly seen on screen. With the Self View option, they can be easily seen on screen and their reactions and responses clearly identified.
This is great for engaging those working remotely equally with those who are working in the office.
Client-Side Encryption
The next new feature we're going to take a look at is Client-Side Encryption which is set to roll out in May or June.
Client Side Encryption allows customers to have their own personal keys to encrypt Google Meetings.
At the end of the year, Google is also rolling out End-to-End Encryption which will increase the level of security overall for both hybrid and office working.
Polling and Question and Answers While Streaming
For those of you who might be unfamiliar with streaming within a Google Meet, in the higher tiers of Enterprise Standard and Enterprise Plus, you can stream your Google Meet out to a maximum of 100,000 participants in the highest tier.
The new interactive element in the streaming feature now means you can engage more participants in your Google Meet with the collaborative addition of the Polling and Question and Answer features, meaning your users can get more involved in your Google Meet stream.
Streaming Your Google Meet On YouTube
The last feature, and one we're really excited about, is the ability to stream your Google Meet on YouTube.
If you've been in the Google sphere for a while, you may remember Hangouts on Air which allowed you to do this.
Hangouts on Air were a heavily used feature, and so when the new Google Meet came out and the Hangouts feature was removed, this was a big loss to a lot of Google Meet users.
But with the reintroduction of streaming your meetings, this means you will now be able to have a video call and stream this onto YouTube, acting as a full webinar solution for many businesses.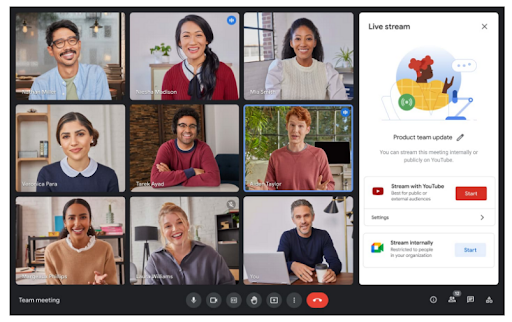 We hope you enjoyed this week's update and as always, we want to hear from you!
Let us know what you think of the new Google Meet updates in the comments below or check out our YouTube channel for more updates and tips on Google Workspace.
As a longstanding member of the Google Cloud Partner Program, Damson Cloud specialises in bringing people and ideas together through new ways of working. We champion the very best practices in remote working and change management, helping companies and their teams collaborate productively from anywhere in the world. To find out more about our services, check out our library of tutorial videos or our blog.