New Integrated Email Marketing Tools For Gmail
August 4, 2022
Welcome back to another Google Workspace update from Damson Cloud. This week, Charlotte Moore will be taking us through some of the new features being introduced to Gmail over the coming weeks.
This new feature update is Google's latest step towards providing a one-stop-shop for all your work related needs. Due to the continued effectiveness and popularity of email marketing - many studies show that Email Marketing remains one of the most effective ways to advertise on the Internet - Google is once again stepping up to provide a much sought-after service within Gmail.
The new updates are an exciting addition to Gmail and could be extremely helpful to your business if you use email marketing tools such as Mailchimp, as they could provide an alternative to this popular email marketing tool.
So, if you're interested in learning more about the new features which are coming to Gmail this month, stay tuned.
What Are The New Features Coming To Gmail?
As mentioned in the title of this week's YouTube video above, the new features coming to Gmail could lead to tools such as Mailchimp to become less useful to businesses already using Google Workspace in their day-to-day running.
The new features being brought out by Google focus on integrated email marketing tools. These will come in the form of layouts, for example, predefined email templates. These templates will include blocks for images, text and call to action buttons, making them easy for the creator and audience to work with and use.
The new email marketing templates from Google will also be customisable, so businesses will be able to add their brand colours and logo to give the template a more personal touch.
What Will The New Gmail Email Templates Be Like To Use?
If you have previously used any other email marketing tools such as Mailchimp, the new templates coming to Gmail should not be difficult for you to use, as the layout of the templates will look similar to other bulk email marketing tool templates.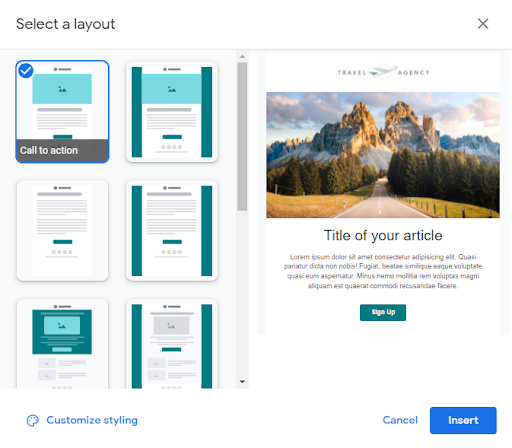 The introduction of the email marketing templates to Gmail will be a convenient way for businesses that already use Google Workspace on a day-to-day basis to streamline how they work. Teams responsible for email marketing will now be able to do so from their Gmail account, rather than having to use several different platforms to carry this out.
The new templates are available to those using Google Workspace standard accounts and above. They are not available on Google Workspace Essential or Education Fundamentals or any of the Education tiers.
Multi-Send Feature On Gmail Email Templates
As well as the customisable templates, the new email marketing templates being introduced on Gmail will also have a multi-send feature. This is extremely important for email marketing and bulk email sending as you can't currently do this on Gmail, with the exception of CC and BCC in emails, however these are not useful for sending out a mass number of emails at one time.
With this new update, Gmail users will be able to send mass emails by default. Similarly to other email marketing platforms, users will be able to unsubscribe using a link at the bottom of the email. This means users that decide to unsubscribe from one email will not receive any other mass emails going forward.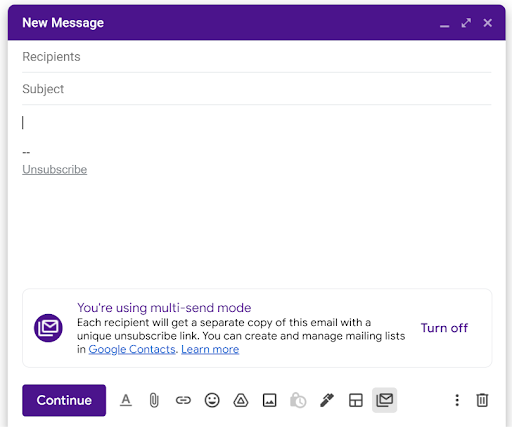 The multi-send feature is available to Google Workspace Enterprise starter and above account holders as well as Google Workspace Education customers.
Please note: These accounts are restricted to bulk sending internal emails only. This means bulk sending of emails externally, for example, marketing emails to external stakeholders, cannot be sent by users with these accounts.
For Google Workspace Business tier and above, bulk sending emails is available to both internal and external recipients.
How Many Recipients Can Be Included In Mass Email Lists?
With the Gmail email marketing tool, you can add up to 1,500 recipients to an email. This is quite a significant amount, as other email marketing platforms have caps set at 500-1,000 recipients per day when sending out marketing emails or bulk announcements.
How Will Sending Bulk Emails And Adding Multiple Recipients On Gmail Work?
To send mass emails on Gmail, you can create contact lists for mass emails using your Google Contacts.
From here, you will be able to import these contact lists straight into Gmail by searching for the label or title you have given the contact list in the email 'To' field. It's as simple and seamless as that!
How Will The New Gmail Features Be Managed?
The new email marketing tools being rolled out by Google will be controlled from the Admin Console.
The admin settings will be introduced first, before end users get the opportunity to avail of the templates, so admins can make the decision on whether or not the tool is applicable to their business and if they want to use it.
Please note: The template feature will be switched on by default settings. If admins decide they do not wish to use the email marketing templates, the template feature must be switched off in the Admin Console settings.
The new features will be rolled out on Google web browsers and will not currently be available on mobile devices.
When Will The New Gmail Features Be Available To Use?
Google Workspace users will be pleased to know that Google has announced they will be starting the roll-out to rapid and scheduled released domains from July 28th, 2022.
For end user functionality, this is estimated to begin on August 22nd 2022. From here, it should take up to 15 days for the gradual roll-out of the features to begin working.
Final Thoughts On The New Features Coming To Gmail
One point to note about the new features coming to Gmail is that if your organisation has disabled Google Drive, the templates will not be available for you to use as the Gmail layouts will be turned off by default.
We hope you enjoyed this week's update on the new email marketing features coming soon to Gmail. We think these new features will be a great addition to Google Workspace, especially for organisations currently using multiple different platforms for email marketing or sending out bulk announcements within the business.
As always, we want to hear from you! If you have any questions about the upcoming Gmail features and how these could improve your business, please feel free to contact us for more information. Or for more tips and tricks on Google Workspace, check out our YouTube channel for our Tech Tip Thursday series or our blog for weekly updates.
As a longstanding member of the Google Cloud Partner Program, Damson Cloud specialises in bringing people and ideas together through new ways of working. We champion the very best practices in remote working and change management, helping companies and their teams collaborate productively from anywhere in the world. To find out more about our services, check out our library of tutorial videos or our blog.