Shared Mailboxes: Google Groups vs Delegated Access
August 19, 2021
There's so many businesses that still aren't familiar with the full potential of shared mailboxes. While it may seem simple enough - multiple people logging into the same email address - Google offers so much more that can meet and exceed your expectations.
This week, Damson Cloud's Fintan Murphy talks through the differences between Google Groups and Delegated Access for shared mailboxes, and what option is best for your business.
What is Google Groups?
Google Groups is a free distribution list system that allows colleagues to share a common email address. These are normally used for the likes of 'info@' or 'hello@' email addresses. Through Google Groups, you can essentially forward the emails onto however many people you like. Businesses also use them internally, for 'team@' to forward onto everyone in certain teams, or even the whole company.
You can also use them for managing permissions, as these are tied to the group rather than the individual members. When a user joins a group, they will automatically get permission to view all items that the group has access to (in this instance - emails). If they leave the group, the permissions are revoked.
For example, you could have a 'marketing@' email address that you add to a Google Calendar, Shared Drive or Google Doc and it subsequently adds everyone in the marketing team.
Google Collaborative Inbox
Collaborative Inbox is another functionality within Google Groups. If you have ever used a message board, then you will be familiar with this interface. It is essentially a cut down version of a Gmail account where it allows the distribution and tracking of messages.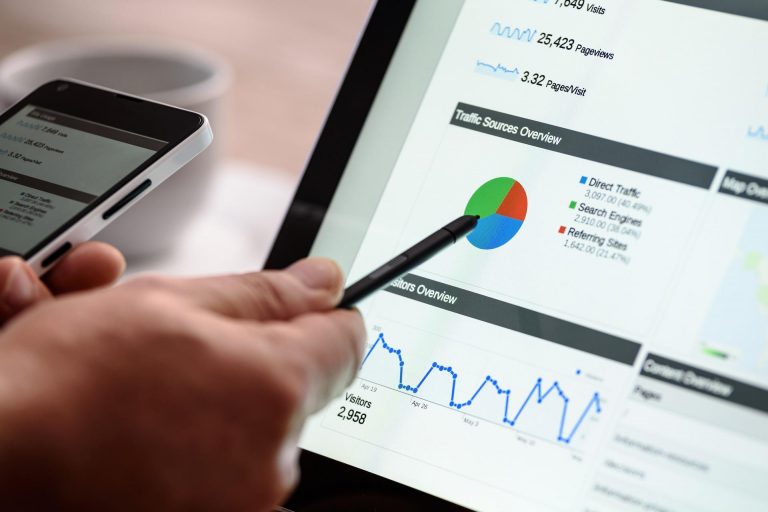 What is Delegated Access?
Delegated Access is the other way to have a shared mailbox in Google. It is often used so a personal assistant can have access to an executive's mailbox, or it can also be used by a support team or accounts department (e.g. 'support@' or 'accounts@'). With Delegated Access, it is a full Gmail mailbox, however it does come with a price.
Google Groups vs Delegated Access
The key difference between Google Groups and Delegated Access is the cost. Google Groups is free, whereas Delegated Access costs an entire license.
Usually, most businesses will trial Google Groups to see if it fits their requirements. If it turns out there is a specific reason that the business needs a full mailbox , then they will probably migrate to Delegated Access.
Let's take a closer look at Google Groups vs Delegated Access.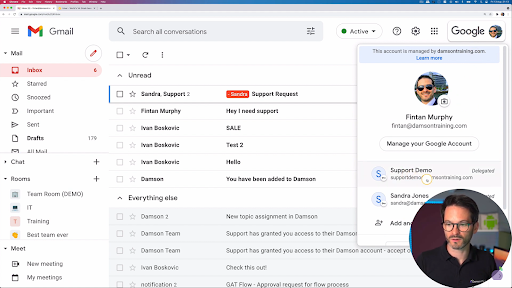 Accessing Delegated Accounts
To access a Delegated account, go to where you can manage/switch your Google account in the top right-hand corner which should have your initial or picture.
Below this, a drop-down menu will appear. This will list all of the accounts you have access to. Next to the name and email address, it should state that it is 'Delegated'. Simply click on the account, with no need to sign-in.
Once you're in the account, you will see it looks like a full Gmail account where you can use all of the usual features such as search, filters and labels. The labels are Google's equivalent to folders, which can be used to better categorise emails. For example, you can section off emails that are linked to 'support', or you can create manual ones like 'responded' to keep better track of emails that have already been answered.
Accessing Google Groups
Google Groups however has a different access route. It is its own app within Google Workspace, so the easiest way you can find it is via your apps list.
The Google Groups interface looks different from any other you may be used to. It will list all of your groups in one place, so you can then select which specific one you want to check. In this, you don't have as many features and filters to use as it is mainly a message board system.
While it may be a bit more limited, you can still apply labels manually, but they're not coloured like the way they are in Delegated Access which makes them less distinguishable. You can still star emails to highlight their importance, and you can assign emails to certain people to respond to.
For features such as Collaborative Inbox and labels, these must be enabled first. To use Collaborative Inbox, you can find this in 'Group settings' under 'Enable additional Google Groups features'. Here you can also switch on 'Shared labels'.
When looking at it broadly, Google Groups is a more basic version compared to Delegated Access. But, this may be more than enough to meet the needs of the business in question.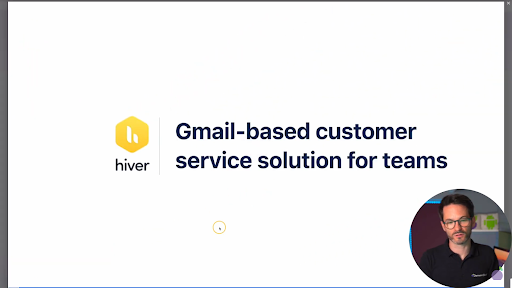 Hiver: A Third Party Solution
There's also another option you can use - and that's a third party solution. One we recommend is Hiver, which augments your Gmail environment, but gives you lots of handy additional features.
In the video, we can see that the user has extra items listed down the left-hand side of their Gmail navigation bar including: 'Assigned to Me', 'Customers', 'Fulfillment', 'Support', 'Analytics' and 'Email Templates'. Within these items, you can further customise and categorise workflow. For example: you can create sub items which include: 'Unassigned', 'Pending', 'Closed', 'Viewed' etc.
Another useful benefit is that you can gather reports on how quickly people are responding to emails, so you can accurately monitor your team's productivity.
With third party solutions such as this, they are much more in-depth. If you're a team that requires access to multiple shared mailboxes, then an add-on like Hiver is very valuable. However, with these extensive features, convenience and accessibility, comes an inevitable cost.
Shared mailboxes are powerful tools that give you greater access and control over your company's communications. It is important to invest time in finding out which option is best for you, as it will help you better determine your needs and establish an efficient workflow.
At Damson Cloud, we can give you advice on what tool will benefit you the most. So please don't hesitate to get in touch if you have any questions about Google Groups, Delegated Access, or any other alternatives!
As a longstanding member of the Google Cloud Partner Program, Damson Cloud specialises in bringing people and ideas together through new ways of working. We champion change management and digital transformation using some of the internet's most trusted solutions, including Google Workspace, Happeo and Jamboard. To find out more about our services, check out our library of tutorial videos or our blog.