Tech Tip Thursday: Emailing A Daily Agenda From Google Calendar
July 7, 2022
We're back with another Tech Tip Thursday! This week, Damson Cloud's Charlotte Moore will be taking us through how to get your daily agenda emailed to you from your Google Calendar.
If, like many of us, you rely on your Google Calendar to manage your day-to-day scheduling, having your daily agenda emailed to you each morning would be extremely helpful in staying organised and pre-planning your day before it's even begun.
So, if you're interested in learning more about getting your daily agenda emailed from your Google Calendar, stay tuned.
How To Turn On Your Daily Agenda On Google Calendars
We're now going to go through how to get a daily agenda sent from your Google Calendar step-by-step.
First, we're going to open up the calendar that has the agenda you would like to be emailed to you on a daily basis
Now, we're going to open 'Settings' and select 'Settings for my calendars' along the left hand side of the screen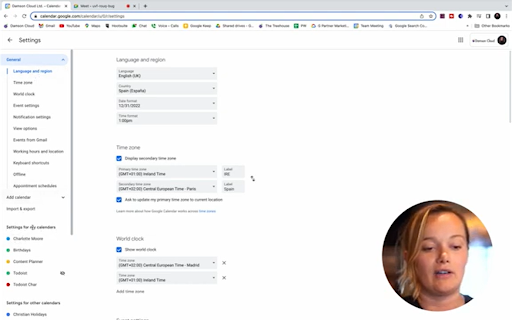 3. We're now going to select the calendar which has the agenda you would like emailed to you each morning
4. There are a lot of different options available for your calendar in this field but today, we're going to go to the 'Other notifications' option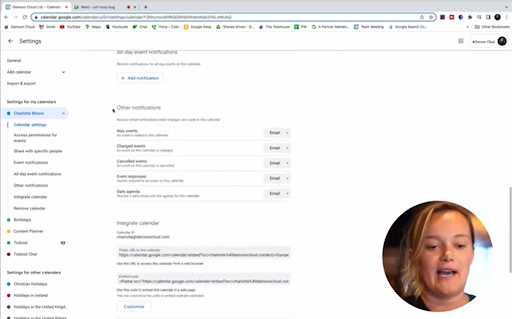 5. From here, we're going to go to the 'Daily agenda' field. To receive an email with your daily agenda attached each day, all you have to do is click on the arrowed button at the end of this option and select 'email'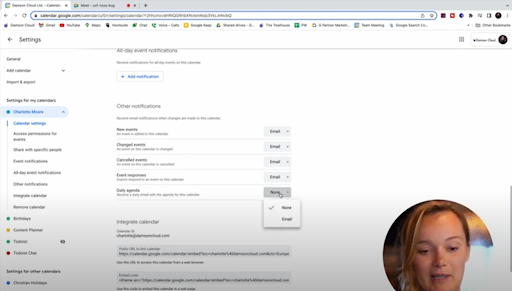 6. Once you have selected this, you should now receive an email each day with your daily agenda attached from your Google Calendar. The agenda should be emailed out at 5:00am every morning. It's really that quick and simple!
Please note: 
If you want a daily agenda from more than one calendar emailed across each morning, you need to manually set this up for each of your calendars
Your daily agenda emails will only include meetings in which you confirmed your attendance for
What Are The Benefits Of Having Your Daily Agenda Emailed From Your Google Calendar?
Having the option to email a copy of your daily agenda is a feature of Google Workspace that we here at Damson Cloud find extremely useful.
Receiving your agenda first thing in the morning means you can plan your day without having to manually check your calendar to see what's on- as Google arranges this for you!
This is especially useful if you're extremely busy and find yourself forgetting to check your Google Calendar for your daily schedule first thing.
As always, we want to hear from you! Is this feature something you knew about or have in use on your Google Calendar already? Or do you think this could help with you or your team's productivity levels? Let us know in the comments or get in touch with us for more information on how we can help your business work efficiently and seamlessly with Google Workspace.
As a longstanding member of the Google Cloud Partner Program, Damson Cloud specialises in bringing people and ideas together through new ways of working. We champion the very best practices in remote working and change management, helping companies and their teams collaborate productively from anywhere in the world. To find out more about our services, check out our library of tutorial videos or our blog.