Tech Tip Thursday: How To Voice Type In A Google Doc
May 26, 2022
We're back with another Tech Tip Thursday, a series where the Damson Cloud team takes you through tips and tricks to improve how you use Google Workspace.
This week, Charlotte Moore takes us through how to voice type in a Google Doc- one of the many great features Google Workspace has to offer to make your work life as efficient as possible.
If you're interested in learning more about voice typing in a Google Doc, stay tuned!
How To Voice Type In A Google Doc
The introduction of voice typing in a Google Doc is an efficient tool for users of the Google Workspace who don't enjoy typing for long periods of time.
We're now going to go through how to do this step-by-step:
First, we're going to open a new Google Doc
Across the top of the Doc, click on Tools and then on Voice Typing. You can also enable voice typing through the shortcut 'command + shift + s'. A red microphone will now appear on the left corner of your screen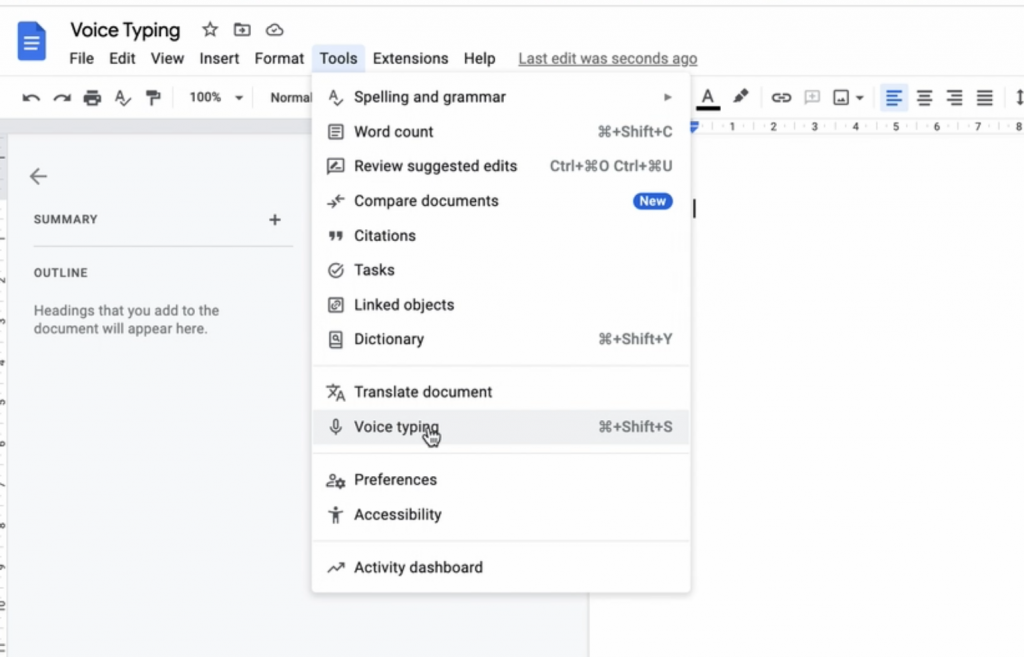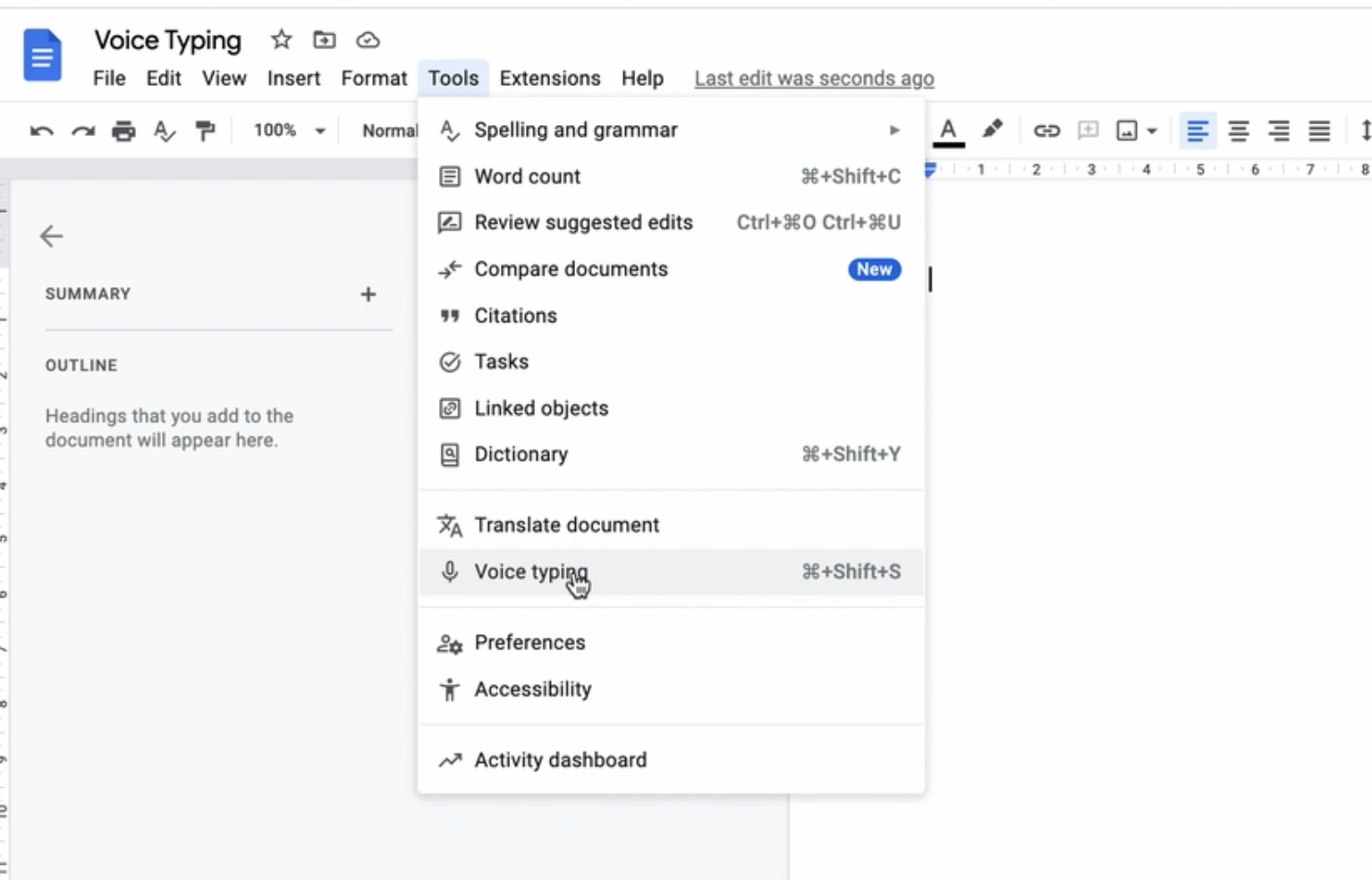 3. There are 119 languages available for voice typing on Google Docs. Here we have selected English UK as the language of choice
4. Click on the microphone icon to start recording
5. Now it's time to try out voice typing on Google Docs. Start by adding a heading to your Doc by saying "add heading" and state the title you would like to name the Doc. You can also use the command "capitalise" to ensure your headings are formed correctly
6. Voice Typing on Google Docs also enables you to take a new paragraph and apply normal text after headings have been added. It also allows you to include punctuation such as full stops, question marks and exclamation marks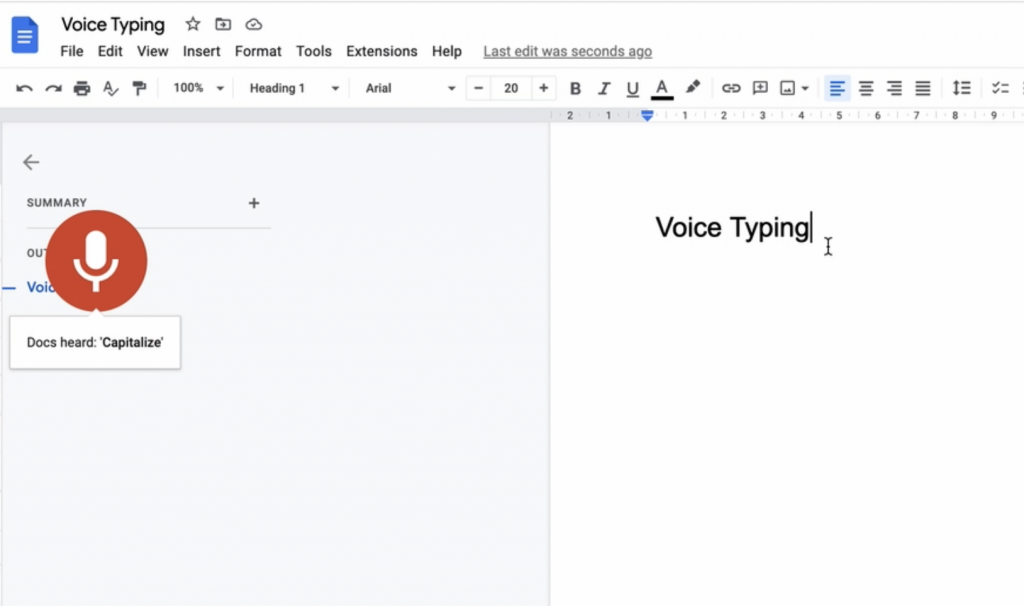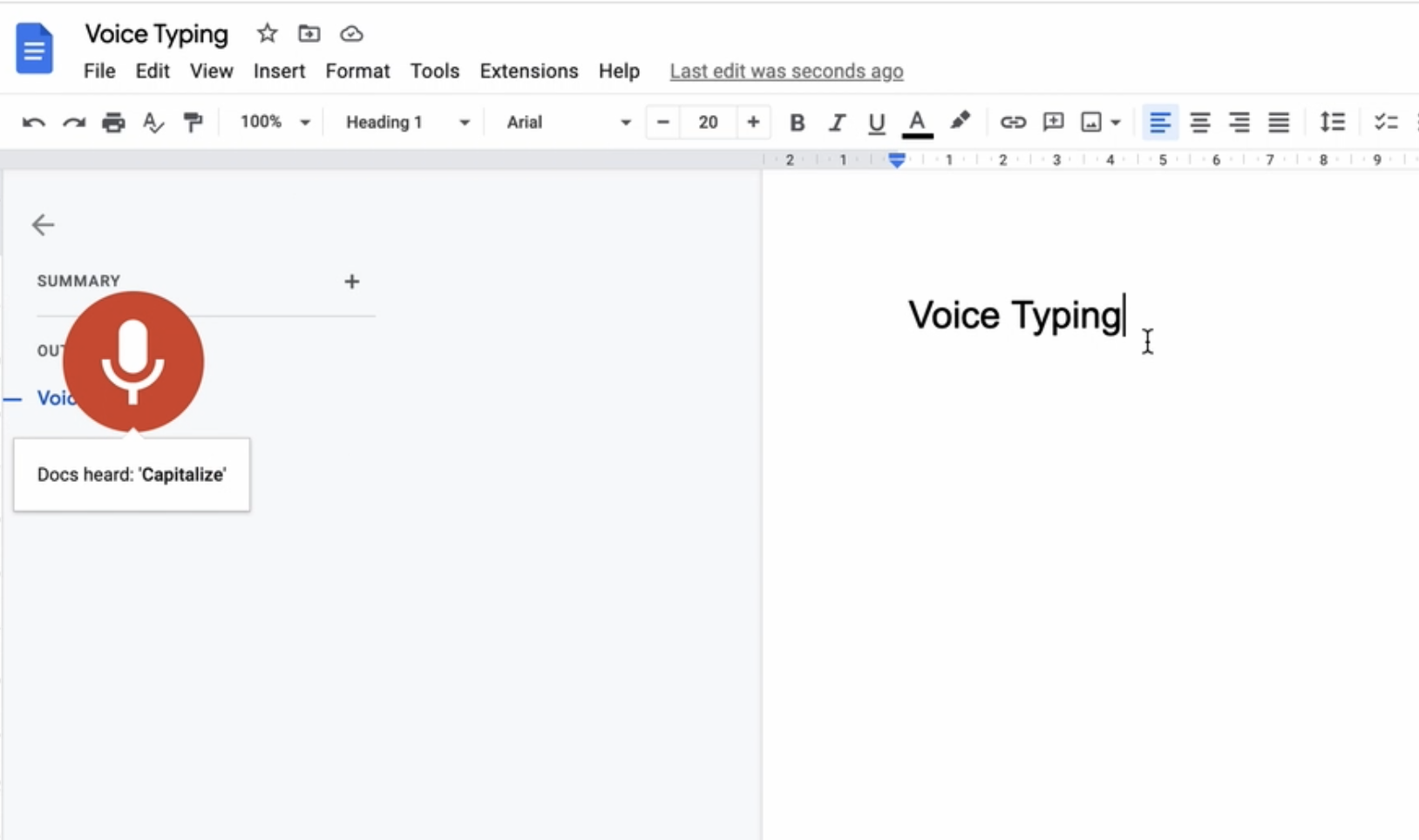 In the Google Doc Editor's Help shown below, under the 'Type With Your Voice' heading, you can find a full breakdown of the formatting commands available, from font type and font size, to highlighting and columns.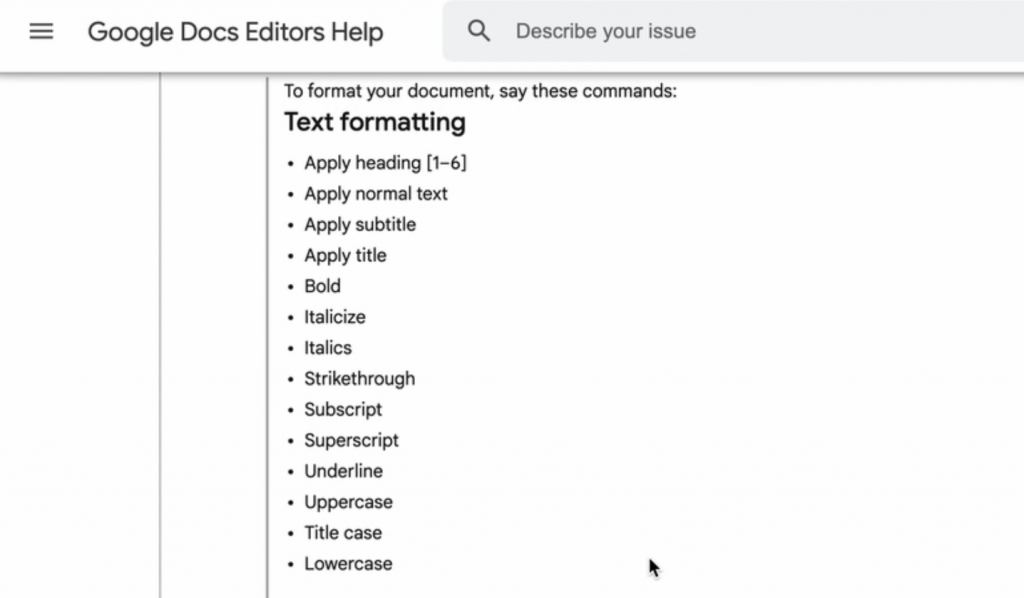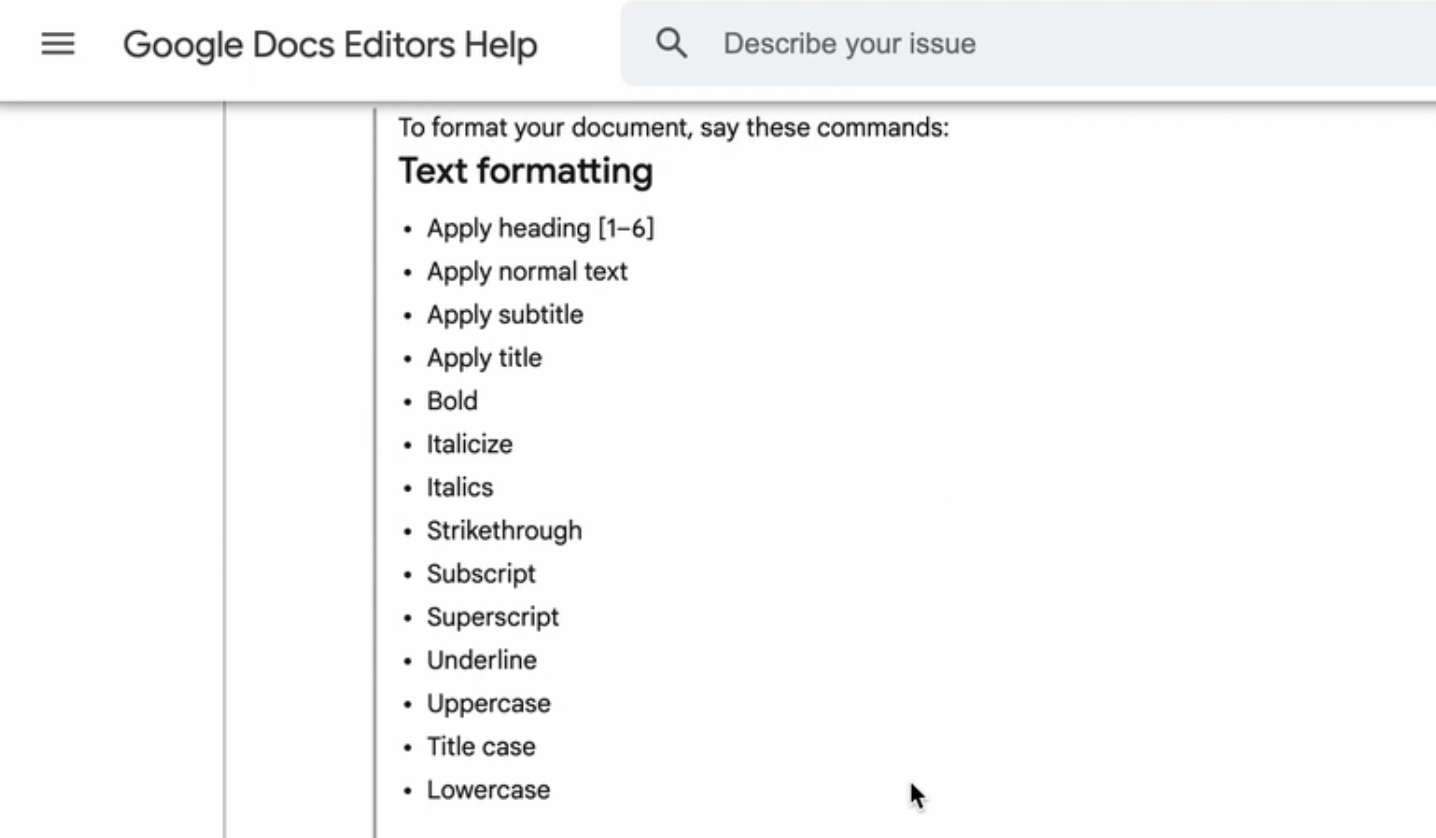 7. When you are finished, say "stop listening" and Google Docs will stop typing.
What Are The Benefits Of Voice Typing On Google Workspace?
The introduction of voice typing on Google Docs is great for productivity at work, particularly for those who aren't the fastest at typing or for those who simply don't enjoy typing for hours on end.
It is an ideal solution for lengthy pieces of work that would usually take hours to finish typing, with Google Workspace users now able to speak into the microphone and have the words typed up for them.
Voice typing is also extremely important for users who are unable to type or for those with dyslexia who may struggle when typing and reading over pieces of work.
Tips For Using Voice Type In A Google Doc
Here are some points to be aware of when using the voice typing feature on Google Workspace:
Ensure your microphone is switched on before you try to use the voice type feature. The tool will typically not work if you have your microphone default settings turned off
The voice type feature will work with your computer or laptop's built-in microphone as well as external microphones
So there you have it, we have now gone through how to voice type in a Google Doc and how this can benefit Google Workspace users and improve the way they work. Once you master using the voice typing tool, you may never want to use a keyboard to type again!
We hope you enjoyed this week's Tech Tip Thursday and as always, we want to hear what you think! Will you be using the voice typing feature on your next Google Doc?
If you need any help with using the voice type feature or want to learn more about how Google Workspace could improve how you work, please get in touch with the Damson Cloud team and we will be happy to help!
As a longstanding member of the Google Cloud Partner Program, Damson Cloud specialises in bringing people and ideas together through new ways of working. We champion the very best practices in remote working and change management, helping companies and their teams collaborate productively from anywhere in the world. To find out more about our services, check out our library of tutorial videos or our blog.