The Future of Education with C-Learning
February 17, 2022
The combination of education and technology has been groundbreaking in so many ways. Not only is it fundamental to nurture the knowledge of the next generation, but it also safeguards the economy for future success.
This week, Damson Cloud sat down with the C-Learning team to discuss the future of education, and the crucial role technology is expected to play in it.
About C-Learning
C-Learning is a group of specialists who are dedicated to transforming education using leading technologies.
Their aim is to leverage innovation to help students achieve more and create a smarter, more sustainable world.
Established in 2011, the C-Learning team has come a long way in bringing the most advanced and impactful technologies from Google to the teaching spaces of the United Kingdom.
For example, it actually became the first group of technology specialists to introduce Chromebooks to educators in the UK, and the first Google for Education Premier Partner in the UK.
The company has continued to expand, creating new products and services that enable people to educate and engage more easily than ever before.
Let's find out what the experts had to say about their predictions on the future of education.
How Important is the 'Learn From Anywhere' Model?
Learning from anywhere is all about having the freedom to focus in a place that suits you. As the C-Learning team point out, life doesn't always make it easy to be physically present in classrooms, which can be highly restrictive to a person's education.
"What happens if someone's car breaks down? Lives miles away, or has caring responsibilities? How can they have equal access to learning regardless of where they are?"
The real benefit of Google Workspace is its versatility. It works on any device, and in the Cloud. So as long as materials are prepared and available, teachers can extend learning beyond the classroom.
The team mention how it is a much more inclusive approach to learning, rather than a method of cutting corners: "It doesn't mean you're trying to 'play the system', you're trying to benefit the learners who want to attend but can't. Education is about continuous evolution, so how can you do that without it being digitised? Learning doesn't always have to be done the conventional way in order for it to work."
Technology enables students to have a choice. For example: "If a student wants to commute and learn in a classroom environment - then they should be able to. If a student wants to use the technology and the institution makes it available, then they should be given that flexibility to join the lesson from wherever they are."
The impact of COVID-19 has also played a big part in the shift to digital learning.
"COVID-19 has been great for many different reasons. But one thing that's been touched upon a lot is that technology has primarily been used as a response to the pandemic."
This drastic switch meant companies like Google had to up their game when it came to the products and services offered. Google especially saw a vast array of updates that came as a result of the pandemic, to make its digital working and learning spaces more accessible and seamless.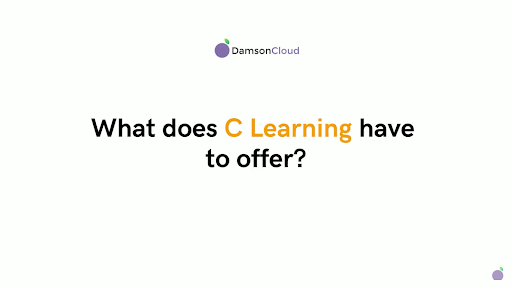 What Does C-Learning Have to Offer?
One thing the company credits itself for is its longstanding commitment to innovation, and the fact that the team is always willing to learn and advance their knowledge alongside the new technology that comes out.
"If people come to us, we've got relevant experience. Over the last 10 years, you develop deep expertise, which is all about the use of the Cloud to support teachers and learners in everything from nursery up to university.
"It's really interesting that learning from our customers as much as helping them means we can also learn more and share more with others as we progress."
They also pride themselves on the fact that their solutions can aid the learning experience in more ways than one.
For example, if a student is late to a physical class, then this disrupts the teacher's train of thought, and also the learning experience for students. In a Google Classroom, this doesn't have to happen. They can find the exact resources for the lesson and get up to speed more easily and quickly because of this. They don't have to ask questions, and it helps sustain concentration.
These are just a few benefits that C-Learning can bring to its client base.
What Impact Can Google Technology Have on the Future of Work?
Whether it be an in-class, remote or hybrid learning environment - Google Workspace has now cemented itself as a trusted, central space for information and collaboration.
When talking about remote working and learning, the C-Learning team share their thoughts on the term as a whole:
"I don't like the term 'remote working' or 'remote learning' because, remote from what? Learning isn't a location, it's wherever you happen to be. I think that term brings massive implications for business models and the way we live, work and learn throughout our lives. I think Google Workspace has the capacity to connect people and bring teachers closer to students, and it can be completely transformational."
So, what changes can be expected to happen over the next five years? According to C-Learning, "there's going to be big change".
"We've seen a lot of change take place here in the UK and it's happening at different paces in different parts of Europe. The Irish government had a consultation in April 2021 about the digital ambitions and strategies for the next five years, and I'm sure that Cloud, accessibility and equality of opportunity are all things that will shape this."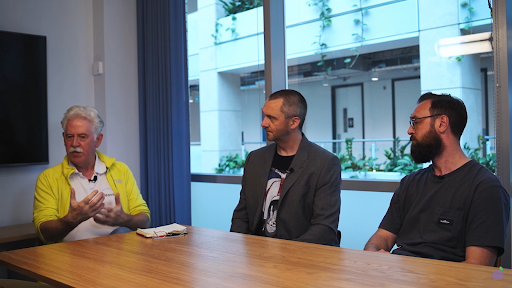 Why Should Customers Choose C-Learning?
Like with any business, it all comes down to the reputation you uphold.
"Our customers recommend us, and I'm always very proud of that. If your customers are marketing your company for you, it doesn't get any better than that.
"Trust and transparency are everything. We don't believe in sales pitches because nobody can be sold to. You already know what you want to achieve - you just want to work with people you trust to get you there faster - and that's exactly what we do."
For more information about C-Learning and its solutions, visit the official website. For more interviews and fascinating content around Google Workspace solutions, check out
As a longstanding member of the Google Cloud Partner Program, Damson Cloud specialises in bringing people and ideas together through new ways of working. We champion the very best practises in remote working and change management, helping companies and their teams collaborate productively from anywhere in the world. To find out more about our services, check out our library of tutorial videos or our blog.