What is the Delegated Access in Gmail and How Has It Changed?
March 18, 2021
When running a business that requires a rapid response for clients, having a collaborative inbox can be crucial in providing efficient customer service. Damson Cloud's Fintan Murphy discusses delegated mailboxes in Gmail and how they can be an option for collaborative emailing.
Fintan Murphy will discuss what a delegated mailbox is, what it means to have an increase in the number of concurrent users that have delegated access, and how to set delegated access up in your Gmail. Google has only recently updated the number of users that can concurrently access a delegated mailbox and the number of configured accounts to 40 at the same time and 1000 respectively.
How has Delegated Access in Gmail been updated?
Previously, Google only allowed for 25 accounts to be set up in a delegated mailbox. They have now increased that to 40 concurrent users per delegated inbox. This will depend on the amount of usage a mailbox has or if one of the users operates as a script that is accessing it automatically.
If this is occurring, that will reduce the number but typically the number of users is around 40. With the potential to have up to 1000 users configured for the mailbox, possibilities for collaborative emailing are endless. Despite having 1000 users configured, this does not mean that 1000 people can access it at the same time.
This Google Update is a game-changer for many larger companies who use inbox delegation a lot to ensure premium customer service.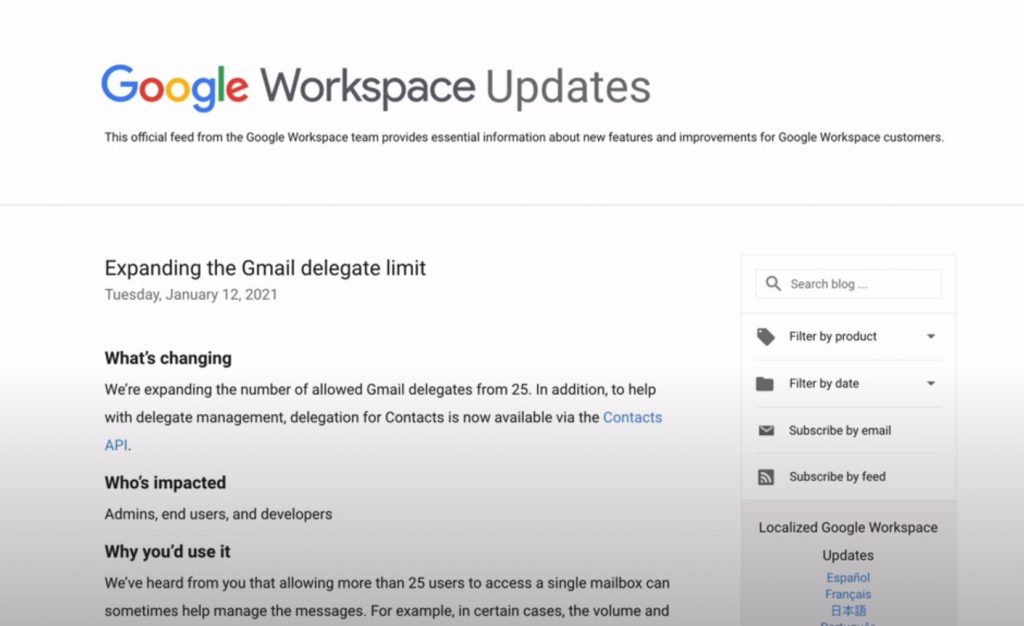 What is Delegated Access in Gmail?
A delegated mailbox is essentially a mailbox that you have given another user access to. This could be something like an Accounts' inbox that can be delegated out to the members of the Accounts team. Other common examples are Support or Sales accounts, or even PAs would benefit from delegated access as well.
Google does caveat in their update that while you can configure up to 1000 people and have 40 concurrent users, they still don't recommend it for very high volumes of email and traffic. It has the potential to be very useful for many customers serving as a solution for collaborative mailing.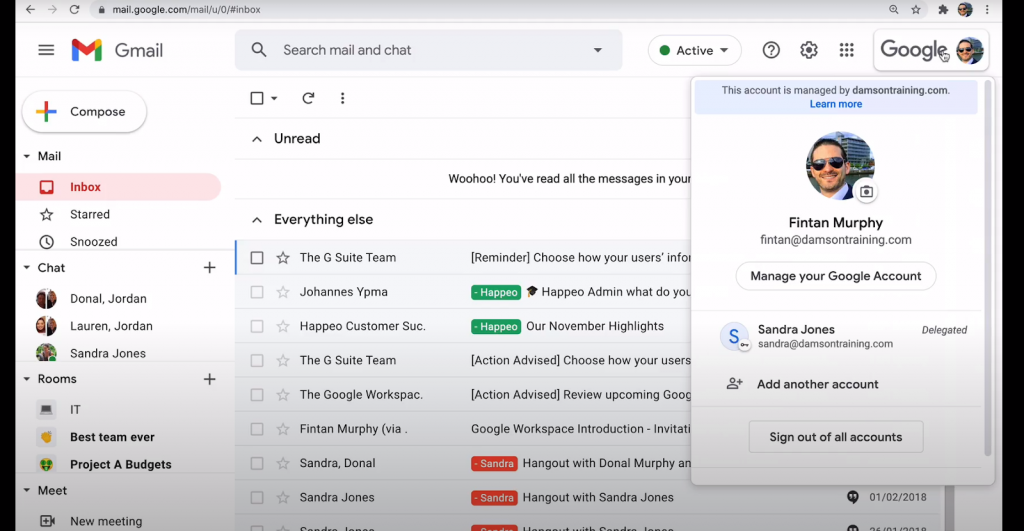 How to Use Delegated Access in Gmail
In the top right-hand corner of your Gmail, you will see a dropdown. Ensure that you don't select your Chrome Profiles, you are clicking on the dropdown within your Gmail. When you click on it, you will be able to see the list of delegated access you may have been given to particular email accounts.
Once you click on a particular profile, you will be taken to a new tab of the Google inbox you wish to use. You don't need to input a username or password because you have already received authorization to use this account.
The small waffle icon that would give you access to your other applications like calendar and drive is unavailable in delegated accounts. This is due to delegated accounts only offering access to email, you can't access another person's account for Google Drive or their Calendar unless it is shared.
If you respond to emails from a delegated account, you will be responding as the owner of the account you are messaging from - not yourself. Equally, if you compose an email to communicate with someone, you will be doing that as the owner of the delegated account, not as yourself.
It allows someone else to manage an inbox which can be incredibly useful for those who are working as a personal assistant or work with accounts or information set up.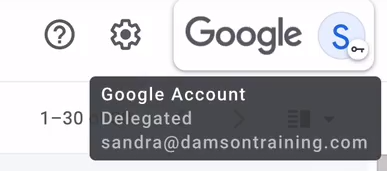 How Do I Set Up Delegated Access in Gmail?
If you want to delegate access to your account to another person, first head to your settings. There are third-party tools that do provide alternatives to manually setting up delegated access which can help administrators do this at scale. However, manually setting up your account for delegated access is a simple process.
Once you are in your settings, select accounts, the command 'Grant Access to Your Account' will appear with a bracketed 'allow other people to read and send an email on your behalf'. From here, you are able to grant delegated access to your Gmail to other users. The end user will receive an email with a link they will have to click and accept in order to gain delegated access to your account. This link can only be accepted from the person's actual email, a person with a delegated access to their email will not be able to accept the link.
Google has asked to allow for up to 24 hours for delegated access to be implemented but, in many cases, access is a few minutes. Google's recent update on January 12th gives more information about delegated access and has links to Google's policies around limits for sending emails.
As a longstanding member of the Google Cloud Partner Program, Damson Cloud specialises in bringing people and ideas together through new ways of working. We champion change management and digital transformation using some of the internet's most trusted solutions, including Google Workspace, Happeo and Jamboard. To find out more about our services, check out our library of tutorial videos or our blog.