Why You Need A Google Partner 
March 31, 2022
Is your company currently using Google Workspace but buying your licences directly from Google? Maybe your company has been using Google Workspace for a while, in a scenario where the founder set up the company a few years ago, but has grown rapidly and now you need someone to help manage your collaboration suite. Or maybe you've been growing steadily for years and are now at the point where you need some help with employee productivity or cloud security? That's where a Google Cloud Partner comes in.
We are Damson Cloud, a Google Cloud Partner and Google Workspace experts and we are here to make your cloud journey as smooth as possible. Our knowledge and expertise in Google Workspace will help you keep your cloud environment up to date and secure and make sure that your employees are leveraging the most out of the product.
The Google platform offers a large array of services and tools that can be tuned to the needs of your business. With some of the most advanced, reliable and flexible technologies in the market today, it's no surprise that Google Workspace has almost three billion monthly users globally.
Whether you want to kick-start your new business in the Cloud or are evaluating a change in your current system, Damson Cloud can help make the process as seamless as possible.
This week, we're looking at why you need a Google Partner, like Damson Cloud. Let's dive right in!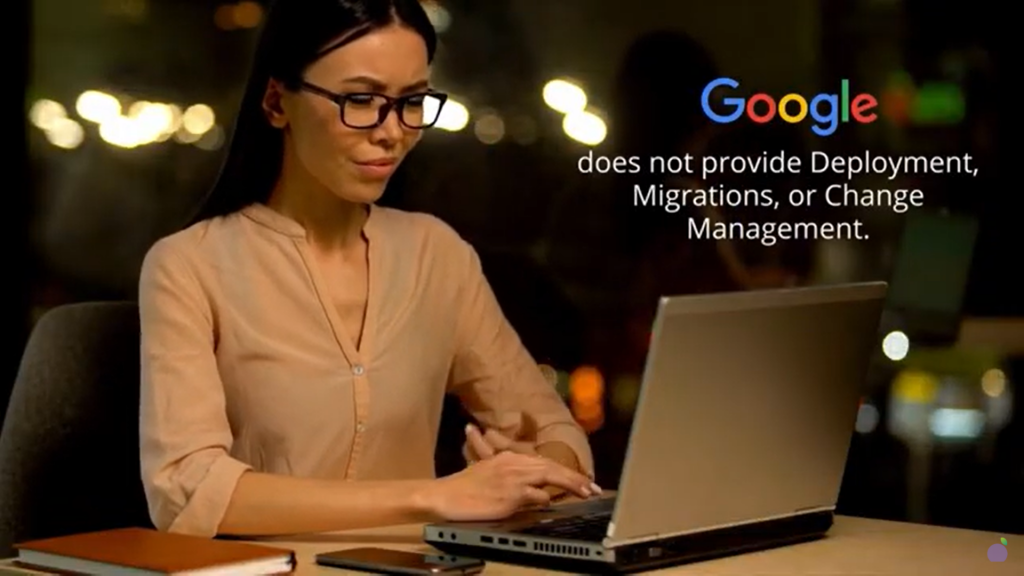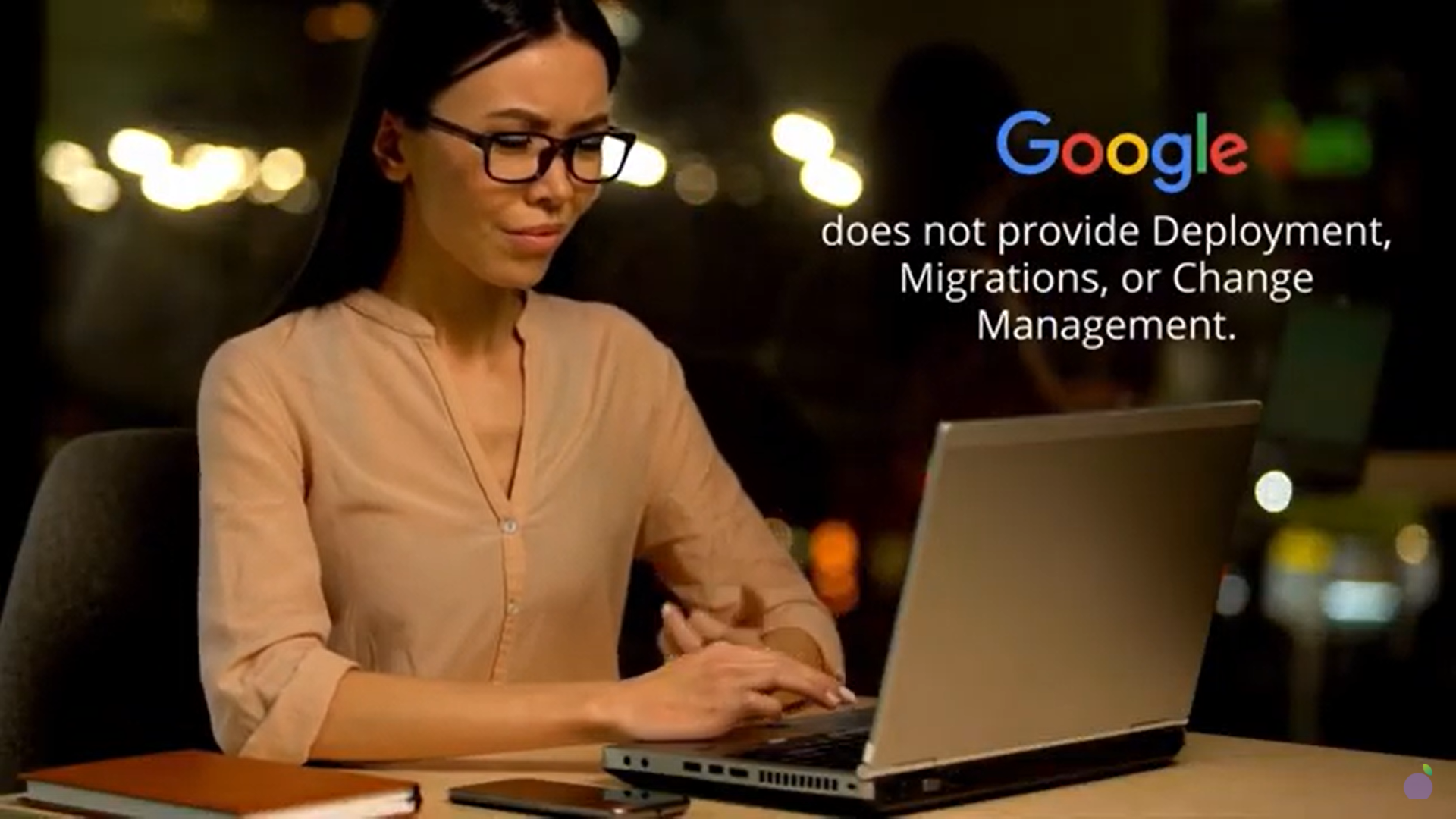 What Value Do Google Partners Add?
If you go directly through Google, it's important to know that it doesn't provide any professional services, Google will only sell you the workspace licences. It pretty much acts as a one-size-fits-all solution. From deployment to change management, you have to do it all by yourself using Google's online guides. All of the work and risk sits entirely on your shoulders - unless you employ a Google Partner.
As with many systems, there are lots of hacks and shortcuts that can only be learned through experience. While it may be handy to discover these for yourself, it is much more effective to save your time and effort for other areas of the business. Instead, you can simply let a professional who knows the system inside and out skip these hurdles for you.
Damson Cloud Services
Whether you are just getting started with Google Workspace or you have been using it for years we offer a full Security Review to help your organisation evaluate the security setup and requirements on Google's platform. This includes:
Assess your business to determine what the best course of action is in terms of security.
Our security workshop will ensure that your organisation knows how to follow best protocols when it comes to security.
We create a bespoke implementation plan for you based on your unique needs.
A plan is drafted in order to overcome a crisis, should one arise, as efficiently and with the least damages as possible.
In-depth training on security protocols and prevention methods.
We know that moving to the cloud can be daunting and many IT teams can be apprehensive about moving to a solution that they may be less familiar with.
Our support is faster than a cheetah on a bullet train. If you like lightning fast support, get in contact!
Why Damson support is better than Google Support
Direct contact with experts
Google uses offshore/outsourced support companies to provide the first tier support. This means the first line support agents tend to have a low level of knowledge of google workspace. At Damson, our highly skilled support engineers are just a click away, and will handle any problem, big or small, within minutes.
Support engineer consistency
The problem with a company as large as Google is that it is unlikely you will every talk to the same support engineer twice - there are THOUSANDS of them. At Damson, we get to know you and your company personally and we will be a consistent voice throughout their cloud journey.
One of the biggest problems for our digital native customers is rapid expansion and the inability to keep up with the pace of growth. At Damson, we can add new users to your systems FAST - our fastest time so far is 30 seconds!
Our leadership team have 20 years experience each in the IT industry. Damson is one of the longest standing Google Partners in the world, we have been here since the very beginning! You'll struggle to find a partner with as much experience as us!
The Google Workspace platform tools are updated multiple times daily, so even if you think you know how to use them, we guarantee you'll learn countless new time saving, productivity pumping tricks that will level up your employees work game, saving your organisation time and money.
Our approach to Google Workspace training encompasses 3 pillars:
Training on Google Workspace isn't about the basics like how to compose an email or save a draft that stuff people tend to know from having their own Gmail account. Google Workspace training is about using Gmail, Calendar and Drive as a business tool. That is something your staff have never done before (unless they came from another innovative company before).
Mapping your business processes to Google Workspace is one of the most important areas to cover when deploying. Our trainers have in-depth knowledge of Microsoft Office 365 and Google Workspace and this enables them to have a more comprehensive understanding of end-users challenges. When someone asks in Outlook I can do X how can I do that in Gmail, our trainers understand both solutions and can help users transition their workflows seamlessly to Gmail.
With the use of training comes a much swifter return to normal productivity levels, shortly followed by a huge increase in overall employee output and efficiency. We believe that training is one of the most important pillars of change-management and digital transformation. You'll be amazed at what your team can achieve after a training session with Damson Cloud.
Large Customers (200 seat +)
For our large customers, we have a more proactive approach.
Other Services:
If you are already on Google you may not need the following services immediately, but if you are a fast growing company looking to acquire other companies, this is when services such as these become invaluable
Migrating data is no simple task and it is vitally important that it is done in the most meticulous way possible.
Our team are Data Migration Specialists with an immaculate track record and a plethora of happy customers to boot.
Why you need a migration specialist:
When we migrate a companies data, these are some stats to consider:
We Migrate on average: 1,000,000 EMAILS and 2 TB SHARED DRIVES DATA
Companies have about: 4 Weeks TRANSFER TIME (if you go with a specialist like Damson - if not, it could take much longer)
And we have a close to 100% CUSTOMER SATISFACTION rate.
So if you think you might need help with data migrations, get in contact with us today.
We help organisations like yours move to new cloud technologies every day.
Did you know that the  ROI on a sophisticated Change Management  Program is an amazing 135%?
-Change Management Report – Raconteur 2016
You need change management in your organisation because change is hard and scary, that's the truth. Organisational change will be different for every company but rest assured we have seen every version under the sun and we know how to deal with it. This keeps your business running smoothly through the  change.
Projects which included successful Change Management were:
6x times more likely to exceed objectives
Companies who employed Change Management workshops were:
3.5x more likely to financially outperform their industry peers
With a Google Partner,  solutions are tailored to your specific needs. Each stage of your cloud journey will be carried out by specialists who can give that personal touch, all while guiding you through the process step-by-step in an easy-to-understand manner. If there are any areas where you're unsure, you don't have to backtrack to a manual. All you have to do is reach out to a representative like Damson Cloud, and your query will be answered in a matter of minutes!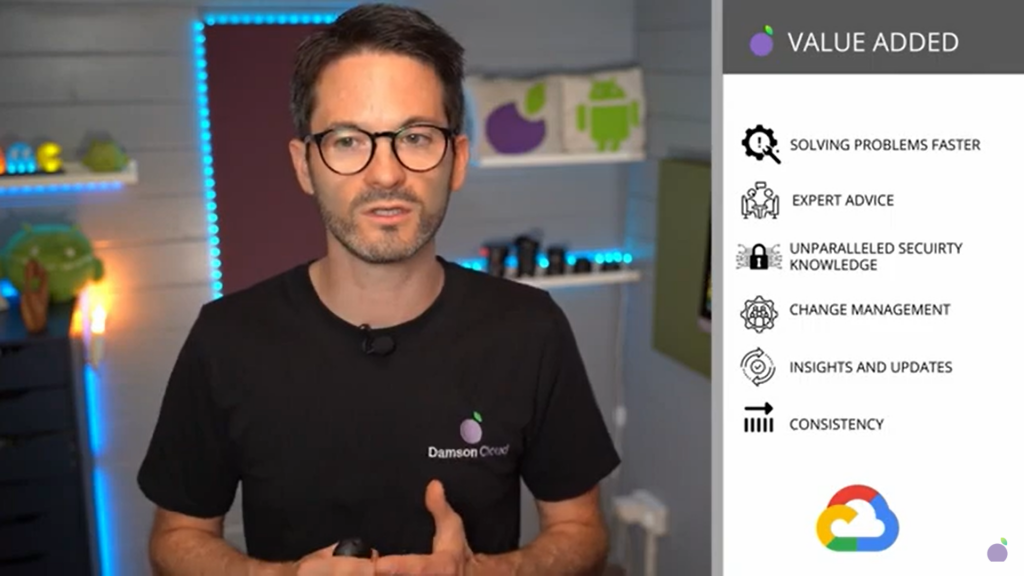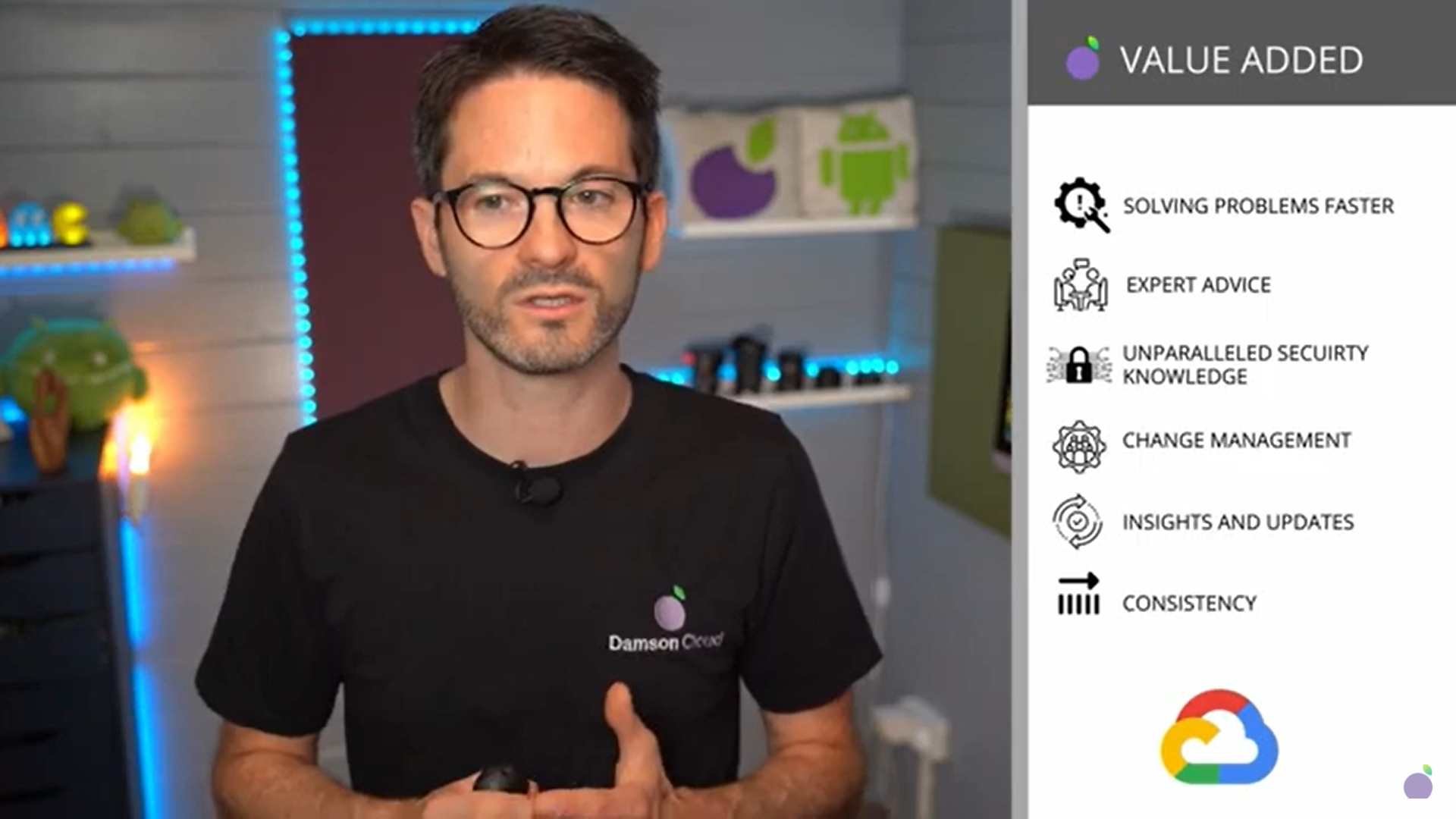 Does it cost more to have a Google Partner?
Google with a Google Partner is much better value than going directly with Google. You don't pay more for licences, in fact, in many cases we can provide discounts. On top of that, we help you leverage more value from the product in general.
Why Choose Damson Cloud?
At Damson Cloud, we have been part of the Google Partner Program for over a decade. We are a family run business that is invested in supporting our customers. Here's a couple of testimonials we have received from previous and current customers:
"I highly recommend Damson Cloud! The team at Damson are experts, helpful and very well-organised. I was nervous about organisational change but the team has a process and expertise that takes care of all potential issues."
Marcus Isherwood MD Creative Media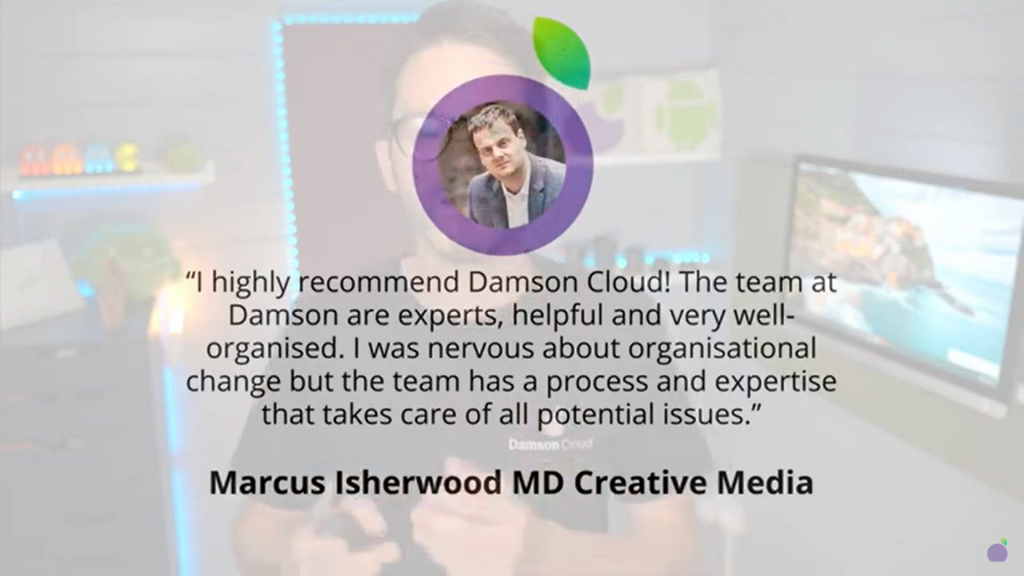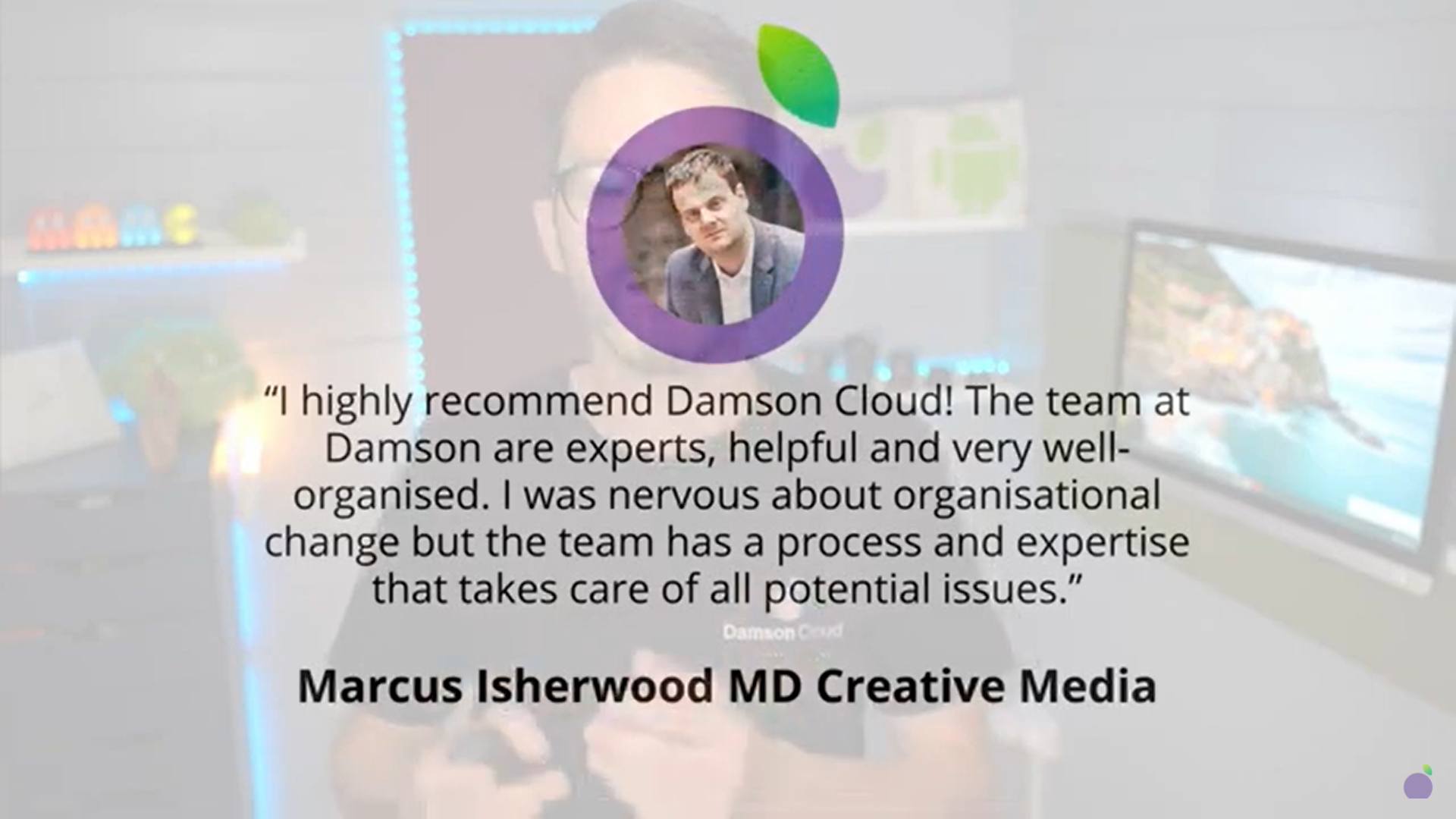 "Thanks for all your help over the years, it was a struggle at times but made all the more easier with your expertise. Damson Cloud is genuinely one of the best partners I've ever worked with."
Julian Corson – IT team at Whistles
If you are interested in hearing more customer stories, or want to check out our latest work as a Google Partner, have a look and feel free to get in touch if you have any questions.
As a longstanding member of the Google Cloud Partner Program, Damson Cloud specialises in bringing people and ideas together through new ways of working. We champion the very best practices in remote working and change management, helping companies and their teams collaborate productively from anywhere in the world. To find out more about our services, check out our library of tutorial videos or our blog.