Gmail Vs Outlook: Which One is Best For Business?
February 3, 2022
https://youtu.be/lR8h7rR1m5I
Gmail and Outlook are the two heavyweights of the email world - so it's only natural for organisations to query which one is best. 
From a usage point of view, 1.8 billion people use Gmail, accounting for almost half of email users worldwide. On the other hand, Outlook boasts a longer-term loyalty since the Hotmail merge, meaning it owns email addresses going as far back as 1997. 
Of course, there's so much more to the debate than this. That's why this week, we're delving deep into comparing the key differences and similarities between the two. 
We also get asked a lot about the Gmail-Outlook sync tool, which we'll also give our true thoughts on, as well as provide other solutions that are more productive than this. 
The Three Perspectives
In order to conduct a proper comparison, we need to think about the three perspectives involved when it comes to webmail services, these being:
The business
End users
IT admins
Let's take a closer look at how each of these perspectives is affected.
10 Reasons Why Gmail is Best for Business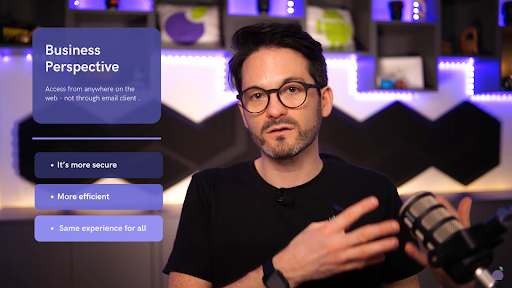 The Business Perspective
For businesses, factors like security, productivity and seamlessness are all essential when it comes to a webmail service. Here's how Gmail pips Outlook to the post:
Having everyone access Gmail through the web and not an email client means that it's more secure. Gmail also offers two-step verification, which adds another layer of security for businesses, users and administrators collectively.
It's more efficient to train staff on the one universal platform, like Gmail, especially as everyone has the same experience no matter what device they are on (Mac or PC etc.). As a result, this closes knowledge gaps faster, and boosts team confidence.
What's more, is that Gmail can do 90% of what Outlook can do - plus you can actually perform tasks better and faster.
You can also customise Gmail to look a bit more like Outlook, which is very beneficial for long-term Outlook users who want a smooth transition. Things like enabling a preview pane and disabling a couple of other features can make a world of difference in making the Gmail interface look and feel more familiar.
Here's an example of a Gmail environment that's been customised to look more like Outlook: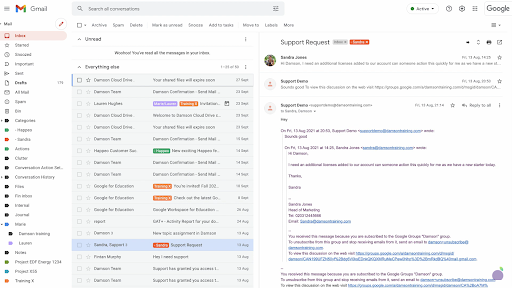 End User Perspective
For end users, chopping and changing between Gmail and Outlook can cause huge disruptions to workflows. When accessing Gmail via the sync tool, you lose out on so many great tools and features that exist to make your life easier, including:
Phishing alerts: through an email client like Outlook, Gmail cannot push through phishing alerts that are built into the web interface system. We have heard some horror stories where end users have been caught out by this, and when you compare to those that use Gmail full-time, they have been able to protect themselves from the scams much more quickly and effectively. 
Smart compose is only available in the Gmail interface. It helps by predicting the ends of the sentences you write, which you can choose to autofill in order to save time. This allows you to be more productive and focus on more pressing tasks.
Conversation view is a Gmail setting that shows you how a 'conversation' (a backlogged trail of emails) has evolved over time. You don't have to open several emails to follow the conversation or go searching for a message you may have already read and responded to. It's handy for instantly accessing and keeping track of information/progress, and is something that Outlook does not offer. 
The power of Google Search is something that everyone understands and uses. With Gmail, this is built into the interface, making searching for certain email content much quicker and accurate. Outlook doesn't index data, so the search process is much more long-winded and time consuming.
Confidential mode, which is a secure send-and-receive feature, means you can protect sensitive information from unauthorised or accidental sharing. Confidential mode messages don't have options to forward, copy, print, or download messages or attachments - ensuring complete privacy that isn't achieved by any other webmail service.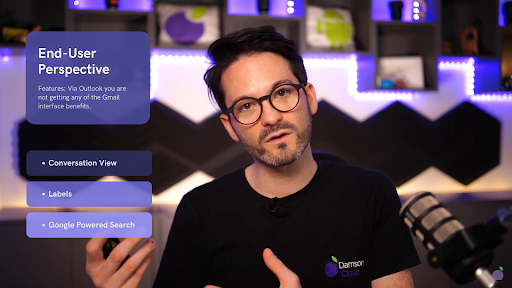 Gmail Vs Outlook Features Comparison
When comparing both interfaces, we've noticed a handful of key differences between Gmail and Outlook, including:
A lot of end users will complain that they can't easily find their emails in Outlook - that's because of the indexing issue and the fact that it caps emails - something which can be especially frustrating for those who send/receive a lot of emails due to their job role.
Gmail has unlimited storage compared to Outlook which has a limit set at 50GB. Having unrestricted access to all the essential information in your inbox means nothing is ever lost, and you don't need to worry about wasting time trying to recover missing data. 
Outlook will force you to attach documents, whereas Google will suggest that you attach Drive links, meaning you can send much larger files more easily. With any email client, you are generally limited to around 25MB attachment size, so this integration with Google Drive makes the process really seamless for end users.
Labels are an effective way of categorising items into folders. Instead of taking actions to organise emails after receiving them, a label triggers a workflow to happen automatically. As an email hits your inbox, it is instantly tagged and allocated to its selected label - and you can simply archive that particular label once you're done with it.
While adjusting to this workflow can be a challenge at first, once you master it - it will lead to a very fast improvement to your productivity. When someone gets how Google labels and filters work - it makes for incredibly efficient automation.
In Gmail, there's a useful sidebar that gives you instant access to your Calendar, Tasks, CRM systems and more. This enables you to gain information and context in the one, compact window - therefore bringing you fantastic value which you lose out on in Outlook. 
With Outlook, you also lose Gmail's new home for work design. In short, Google is seamlessly bringing together certain apps into a single interface. The apps coming into Gmail include Meet, Chat, Drive, Docs, Sheets, Slides and Tasks - all in a bid to make them better together so that users can stay on top of things more easily, from anywhere.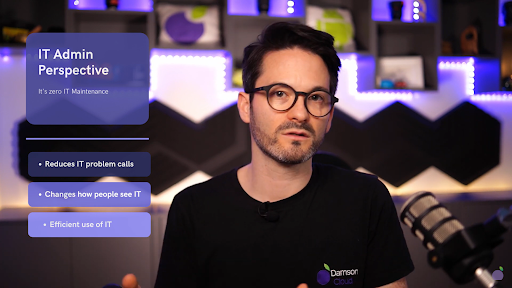 IT Administrator Perspective
For IT admins, the truth is they don't want to be supporting an email client because it only adds to their list of softwares that they need to keep on top of. Not only this, they have to stay updated and constantly monitor the software in order to ensure data is safe. 
By having end users use the web interface, this means zero IT maintenance. It also reduces the number of calls to IT support desks and - more importantly - it changes how people perceive the IT team as a whole. Instead of being known as the 'break/fix' team, they instead become the team that can boost efficiency by lending their knowledge and advising end users on hacks and best practices. 
Overall, the idea of being tied to an email client such as Outlook in this modern day and age is not the way forward. Especially when you have the likes of Google which is constantly evolving to become more accessible across a range of devices.
If you want more information on transitioning to Google Workspace, or have a query relating to Gmail - please feel free to contact the Damson Cloud team today.
As a longstanding member of the Google Cloud Partner Program, Damson Cloud specialises in bringing people and ideas together through new ways of working. We champion the very best practices in remote working and change management, helping companies and their teams collaborate productively from anywhere in the world. To find out more about our services, check out our library of tutorial videos or our blog.