Google Workspace Plans: Which One Should You Choose?
May 27, 2021
So you're thinking about moving to Google Workspace, but which plan should you choose?
With the right solution in place, you can collaborate, communicate and create more easily, no matter where you are.
Google Workspace plans aim to provide this solution, offering everything you need to get anything done, all in the one place. It includes staples like Gmail, Calendar, Docs, Sheets, Slides and many more - but you can still streamline a plan to suit the needs of your business.
This week, Fintan Murphy discusses the plans available on Google Workspace, guiding you through the process of choosing the perfect plan for your business, depending on your desired storage space, security level and more.
Previously, Google had G Suite, which was then rebranded and became Google Workspace in November 2020. With this rebrand, came an increase in the number of tiers or plans that are available to customers.
Since its launch 10 years ago, Google has come a long way with the features and benefits it offers, bringing its productivity suite inline with the plans supplied by competitor Microsoft.
Before, there was G Suite Basic, G Suite Business and G Suite Enterprise plans, making it relatively easy for users to categorise their business. Now, there's seven plans under Google Workspace. This choice allows customers to enjoy a more bespoke setup, enabling them to specify their requirements and save money by not paying for features they don't use. However, it does require some more investigation into what each plan has available.
When you go to Google's website, you see four plans available: Business Starter, Business Standard, Business Plus and Enterprise on its own. However, there's technically three plans within the Enterprise tier.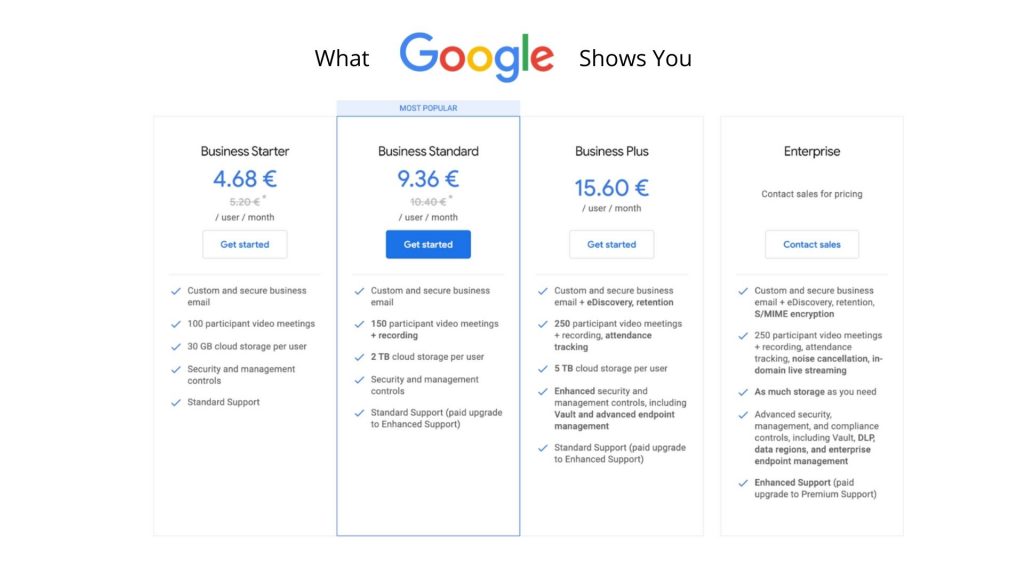 On our website, we show you a broken down version of these plans, including the above-mentioned plans as well as Enterprise Standard and Enterprise Plus. In this blog, we will also introduce you to additional plans Enterprise Essentials and Frontline Worker.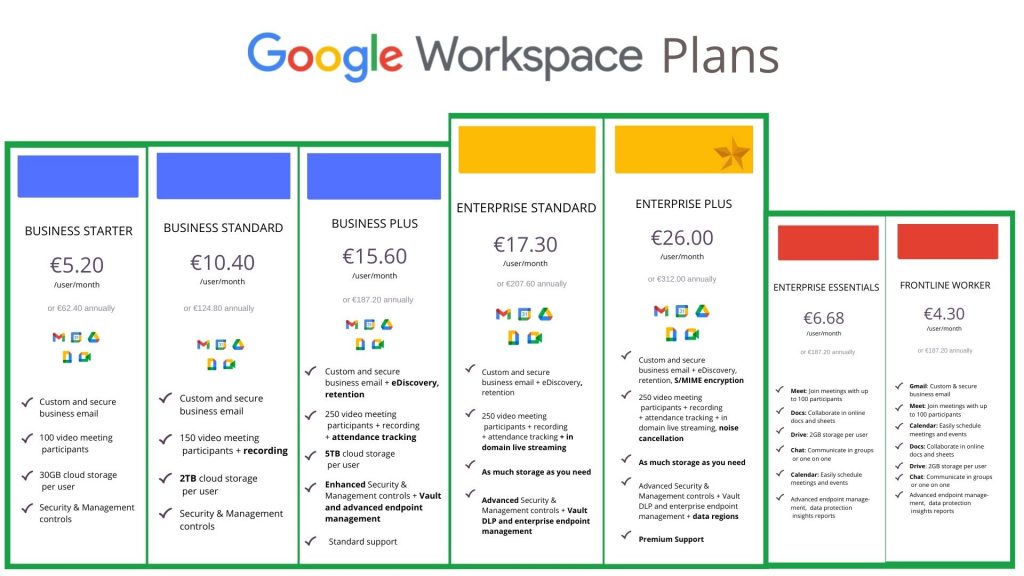 Google Workspace now breaks down its price plans similarly to Microsoft.
For comparison, Microsoft now has: Microsoft 365 Basic, Standard and Premium. It also has its Microsoft 365 apps, which  includes OneDrive and SharePoint. In its Enterprise space, it has E3, E5 and F3.
This shows how aligned Google and Microsoft plans have become, making it easier for customers to compare their services and decide which is best for them.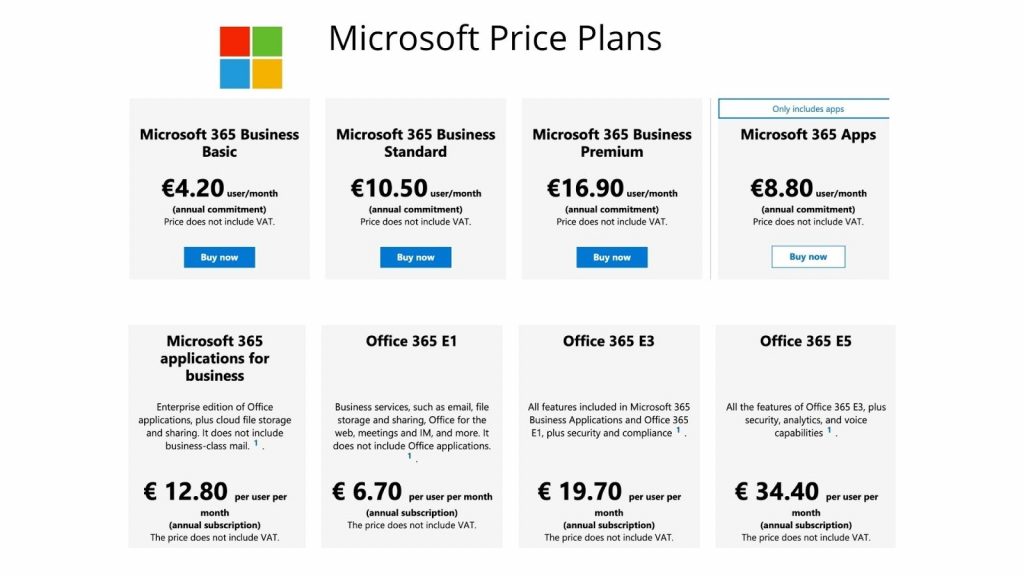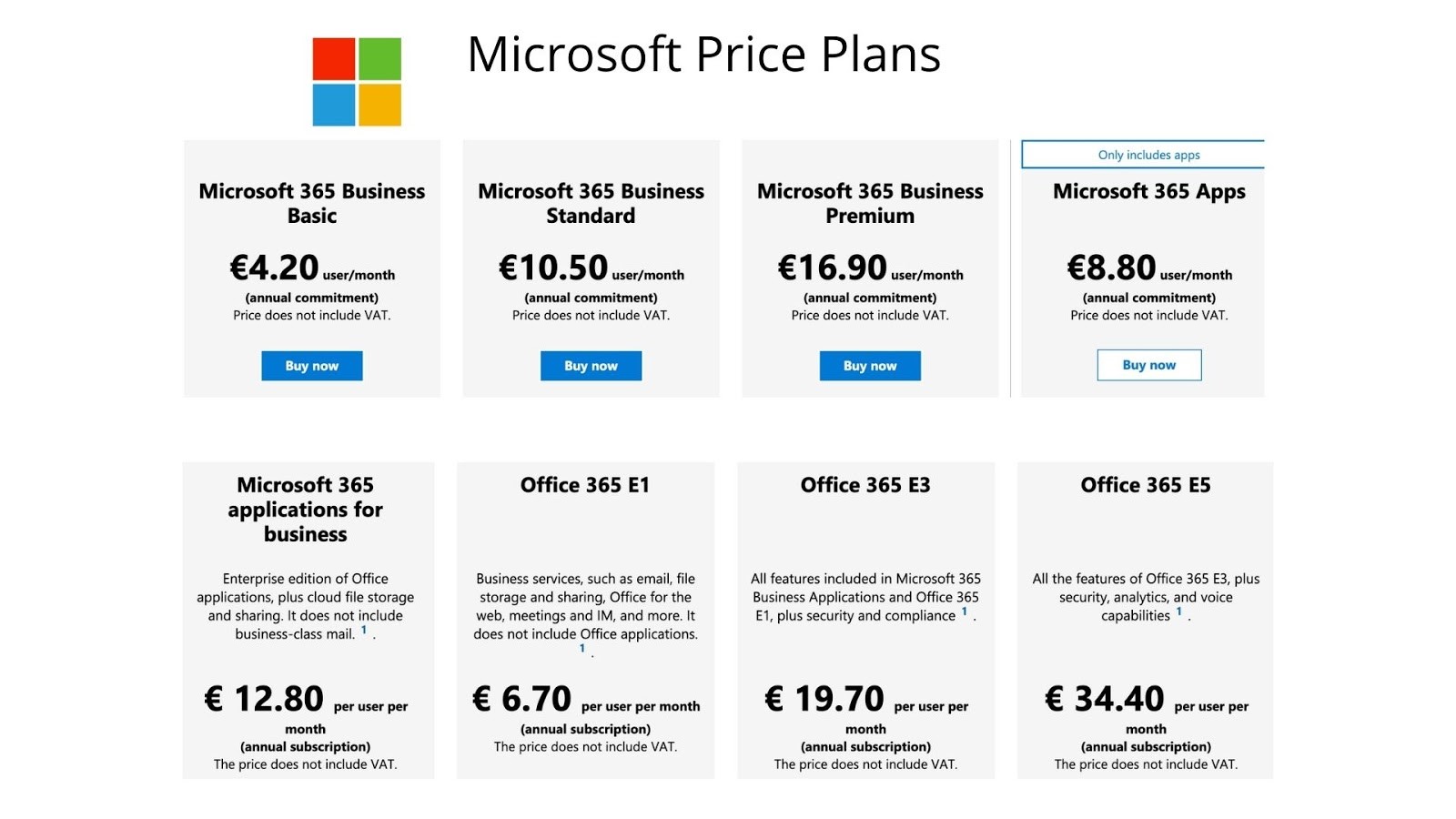 What's the Difference Between the Google Workspace Plans?
Let's take a look at the key differences between Google's Workspace plans.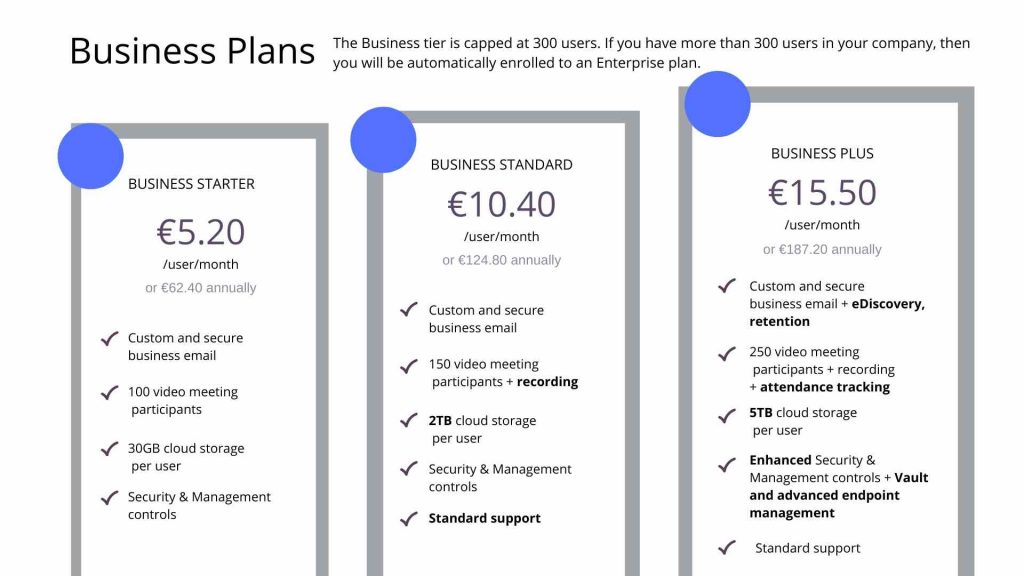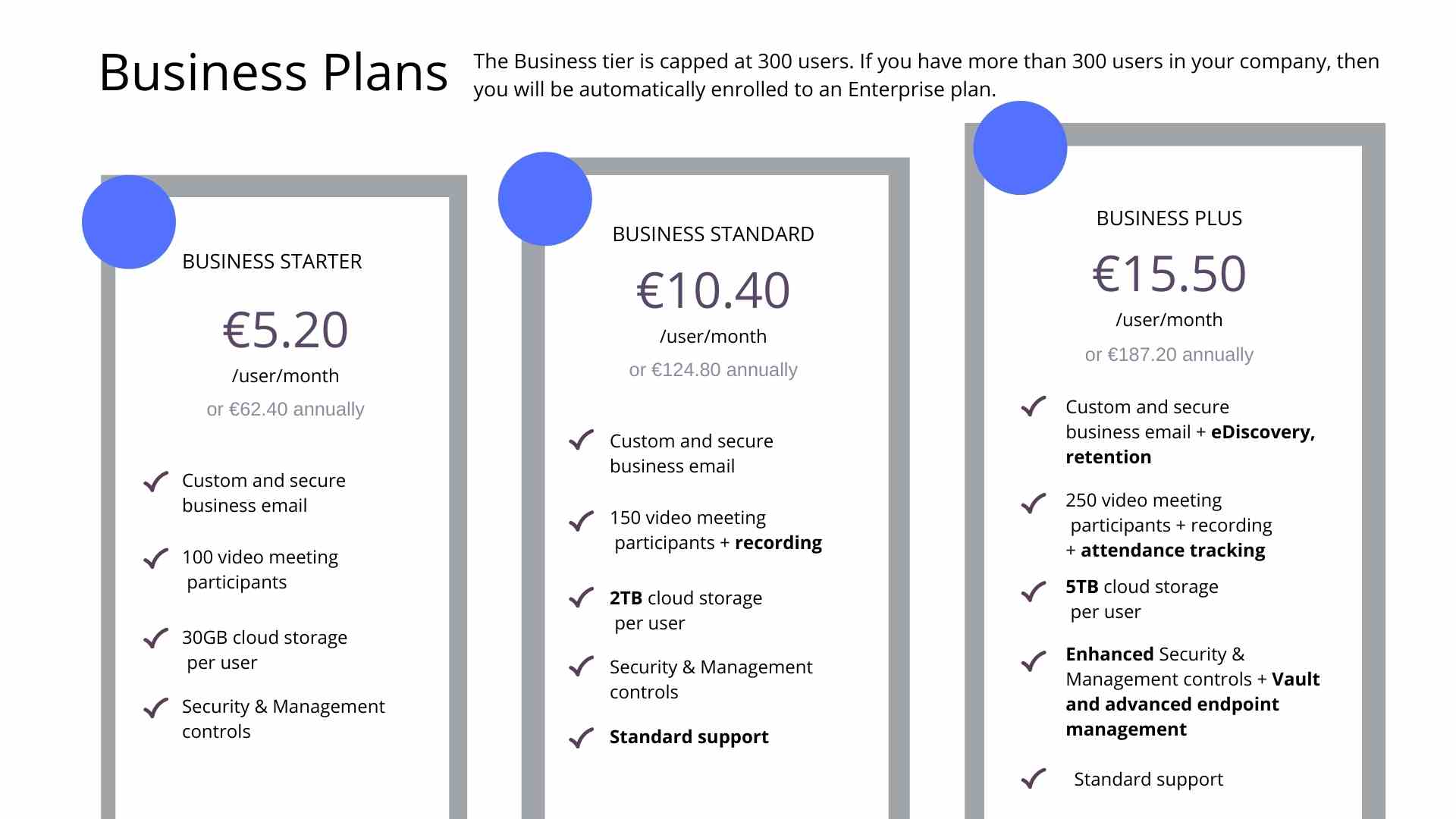 Google Workspace Business Plans
The Business Starter plan starts at only €5.20/£4.60 per user per month. This plan caters to companies with less than 10 employees, who need only 100 participants on a Google Meet, 30GB of storage per user and limited security and compliance tools.
Because of the limited nature of Business Starter, we recommend that businesses choose Business Standard or above. With Standard (€10.40/£9.20) you have Shared Drives and 2TB of storage per user. It also includes 150 participants for Google Meet, plus features like recording and breakout rooms, giving you more freedom and flexibility compared to the Starter.
With Business Plus, this plan sees the incorporation of features like 250 participants, Google Vault eDiscovery and 5TB of storage per user for €15.60/£13.80 per user per month.
It is important to note that the Business tier is capped at 300 users. If you have more than 300 users in your company, then you will be automatically enrolled to an Enterprise plan.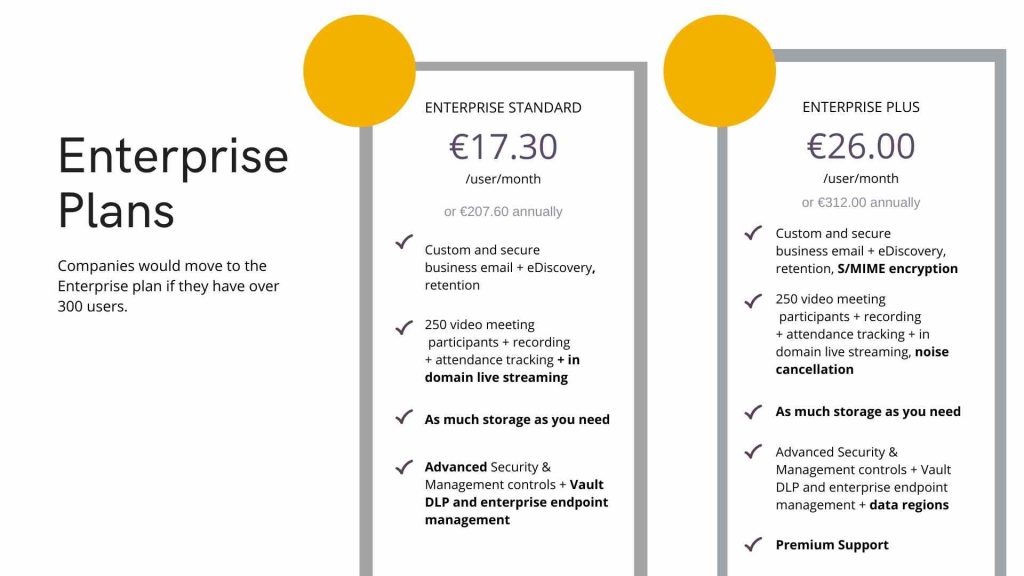 Download our detailed PDF on Enterprise plans
Google Workspace Enterprise Plans
Enterprise plans come with premium features. Priced at €17.30/£15.30 per user per month, Enterprise Standard offers useful attendance tracking, but what is most important to note is that users are granted unlimited storage.
There's also DLP (data loss prevention) end-point management features for devices within the Enterprise Standard plan. Another key feature is the in-domain live streaming with up to 10,000 people.
For Enterprise Plus (€26.00/£23.00 per user per month), additional premium features include S/MIME encryption, noise cancellation (which we can confirm is excellent!), unlimited storage, advanced DLP features and premium support. With live streaming, this plan caters for up to 100,000 people. which is a huge jump from the Enterprise Standard plan.
One of the major features of Enterprise Plus is data regions. The data regions feature allows you to choose where your Google data is held, whether it be Europe, the US or another country entirely.
Sandboxing
Additional security features include sandboxing. This is an invaluable security setting which will set up a virtual sandbox environment for every single attachment sent into your business, checking it for ransomware and malware before it is sent to a user's inbox.
There's also Google's Security Centre which gives administrators an insight into the security level of the business including alerts and actions which gives admin greater control.
Read More About Damon's Security Services
So, Which Plan Should You Choose?
Each plan is targeted to suit a certain type of individual or business. But what are these? Let's look at who benefits the most from each Google Workspace plan.
With Business Starter, this mainly suits the needs of a freelancer, sole trader or small business. They may want simple features such as an email address with their domain, or the ability to share files or folders with someone externally. This type of person or business usually doesn't have a lot of people to manage and therefore doesn't require a lot of storage or security.
For Business Standard, it is aimed at SMEs that require increased storage and Shared Drives to better manage their data. The key difference between this and the Starter plan is that documents and folders in the Shared Drives are owned by the business and not the user. There is also the option for using Google Chat outside the organisation which enables easier communication and collaboration. You also have increased security and controls around mobile device management.
Moving onto Business Plus, this is really for SMEs who require more compliance and security but aren't willing or needing to jump to Enterprise level.
Who Are Enterprise Plans For?
So, why would someone move up into Enterprise level? Companies would move to the Enterprise plan if they have over 300 users.
With Enterprise Standard, you might have a team that requires a lot of storage, or you might have an SME business in an industry that needs high storage capacity and security. There's also live streaming, which at the moment is only available internally. This allows customers with over 250 users to have a YouTube stream, enabling up to 10,000 people with a link to watch and engage.
Enterprise Plus is aimed at very large businesses. It could be that they have over 1,000 employees and require premium support, advanced DLP features, encryption and data regions.
Google Workspace's Additional Plans
The two additional plans within Google Workspace are Frontline Worker and Enterprise Essentials.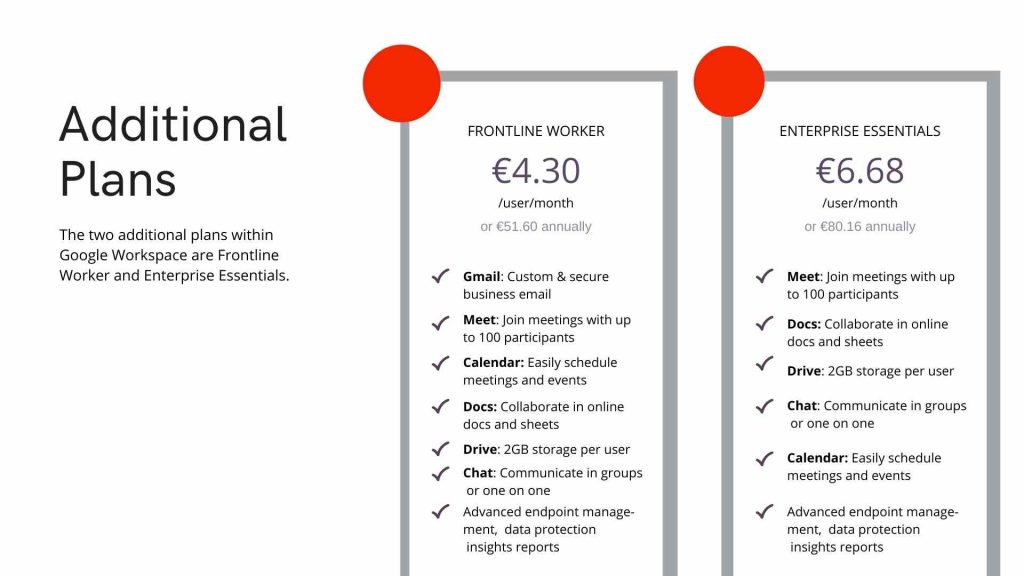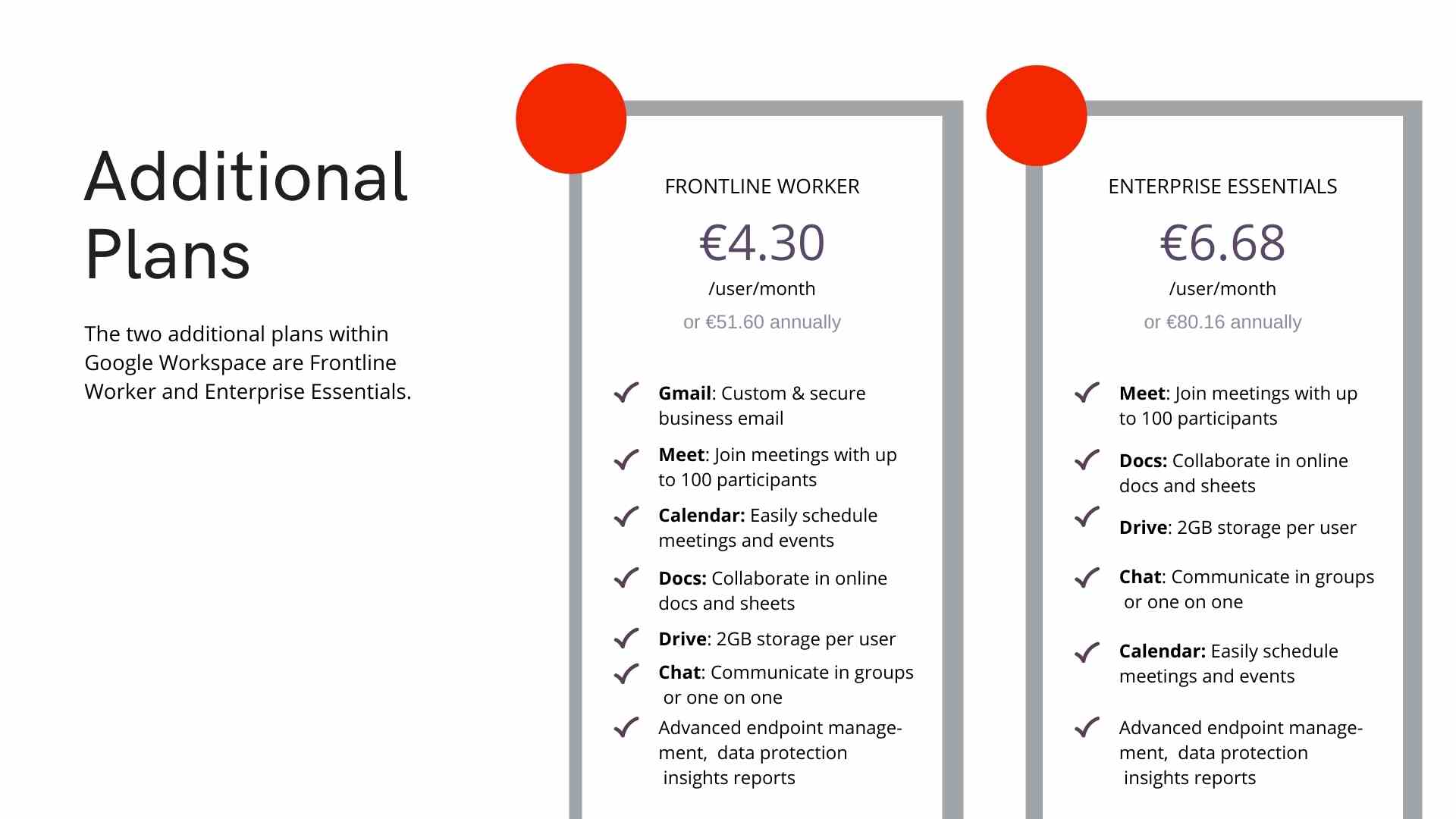 Enterprise Essentials
With Enterprise Essentials, it is the first time Google has taken a small amount of their products and sold them separately. It is really for Microsoft users who want to experience Google's collaborative features, but don't want Gmail. Enterprise Essentials has Google Drive, Meet, Chat and Sites and provides Google's collaborative products in a standalone package.
It is useful for companies on the Microsoft side who want to enjoy the collaborative features of Google, but don't want to move their email or calendar from one to the other.
One important thing to note is that if you upgrade from Enterprise Essentials to any of the other plans, you cannot downgrade back to Enterprise Essentials.
Frontline Worker
For the Frontline Worker plan, this is best suited to certain businesses and teams who are 'deskless' and primarily viewing content over creating it. Within this, you get GMail, Calendar, Docs, Drive, Meet and 2GB of storage per user. It gives you Enterprise level features, at a similar price to Business Starter. It is the ideal plan for retail businesses or a frontline workforce.
Partial Domain Licensing
Another interesting feature that is worth mentioning is Partial Domain Licensing. This allows you to have a mix of different licenses. This feature was not available on the previous GSuite plans, and is a valuable benefit to come from the new Google Workspace plans.
Partial Domain licensing gives customers flexibility. It allows an organisation to mix and match Google Workspace tiers. Within a set of plans e.g. Business or Enterprise, there are no restrictions to mixing licensing.
When mixing across Business and Enterprise plans, there is a minimum purchase for Enterprise of 100 licenses, or 15% of the total number of users purchased.
Companies may utilise this mixed licencing if they have a customer care team that doesn't require all of the features within Enterprise plans, or they may only want a certain number of users with access to Enterprise features. While this is useful, it does come with its own complications such as multiple users on your account with different features available to them.
Archived User Licence
One other feature available now is the Archived User Licence. It is an off-boarding method for when an employee leaves a business and there is a spare licence. If you are on Business Plus, Enterprise Standard or Enterprise Plus, you can now buy an Archived User Licence to remove the licence from the user, and apply it to the new user. This is a cost effective solution, with prices ranging from €3.50-€6 per user per month depending on the plan.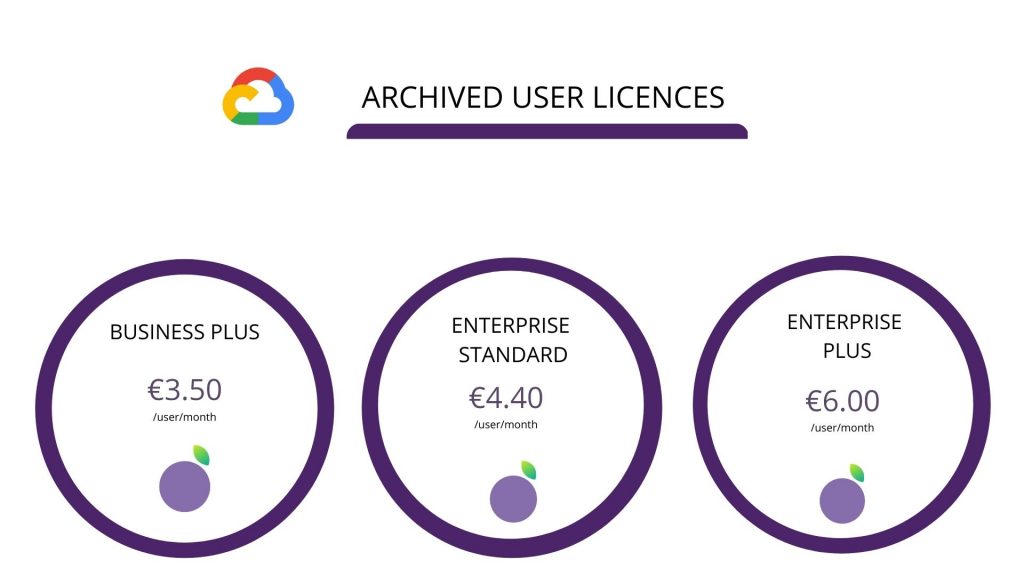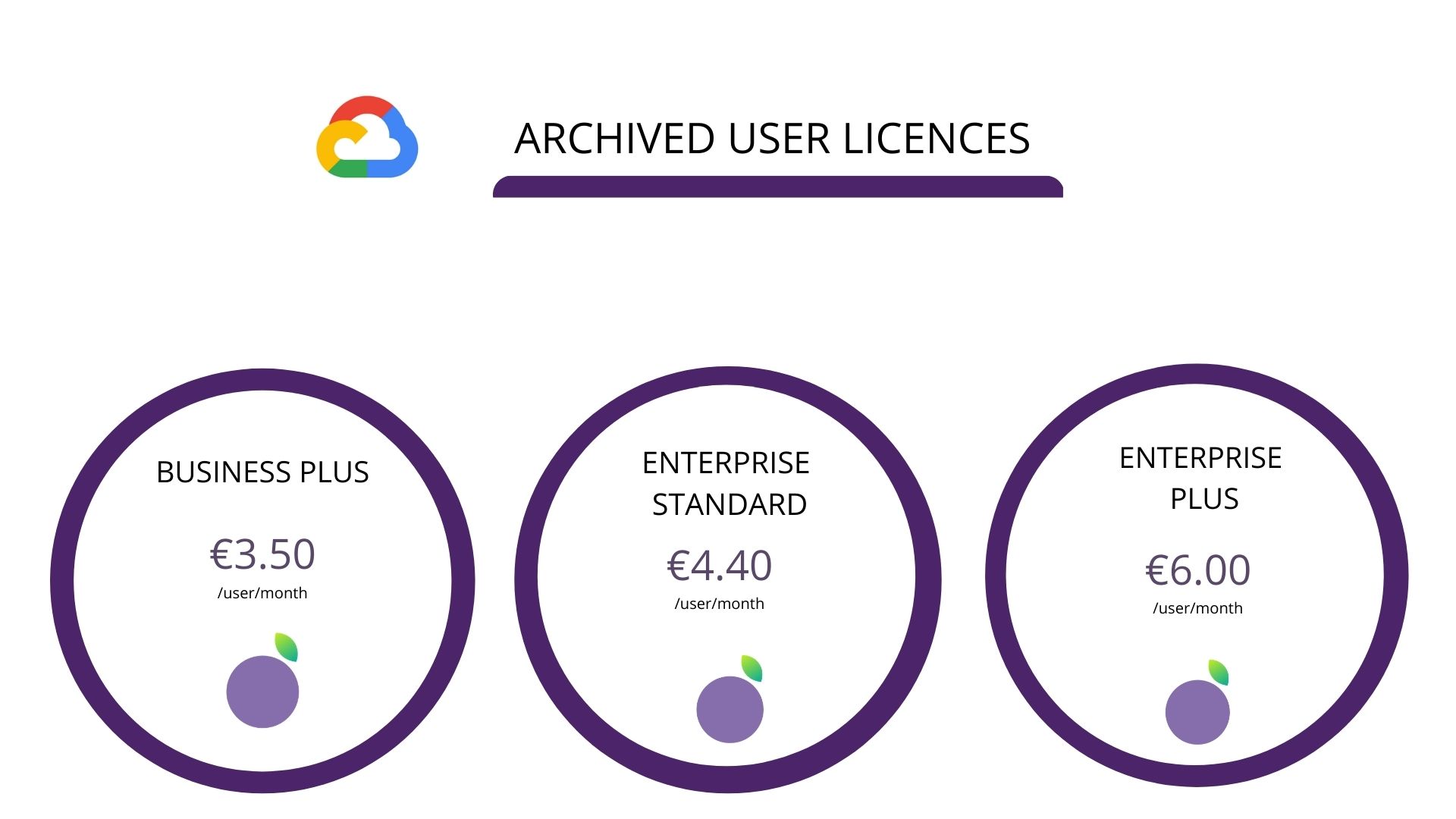 While the world of Google Workspace has become more complex, there is no denying that it now provides much more choice and flexibility for companies, enabling them to tailor the solution to meet their business requirements. If you have any questions about Google Workspace plans or are struggling to decide which plan best suits your business please don't hesitate to get in touch today and one of our Google Workspace experts will be on hand to help you.
As a longstanding member of the Google Cloud Partner Program, Damson Cloud specialises in bringing people and ideas together through new ways of working. We champion change management and digital transformation using some of the internet's most trusted solutions, including Google Workspace, Happeo and Jamboard. To find out more about our services, check out our library of tutorial videos or our blog.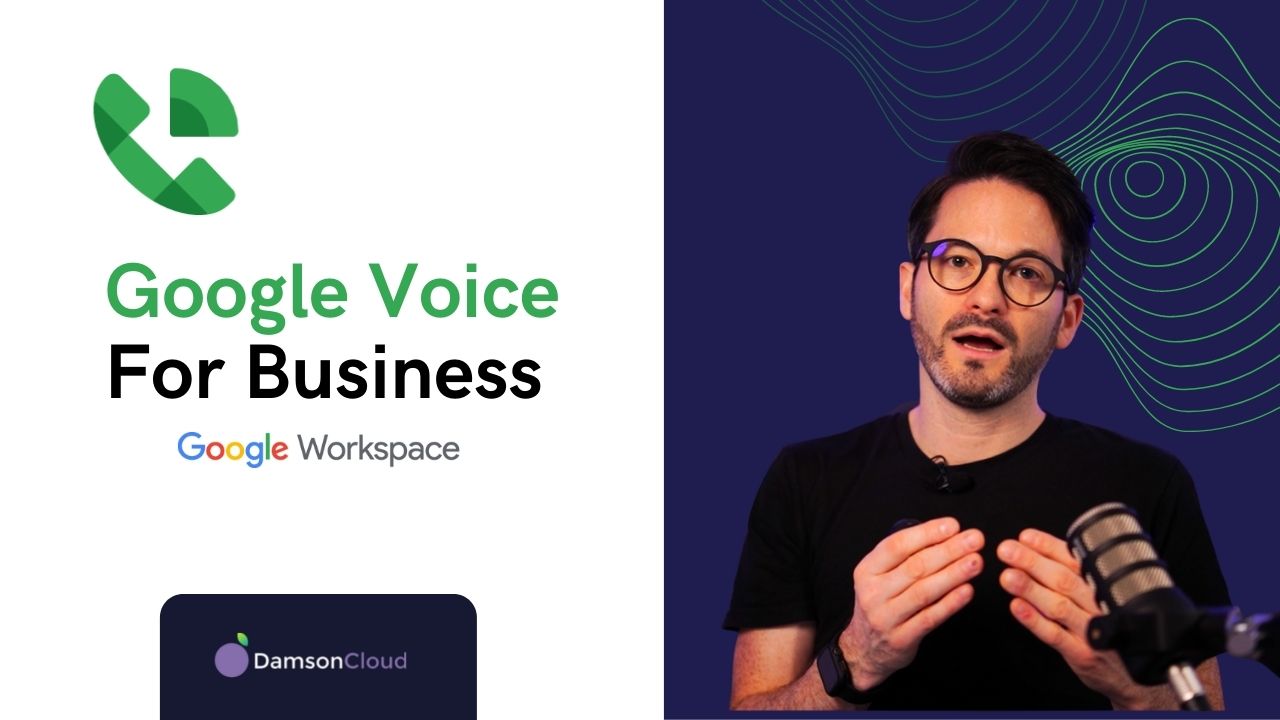 Posted by AmyComments: 0Voice calls are still central to business operations despite all the new technology that has evolved over the years.Although initially…Read More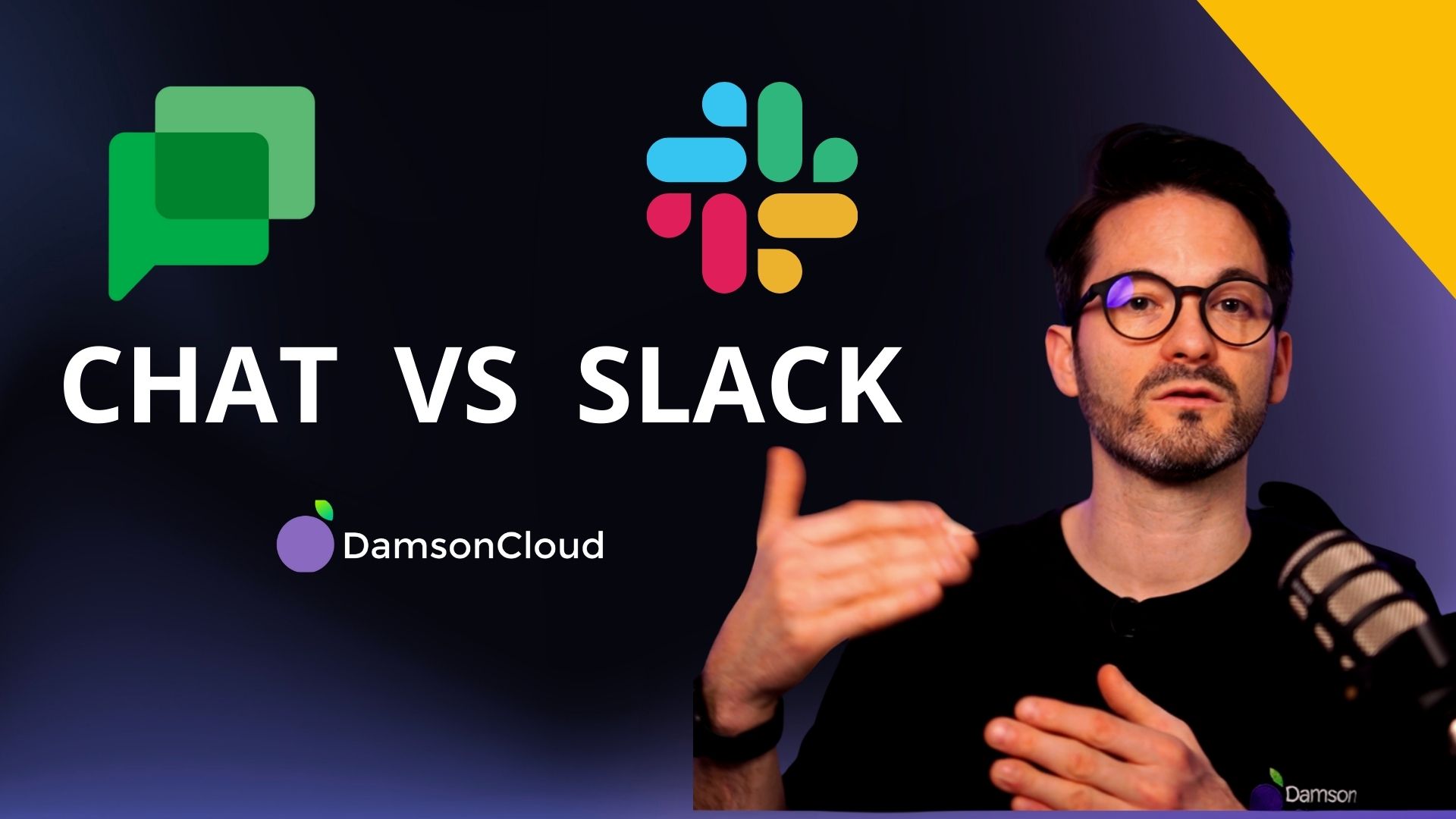 Posted by AmyComments: 0Since the pandemic, great importance has been placed on fast, productive communication. With remote and hybrid working on the rise, getting…Read More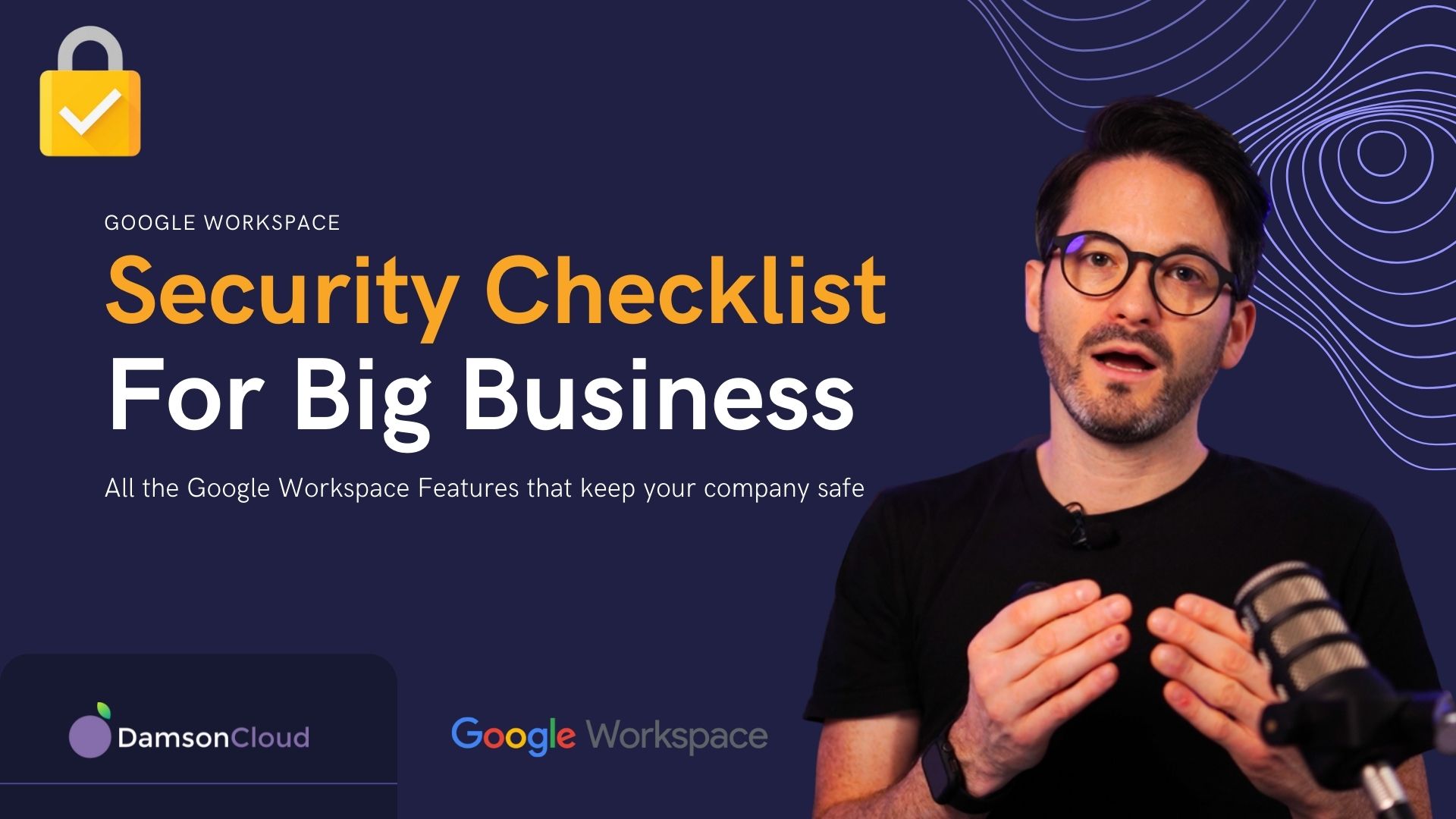 Posted by AmyComments: These days, data can be accessed and compromised in the most unbelievable ways. While this is a growing concern amongst…Read More